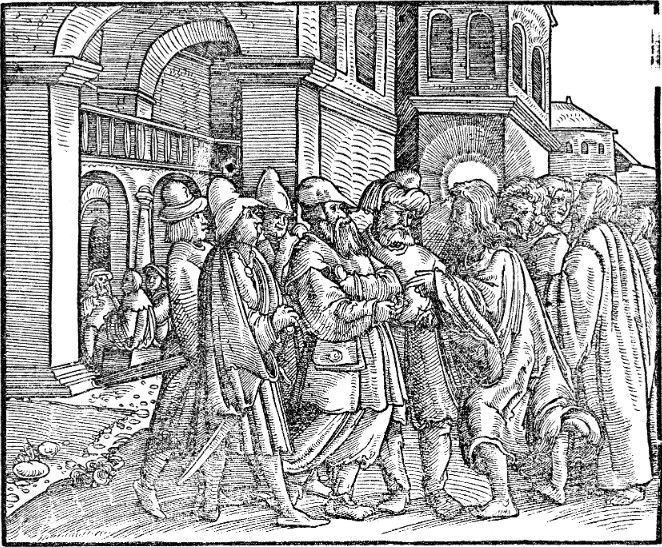 Lessons: Proverbs 8:11-22, Philippians 3:17-21, Matthew 22:15-22
Hymns: LSB 503, 655, 647, 645, 585
Grace, mercy, and peace to you from God our Father and our Lord and Savior, Jesus Christ. Amen.
The books of the Bible written by Solomon are known as books of wisdom. In a sense, every sentence of Scripture teaches wisdom for all Scripture is inspired by God the Holy Spirit, reveals Christ our Savior, and makes us wise unto salvation. The final aim of Scripture is the eternal salvation of our bodies and souls as it directs our hearts and minds to Christ. After all, Jesus alone bore our sin in His Body and redeemed us through the shedding of His Blood. The Bible says, "We preach Christ crucified, a stumbling block to Jews and folly to Gentiles, but to those who are called, both Jews and Greeks, Christ the power of God and the wisdom of God" (1 Cor. 1:23-24). You see, Christ is our wisdom, as we shall see in our reading from Proverbs.
You may recall that Lord appeared to Solomon, saying, "Ask what I shall give you." Solomon requested wisdom. God was pleased and said, "I give you a wise and discerning mind, so that none like you has been before you and none like you shall arise after you" (1 Kings 3:5-13). Solomon wisely requested godly wisdom over riches or long life.
Today's Old Testament lesson is found in the wisdom book known as Proverbs. Our reading can be divided into three parts. First, the value of wisdom. Second, what wisdom hates. And third, what wisdom is, has, and offers.
How good and important is wisdom? "Wisdom is better than jewels, and all that you may desire cannot compare with her" (Prov. 8:11). In today's Gospel there were some who thought they were wise, but they were crafty. They plotted on how they can entangle Jesus in His speech because they wanted to put Jesus on trial. They schemed to come up with the best question to catch Jesus and asked Him a simple question. "Is it lawful to pay taxes to Caesar or not?" If Jesus said we should not pay taxes, then the state can arrest Him for promoting tax evasion. If Jesus says we should pay taxes, then the Pharisees can say Jesus is not the Messiah because they felt the promised Messiah should liberate the Judeans from the Romans. But Jesus said, "Render to Caesar the things that Caesar's, and to God the things that are God's." Jesus silenced the Pharisees and Herodians; they could not accuse Him. That's the way with true wisdom, it cannot be silenced, nor can it be accused. Only fools would attempt to do so. God's Word says, "Let no one deceive himself. If anyone among you thinks that he is wise in this age, let him become a fool that he may become wise. For the wisdom of this world is folly with God. For it is written, 'He catches the wise in their craftiness,' and again, 'The Lord knows the thoughts of the wise, that they are futile.' So let no one boast in men" (1 Cor. 3:18-20). You see, true wisdom is to know the ways of God and to walk in them. Anything that contradicts what God teaches is folly. It may seem smart at the moment, but the Lord sees all things and knows all things. And He knows where contradicting Him will lead.
An issue that the Church has faced since Adam and Eve is how much do we have to obey God and how much can we do what we think is right? Many churches today flagrantly disobey God and walk according to what is right in their own eyes. In Bible times, that never ended well. Adam and Eve ate the forbidden fruit. The Israelites suffered from warring neighbors, famine, and foreign rule due to their insistence on doing what was right in their own eyes. In our own Church body, some seek to do what is right in their own eyes, even as it contracts the teachings of God. We want to let impenitent sinners feel they are forgiven by ignoring their sin. We want to water down the Law so we don't offend anyone. We even want to ignore the exclusive claim of the Gospel that sinners are saved by grace through Christ alone because we figure God should admit into Heaven all those who do not believe in Jesus or do not live repentant lives. For all this and more, we ourselves need to repent. When answering the question, "how much do we have to obey God and how much can we do what we think is right" we have a simple answer. In love toward God, in love of ourselves, and in love of our neighbors, we must obey God. Bending the rules for some under the guise of love or charity is just lying to them. It's making them think they have the Gospel when they do not. For example, communing the unrepentant tells them that they are ok with us and with God. But they are not ok with God. They remain soiled in sin as long as they do not repent. And those who remain in their sin do not receive the forgiveness of sins; they are on the path to eternal perdition. As a people of God called to be faithful, we must not give the impression that the impenitent are somehow saved apart from Christ or through a false hope of forgiveness.
When the Pharisees and Herodians brought up taxes in their attempt to accuse Jesus, you can tell what was important to them. They used money as an example. That was their love. But remember our reading, "Wisdom is better than jewels, and all that you may desire cannot compare with her."
I think at this point we should ask, "From a Biblical standpoint, what is wisdom?" Is it a high IQ or being street smart? Is it survival or finding financial success? Is it the ability to navigate through all the viewpoints and emotions of others? It is, in fact, much deeper than all of these. It is fearing God, hearing Him, and heeding Him. Those who are wise set their opinions aside and go solely with what God teaches in His Word. Whenever we go against Scripture by believing, thinking, or acting according to what we figure is best, we have become fools. It is written in Proverbs 1:7, "The fear of the Lord is the beginning of knowledge; fools despise wisdom and instruction." St. Paul in our Epistle described an example of these fools, writing, "For many, of whom I have often told you and now tell you even with tears, walk as enemies of the cross of Christ. Their end is destruction, their god is their belly, and they glory in their shame, with minds set on earthly things" (Phil. 3:18-19). God can and does judge those who go against the wisdom found in Scripture. In the first poem on wisdom, Solomon wrote, "Because you have ignored all my counsel and would have none of my reproof, I also will laugh at your calamity; I will mock when terror strikes you, when terror strikes you like a storm and your calamity comes like a whirlwind, when distress and anguish come upon you. Then they will call upon me, but I will not answer; they will seek me diligently but will not find me. Because they hated knowledge and did not choose the fear of the Lord" (Prov. 1:25-29).
In the second part of our reading, we heard what wisdom hates. Wisdom is speaking in this portion of our reading. We heard, "I, wisdom, dwell with prudence, and I find knowledge and discretion. The fear of the Lord is hatred of evil. Pride and arrogance and the way of evil and perverted speech I hate" (Prov. 8:12-13). Here, wisdom is equated with the fear of the Lord. Now, many try to downplay the notion of fearing God. They want to say fear merely means respect. But our Catechism says, "God threatens to punish all who break these commandments. Therefore, we should fear His wrath and not do anything against them." If we didn't fear God, we would think of sin but lightly nor suppose the evil great (LSB 451:3). The fear of the Lord is the hatred of evil. Instead of hating evil, fools will embrace evil, downplay evil, or insist that certain sins are no longer evil. True wisdom hates pride, arrogance, and perverted speech. That is, true wisdom loves humility and truth—God's truth.
The third section of our reading from Proverbs also speaks about what wisdom is, has, and offers. Wisdom says, "I have counsel and sound wisdom; I have insight; I have strength. By me kings reign, and rulers decree what is just; by me princes rule, and nobles, all who govern justly. I love those who love me, and those who seek me diligently find me. Riches and honor are with me, enduring wealth and righteousness. My fruit is better than gold, even fine gold, and my yield than choice silver. I walk in the way of righteousness, in the paths of justice, granting an inheritance to those who love me, and filling their treasuries. The Lord possessed me at the beginning of his work, the first of his acts of old" (Prov. 8:14-22). This beautiful passage echoes what Isaiah prophesied of Christ, "There shall come forth a shoot from the stump of Jesse, and a branch from his roots shall bear fruit. And the Spirit of the Lord shall rest upon him, the Spirit of wisdom and understanding, the Spirit of counsel and might, the Spirit of knowledge and the fear of the Lord" (Is. 11:1-2). The ultimate reward for true, godly wisdom is not material wealth, but receiving the Gospel of Christ which results in the eternal salvation of the Body and the soul. You see, Christ is our Wisdom. St. Paul echoes our reading from Proverbs, writing, "To me, though I am the very least of all the saints, this grace was given, to preach to the Gentiles the unsearchable riches of Christ, and to bring to light for everyone what is the plan of the mystery hidden for ages in God, who created all things, so that through the church the manifold wisdom of God might now be made known to the rulers and authorities in the heavenly places" (Eph. 3:8-10). For Christ is the source of eternal riches for all those who are baptized believers. After all, "our citizenship is in heaven, and from it we await a Savior, the Lord Jesus Christ, who will transform our lowly body to be like his glorious body, by the power that enables him even to subject all things to himself" (Phil. 3:20-21). What blessings we have through the Crucified One! While our knowledge is limited, He reveals to us saving wisdom. While our lives our mortal, He grants us eternal life. While we have inherited the sin of Adam, Christ grants us an eternal inheritance of salvation through the forgiveness of sins. While our sin makes us ashamed, He exalts us as redeemed members of His family. While we confess that we are poor, miserable sinners, He gives us heavenly riches as He declares us righteous. Such glorious wisdom!
Let me close by reading to you this Bible passage: "The wisdom from above is first pure, then peaceable, gentle, open to reason, full of mercy and good fruits, impartial and sincere" (James 3:17). Amen.
The peace of God which passes all understanding keep your hearts and minds in Christ Jesus to life everlasting. Amen