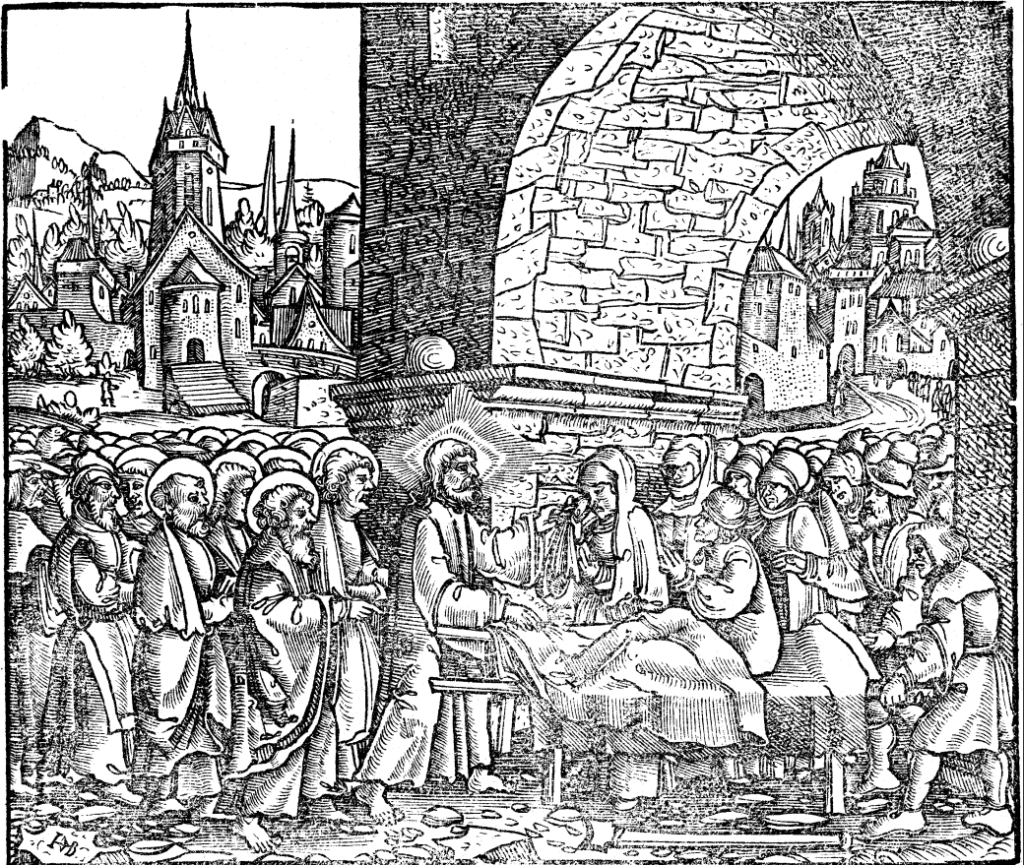 Lessons: 1 Kings 17:17-24, Ephesians 3:13-21, Luke 7:11-17
Hymns: LSB 476, 758, 633, 865, 478, 742
Grace, mercy, and peace to you from God our Father and our Lord and Savior, Jesus Christ. Amen.
St. Paul begins today's Epistle by writing, "I ask you not to lose heart over what I am suffering for you, which is your glory" (Eph. 3:13). In 2 Corinthians, St. Paul outlines the sufferings he had endured, writing, "In labors more abundant, in stripes above measure, in prisons more frequently, in deaths often. From the Jews five times I received forty stripes minus one. Three times I was beaten with rods; once I was stoned; three times I was shipwrecked; a night and a day I have been in the deep; in journeys often, in perils of waters, in perils of robbers, in perils of my own countrymen, in perils of the Gentiles, in perils in the city, in perils in the wilderness, in perils in the sea, in perils among false brethren; in weariness and toil, in sleeplessness often, in hunger and thirst, in fastings often, in cold and nakedness—besides the other things, what comes upon me daily: my deep concern for all the churches" (2 Cor. 11:23-28 NKJV).
Two things I'd like to note from this long passage. First, in addition to undergoing much physical suffering, St. Paul had a concern that came upon him daily—his deep concern for the churches. I have always loved that phrase. If you're a parent, you can relate. You can go over a long list of things you've endured in your life, which probably are not as extreme as what Paul faced. Then, the final thing could you say is, "Besides the other things, what comes upon me daily: my deep concern for all my children." Do we not have a deep concern for them? Does not worry arise in us over them? That concern and anxiety stems from the love we have for our children. Paul writes of his deep concern for the churches—churches he helped establish, churches he preached at, churches that are facing persecution, churches that are small and, from a human perspective, appear weak.
I want you to know, my dear brothers and sisters in Christ, that I feel that exact same way toward you. The love a pastor has for his flock is as inexpressible as the love parents have for their children. And, as parents know, this brings about its own component of suffering—sometimes real, sometimes made up through worry and attempting to control (as we heard last week).
The second thing Paul wrote about in 2 Corinthians that I would like to mention (and it ties in well with today's Epistle) is when he wrote, "In labors more abundant, in stripes above measure, in prisons more frequently." In prisons more frequently.
That is what Paul endured as he preached faithfully the Gospel. And so, it was necessary for Paul to begin our Epistle, saying, "I ask you not to lose heart over what I am suffering for you, which is your glory" (Eph. 3:13). Paul wrote that epistle from prison. Some of the saints at Ephesus may have been feeling sorry for him—perhaps anxious—and possibly in doubt of their faith (they may be wondering how Christ can be Savior if He's letting the apostle sit in prison). So, Paul requests that they do not lose heart over what he is suffering.
In fact, Paul wrote Philippians, Colossians, and Philemon while he was imprisoned. He wrote 2 Timothy when he was imprisoned in Rome and awaiting execution. But Paul did not sit in prison doing nothing. He prayed and sang hymns (Acts 16:25). He wrote letters. In the same way, some saints who followed him did not sit idle when locked up for insisting upon the truth of God's Word. Martin Luther translated the New Testament from Greek to German when he was confined in the Wartburg Castle in 1522 to protect his life. William Tyndale worked on translating the Hebrew Old Testament to English while in prison in the 1530s and awaiting execution over charges of Lutheran heresy (he published the New Testament translation in 1526).
Today we are considering the theme of imprisonment. 1) There are perceived imprisonments. 2) Some are imprisoned in the way St. Paul and Tyndale were. 3) And we all have faced spiritual imprisonments.
1) Perceived imprisonment is when a person is filled with anxiety and worry, thinking God has no control or does not care or will not do anything. Their imaginations conjure up all sorts of bad scenarios that rarely come to pass. Instead of trusting solely in Christ that He will use all things for the good of those who love Him (Rom. 8:28), they become enslaved to their figuring. The antidote to this is to commend all things to the Lord in prayer, to pray the Psalms, to sing the Lord's praises, to confess sin, to be in the Word of Christ, and to come to the Lord's altar to receive the Body and Blood of our Savior, Jesus.
2) Being physically imprisoned for the sake of the Gospel is not the worst thing to happen to a person. It can certainly cause spiritual turmoil to those imprisoned and those who love the one imprisoned. For some, imprisonment is a step toward their martyrdom, such as those two Belgian men who were burned at the stake 500 years ago in 1523 for believing the teachings of the Lutheran Reformation. But they received, as did St. Paul, the goal of their faith—the salvation of their bodies and souls. They were awarded the crown of righteousness by the Righteous Judge—our Lord Jesus Christ. As Christians, we recognize that even death is not so bad. After all, the faithful who are executed are admitted into the gates of Paradise, as was the thief on the cross. Precious to the Lord is the death of His saints (Psalm 116:15).
So, what is worse than imprisonment or martyrdom? What's worse is to be without the Gospel. Paul, in prison, did not want to see the saints in Ephesus to lose heart over his sufferings. And so he wrote, "For this reason I bow my knees before the Father, from whom every family in heaven and on earth is named, that according to the riches of his glory he may grant you to be strengthened with power through his Spirit in your inner being, so that Christ may dwell in your hearts through faith—that you, being rooted and grounded in love, may have strength to comprehend with all the saints what is the breadth and length and height and depth, and to know the love of Christ that surpasses knowledge, that you may be filled with all the fullness of God" (Eph 3:14-19). He prayed that the saints be strengthened by the power of the Holy Spirit so that Christ would dwell in them through faith and that they would know the love of Christ that surpasses knowledge. What an earnest, amazing prayer Paul prayed for the saints while he was locked up behind bars! His pastoral heart was on full display. He was more concerned over them and their salvation than he was over himself. After all, he knew he would go to Heaven for he remained steadfast in the Christian faith by the grace of God.
3) Jesus once said, "If you abide in my word, you are truly my disciples, and you will know the truth, and the truth will set you free." The Jews replied to Jesus, "We are offspring of Abraham and have never been enslaved to anyone. How is it that you say, 'You will become free'?" They did not think they were in bondage at all; they thought they had always been free. And so, Jesus said, "Truly, truly, I say to you, everyone who practices sin is a slave to sin. The slave does not remain in the house forever; the son remains forever. So if the Son sets you free, you will be free indeed" (John 8:31-36).
Many think being allowed to sin is freedom. They think that if they can say what they want, do what they want, believe what they want, think however they want, then they are free. But that cannot be further from the truth. How many people thought they could freely try drugs or other addictive activities and still remain free? They quickly find out that they become enslaved to the things they thought brought them freedom. The sexual freedoms Americans discovered after WWII has brought about the destruction of many families. So many children are caught up in the baggage adults bring because of what the adults thought they could do in their freedom. The cycle tends to worsen with each generation. This is because sin is slavery–spiritual imprisonment.
People are already setting up their Halloween decorations, some of which are fine. But why the obsession with death? Why so many skulls on t-shirts? What are they trying to portray? The Bible says "The wages of sin is death." If there were no sin, there would be no death. If there were no sin, no one would be going around wearing symbols of death on their bodies.
      If people want to wear some sort of symbol of death, they should wear a crucifix. Because, while Jesus died on the cross, the crucifix shows what Jesus in His great love did for rebellious mankind. He set us free from spiritual imprisonment by bearing our sin in His Body, going to the cross, and shedding His innocent Blood as the payment required for our sin. What the Romans used as a cruel means of execution now means mankind is set free through Christ's crucifixion. The crucifix is now a symbol of life in Christ!        
     So, "if the Son sets you free, you are free indeed." Jesus certainly brings true freedom. • All those anxieties and worries? Jesus said, "Come to me, all who labor and are heavy laden, and I will give you rest. Take my yoke upon you, and learn from me, for I am gentle and lowly in heart, and you will find rest for your souls. For my yoke is easy, and my burden is light" (Matt. 11:28-30). • Got a load of sin? The Scriptures declare, "If we confess our sins, he is faithful and just to forgive us our sins and to cleanse us from all unrighteousness" (1 John 1:9). Let Jesus take the responsibility of your sin off you and let Him cover you with His righteousness. • Literally imprisoned for adhering to the Gospel? We still belong to Christ; He sets us free. For He has promised, "Behold, I am with you always, to the end of the age" (Matt 28:20). You see, as a Christian, you are no longer enslaved or imprisoned. You are God's dear child. He loves you. You are free.  Amen.        
     The peace of God which passes all understanding keep your hearts and minds in Christ Jesus to life everlasting.  Amen