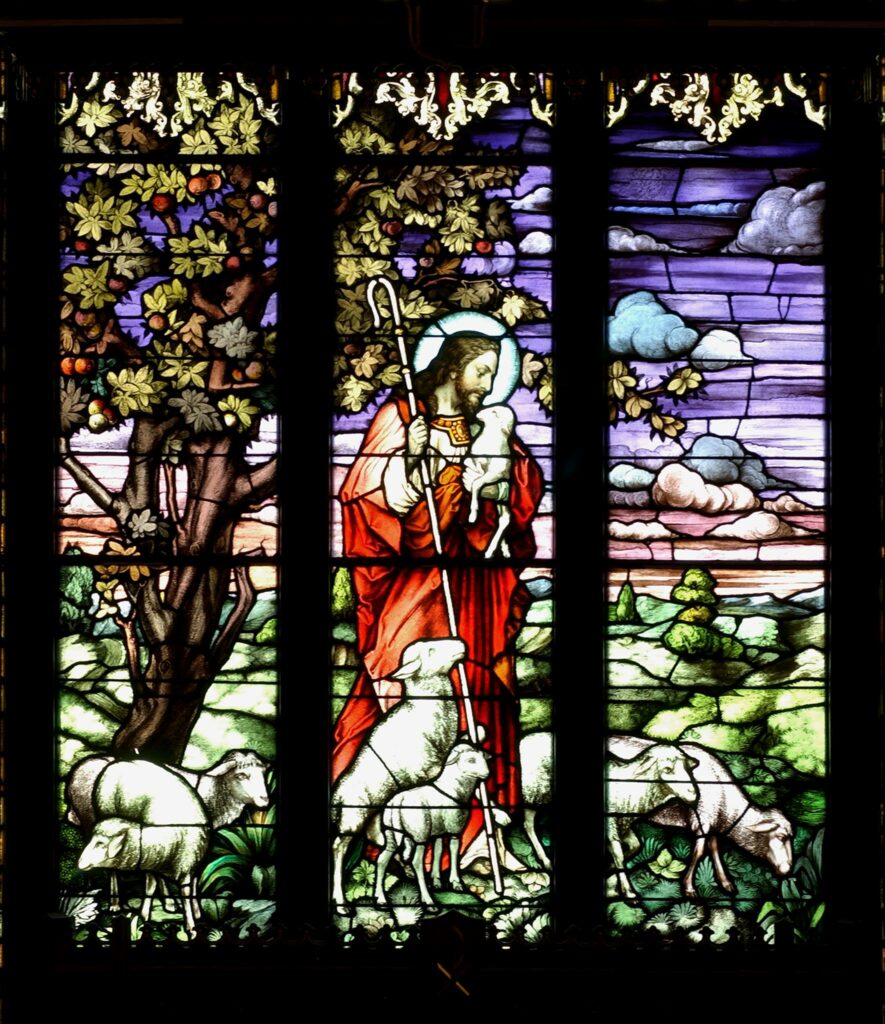 Lessons: Psalm 23, Ezekiel 34:11-16, 1 Peter 2:21-25, John 10:11-16
Hymns: LSB 466, 735, 459, 666, 692, 740, 710, 709, 865
Grace, mercy, and peace to you from God our Father and our Lord and Savior, Jesus Christ. Amen.
About a month ago during Lent, we heard in John 6:1-15 the account of the Feeding of the 5,000, and John reported that the Feast of the Passover was at hand. That feast was celebrated in the first month of the Jewish calendar—in the Spring. It reminded the Israelites that God delivered them from slavery in Egypt and pointed them ahead to Christ, the Passover Lamb, who would die to take away the sin of the world so that God would pass over us, giving us life and salvation. The Feeding of the 5,000 takes place a year before Jesus celebrates the Passover with His disciples in the Upper Room on Maundy Thursday.
In the following chapter (John 7:2), John reports that the Feast of Tabernacles is at hand. This feast is in the seventh month of the Jewish calendar—in the Fall. It was the most popular among the pilgrimage feasts. The people lived in temporary tents—or booths—or tabernacles for a week as part of a harvest festival that also reminded them of their sojourning in the wilderness for 40 years. From their stay at Mount Sinai onward, God demonstrated His presence among His people through the Tabernacle built according to His specifications. God was there to not only protect His people and deliver them to the Promised Land, but also to save them. Christ Jesus was present among His people as they wandered the wilderness and settled the Promised Land.
When Jesus declared, "I AM the Good Shepherd" (John 10:11-16), He does so during this Feast of Tabernacles. The very Shepherd who was present among His people throughout their time in the wilderness is now declaring that He is present in their midst. His presence was not through pillars of fire or clouds, or light or smoke, but He dwelt among them in human flesh. As St. John reports concerning Jesus, "The Word became flesh and [tabernacled] among us, and we have seen his glory, glory as of the only Son from the Father, full of grace and truth" (John 1:14).
On Palm Sunday, we heard in our Epistle lesson, "God has highly exalted him and bestowed on him the name that is above every name, so that at the name of Jesus every knee should bow, in heaven and on earth and under the earth, and every tongue confess that Jesus Christ is Lord, to the glory of God the Father" (Phil 2:9-11). I then invited you to bow when you hear Jesus' name at certain times in the liturgy.
      Today I also welcome you to bow at another time, and that is during a portion of the Nicene Creed. In it, we believe, teach, and confess that our Lord Jesus Christ "came down from heaven and was incarnate by the Holy Spirit of the virgin Mary and was made man." If you notice, I bow during these words of the Creed. We may do so because these words confess a truth we cannot fully comprehend; they are a mystery. The eternal God "by whom all things were made" now becomes joined to His creation by becoming a Man. Yet Jesus is not created, nor does He lose His status of being God. He becomes fully human, yet He does not inherit the sin of Adam, nor does the sinless Son of God commit sin—even though He takes on human flesh. What a mystery! And so, in humble submission to these realities, we may bow. There's no law on the matter—to bow or not to bow at this point in the Creed—and so you may receive this as an invitation to bow.
I bring this up because an important reality of Christ's Church is that it is incarnational. God does not remain aloof or afar off. Instead, Jesus is our Immanuel—God with us. Jesus becomes a Man and tabernacles among us. Jesus also institutes the Ministry so that His Sheep will be able to hear the voice of God. God has not chosen to deal with you apart from fleshly realities. And so He establishes churches and raises up pastors, that you may hear the voice of Jesus and be shepherded by Him. He touches your skin with the waters of Holy Baptism. He places into your mouths His very Body and true Blood of Christ for the forgiveness of your sins. Christ Jesus enters your presence and He blesses you with His grace.
On today's bulletin cover, you see a typical example of Jesus as our Good Shepherd. Holding a lamb in His arms and surrounded by sheep, the scene is tranquil. It is a blessing to be cared ever so tenderly by our Good Shepherd. His love and warm compassion come to mind when thinking on Jesus as our Good Shepherd. It also reminds us that Jesus deals with us through His incarnation—in human flesh and blood. This imagery of Jesus the Good Shepherd has been in use by the Christian Church from the beginning. Chrysostom said, "When [Jesus] is caring for us, He calls Himself a Shepherd."
Yet, when we consider the Gospel lesson we heard, that is not the picture we can find. Originally, I had chosen a woodcut as our bulletin cover depicting a wolf attacking Jesus, yet the sheep appear to be calm and safe. Jesus Himself is not harmed, as He defends His flock from the Evil One. It fits today's Gospel. In that image, Jesus is preaching the Word, which is what He has commanded pastors to do.
Pastors are to preach, teach, and administer the Sacraments. They are to visit the sick and shut-in and pray for God's people. That is the pastor's task. It is how he shepherds God's people in the stead of Christ. Remember, the work of Christ is incarnational. This is how Jesus does it. He calls pastors. Since God raises up men to be pastors and sends them, this means that when you listen to your pastor, you are listening to Jesus. To be sure, the pastor is not Jesus, but the pastor is to proclaim the saving Word of Christ. This allows you to gather in God's House and hear with your own ears the Word of God. The Church is not meant to be impersonal. That is, a person's worship of Christ is not to be in front of computer screens or alone in the wilderness. And for those who cannot make it to God's House, the Church comes to them. Pastors make home visits to Commune them.
What God established is good when He breathed on His disciples and instituted the pastoral ministry on Easter Sunday. Because it is good, Satan is seeking to ruin or at least thwart the work of the holy ministry. He tempts both under-shepherds (pastors) and sheep.
Using the words of Jesus, Satan tempts pastors to flee when the wolf comes. Pastors should never think, "I don't get paid enough to be dealing with all these problems or be on call 24/7." No, pastors are to have the same heart as Christ—to be there for the people whom Christ redeemed. Pastors must not flee when met with trial or persecution. As one Seminary professors said, "The Christian pastor is, as Jesus Himself, to be committed to the sheep of the Christian flock, even to the point, if necessary, of laying down his life" (Weinrich, 435).
Satan tempts pastors to not preach the whole counsel of God, thereby becoming hirelings. They may give in to the demands of those giving him his paycheck. He may give in to the societal trends of the day, refusing to preach salvation by faith in Christ alone or failing to uphold marriage as a lifelong union between one man and one woman.
Related to this is the amount of time pastors spend in the pulpit. Attention spans are not what they used to be. Our soundbite culture has a hard time focusing at length. We want to be entertained instead of putting any effort into hearing. As a result, the length of sermons is decreasing. A few years ago, I was talking to a pastor who recently retired. He spoke very highly of the young pastor who was now pastoring him. Then he asked me, "Why do so many young pastors preach such short sermons?" I suggested that since the Seminary Chapel keeps sermons short each day, maybe young minds are formed to also preach short sermons. On reflecting on that question further, I now wonder if pastors often preach short sermons because that's what the people demand. They don't want to have to listen very long. They don't want to sit in church more than an hour. They can't enjoy the moment; they want to get on with their lives. They don't see the true treasure of being lambs in the presence of their Good Shepherd. Satan is tempting God's people in this way. While some pastors preach up to a third as long as I typically do, my sermons are about a third as long as what they were under the days of Luther or CFW Walther. I'm sure they would be critical of me for not taking advantage of the time and preaching the saving Word of God at greater length.
Another temptation of the sheep is that they do not always trust their pastor. They often don't go to him when they are struggling in their marriages, facing temptation, finding it difficult to agree with some portions of God's Word, or a whole host of other matters. When we go to our doctor, we answer all questions and spill everything no matter how personal or embarrassing. We do so because we want our doctor to treat our problems so that we can be well. What we do not realize is that when we do not utilize our pastor in the same way, Satan is rejoicing, for he has created a barrier between Christ's lambs and the under-shepherd Christ Jesus Himself has sent. Jesus shepherds you through pastors. Like doctors, pastors are sinners and make mistakes. So, we forgive them, for that is what the Church is all about anyway.
After all, Jesus did say that He lays down His life for the sheep. He is alluding to something He will do in just six months—that He will go to the cross to shed His innocent Blood as the ransom payment for our sin. He is led like a lamb to the slaughter. He renders Himself as the sacrificial payment for our many sins. It should be a surprise that a Shepherd would die for His sheep. Yet, that is precisely what Jesus does. In love, He pays for your sins, that you may be reconciled to God and added as sheep to the flock of Christ. Pastors preach Christ crucified, so that your eyes may be fixed on Jesus. Behold, the Lamb of God who takes away the sin of the world! Amen.
The peace of God which passes all understanding keep your hearts and minds in Christ Jesus to life everlasting. Amen