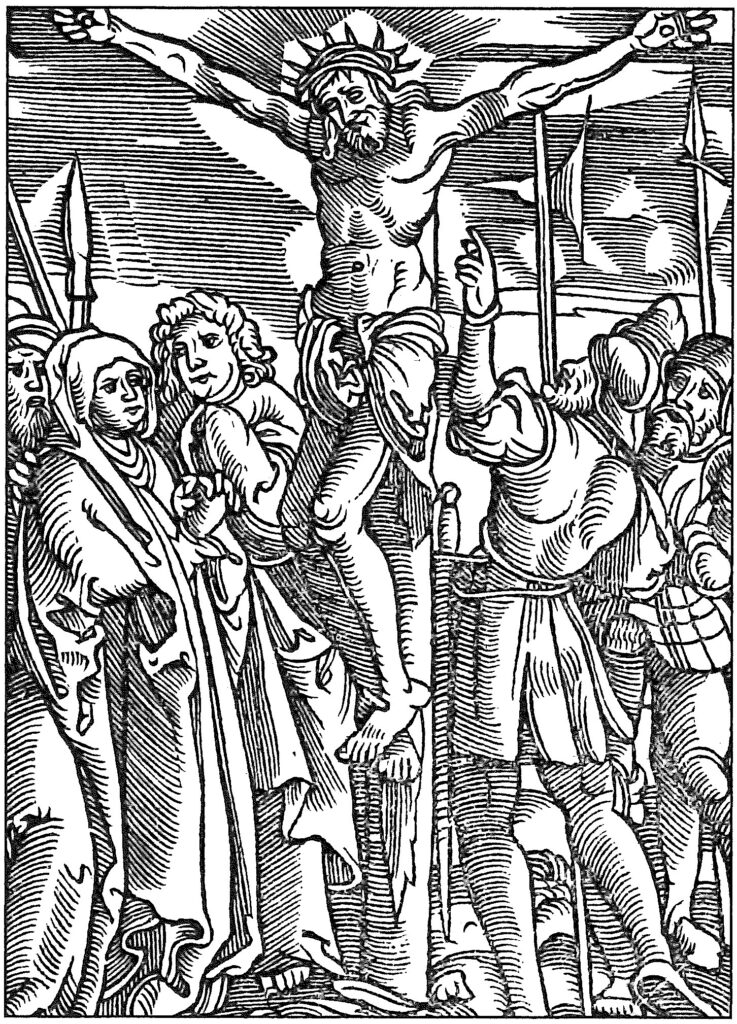 Lessons: Isaiah 52:13-53:12, Hebrews 4:14-16, Hebrews 5:7-9, John 18-19
Hymns: LSB 453, 448, 440, 450
Grace, mercy, and peace to you from God our Father and our Lord and Savior, Jesus Christ. Amen.
There's been a lot of talk about pronouns lately. The English language is being butchered. It was bad enough over the last few decades using they/them instead of he/him for an unnamed individual. If I want to talk about someone but don't want to reveal if that person is male or female, proper English would require me to use he/him. But it is more common to use they/them. For example, someone might say, "Let me tell you about my friend, but my friend doesn't want me to give you their name." It should be "his name" whether my friend is male or female. This friend is not multiple people. Thankfully in the Church, we continue to use proper English. For example, when confessing the Creed we say, "Who for us men and for our salvation." Let it be known to you that women are not excluded from this statement! The English language and Christianity are not being sexist. I probably don't need to add that the English language is further being butchered by those who desire to make up their own personal pronouns.
There are dozens of pronouns found in today's reading from Isaiah 52 and 53. Generally the first-person pronouns we/our refers to the believer, the second person pronouns He/Him refers to Jesus and His Passion (even though Isaiah wrote the report over 700 years before our Lord's Passion), and usually the third-person pronouns they/their refer to those who do not believe or put Jesus on the cross.
I'd like for us to consider tonight the first two. All of the first-person plural pronouns we/our are found in verses 1-6. They are quite a contrast from the works and ways of Jesus as described in this epistle. The first begins with unbelief. "Who has believed our report?" (Is. 53:1). What report? That Christ Jesus will come to die to take away the sin of the world. A man will make atonement for the sins of the people. The Son of God will be the propitiation for our sins.
Many today do not believe this. That is why they do not bother to hear it, repent of their sin, or cling to Jesus with trust.
The next first-person plural pronouns are descriptions of what man thinks of Jesus: "When we see Him, There is no beauty that we should desire Him. He is despised and rejected by men, A Man of sorrows and acquainted with grief. And we hid, as it were, our faces from Him; He was despised, and we did not esteem Him" (Is. 53:2-3). While this account speaks specifically about the time Jesus is crucified and man's reaction, this also describes our natural self. People do not naturally desire Christ. We like to hide our faces from Him, as Adam and Eve did after they sinned. We like to esteem ourselves and the works of man, rather than esteem our Savior and the all-sufficient sacrifice He made on the cross.
The last time the pronoun we and us are used is when Isaiah declares, "All we like sheep have gone astray; We have turned, every one, to His own way; And the LORD has laid on Him the iniquity of us all" (Is. 53:6). We are likely to wander off, not considering the dangers. Thinking we're wise, we become fools. True wisdom is found in the Word of God, stems from the fear of the Lord, and lets go of the supposed wisdom of the world. Turning to our own way, we are tempted to trust in ourselves that we are righteous and despise others.
Finally, Isaiah uses the adjective our several times: our griefs, our sorrows, our transgressions, our iniquities. In a month, the world will hear lots of high school commencement speeches. They are usually filled with much hope, going by the assumption that natural man is pretty well-behaved, motivated, and bright. But here Isaiah reveals the true reality of natural man—he is filled with sin. And in this fallen world, we deal with many griefs and sorrows. The hymn is right: "O what peace we often forfeit, O what needless pain we bear, all because we do not carry everything to God in prayer!" The hymn could go further: "O what peace we often forfeit, O what needless pain we bear, all because we do not…" trust in Jesus, repent of our sins, gather in God's house when services are offered, read our Bibles, tell others of the wonderful works of God, or focus on our Lord's most holy Passion.
The pronouns referring to Jesus are absolutely astounding as they speak of what our Suffering Servant did for us. "He was oppressed and He was afflicted, Yet He opened not His mouth; He was led as a lamb to the slaughter, And as a sheep before its shearers is silent, So He opened not His mouth… He was stricken. And they made His grave with the wicked… It pleased the LORD to bruise Him; He has put Him to grief" (Is. 53:7-10).
The book of Isaiah has been aptly named the Old Testament Gospel. Isaiah describes in great detail the suffering our Savior went through to take away our sins. He prophesies that our Lord will die to make atonement for the sins of the world. Jesus will shed His Blood as the Lamb to make a sacrifice pleasing and acceptable to our Father.
Today would not be considered Good Friday if Jesus had simply died. But Jesus died bearing your sin in His Body, rendering the atoning sacrifice for your sin. That means He offered Himself up as the ransom payment for your sin. Through this payment, your sins are taken away, and you are counted righteous. Had Jesus done none of these things, Good Friday would not be good. But He perfectly fulfilled His Father's will. He truly paid for the sins of the world. And so, the day God died on the cross is truly a good day.
He died so that we may live. In fact, this, too, is prophesied by Isaiah. "When You make His soul an offering for sin, He shall see His seed, He shall prolong His days, And the pleasure of the LORD shall prosper in His hand. He shall see the labor of His soul, and be satisfied" (Isaiah 53:10-11).
This is not the end of Jesus. It was the conclusion of His stages of humiliation. Now that He has died to take away the sin of the world and is buried, then the stages of His exultation begin. He, in fact, descends into Hell not to suffer any further, but to proclaim His victory and to prove Satan, Hell, and death have no power over Him.
Lord Jesus, we give thanks to Thee
That Thou hast died to set us free;
Made righteous through Thy precious blood,
We now are reconciled to God. Amen.        
     The peace of God which passes all understanding keep your hearts and minds in Christ Jesus to life everlasting.  Amen