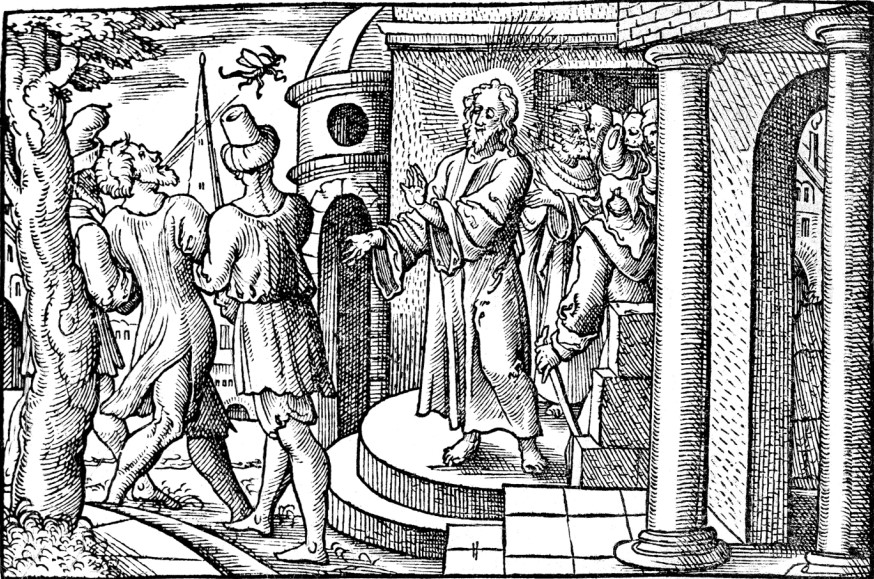 Lessons: Exodus 8:16-24, Ephesians 5:1-9, Luke 11:14-28
Hymns: LSB 521, 659, 422, 714, 743, 594
Grace, mercy, and peace to you from God our Father and our Lord and Savior, Jesus Christ. Amen.
When the Divine Service begins, God's name is invoked and then we are addressed as "Beloved in the Lord." Before addressing what it means to be called "Beloved in the Lord," I would like to speak briefly about the Invocation. You may notice that pastors turn around a lot during the service, sometimes facing you and sometimes facing the altar (which means they are facing God). When the pastor faces you, this normally indicates that something is being delivered to you from the Lord, such as blessings or God's Word. When the pastor faces the altar, we are bringing something to the Lord, usually our prayers and songs of praise. For the Invocation, all pastors are to simply say, "In the name of the Father and of the Son and of the Holy Spirit." Unfortunately, some begin by saying things like, "We make our beginning in the name of the Father…" It is not good to begin the service with a "We," for the focus is not on ourselves, but on our Triune God. When a pastor faces the altar as he speaks the Invocation, this indicates he is invoking God to be present as the service begins. This is the more common and more historic position. I prefer the less common way, and that is to face the people for the Invocation. When the pastor faces you, this indicates that God's name is being placed upon you, as on your Baptism. As the baptized, your identity is in God the Father, God the Son, and God the Holy Spirit. When the pastor stands at the baptismal font for the Invocation and the Confession and Absolution, your own Baptism is brought to your attention, and it indicates the forgiveness of sins pronounced in the Absolution continues to flow forth to you from your Baptism through Christ who died for you on the cross. (This is why we moved the baptismal font to the front center of the church here at Grace over six years ago.)
Upon hearing the Invocation, the next words the pastor speaks is "Beloved in the Lord! Let us draw near with true hearts and confess our sins unto God our Father." The words "Beloved in the Lord" are not empty words. When churches rewrite the liturgy, seeking to make it "relevant" for those who want no repetition, they do not realize what they are eliminating. By calling you "Beloved in the Lord," you are being told of your standing before God. This appellation is the exact opposite of what Jesus is called when the Lord laid on Him the iniquity of us all. Jesus is described in Isaiah 53:3 as despised and rejected by men, a man of sorrows and acquainted with grief… esteemed not. While the godless may think you fit this description, God does not think of you this way. Because you are baptized into Christ, you are "Beloved in the Lord."
At both the Baptism of our Lord and at the Transfiguration of our Lord, God the Father says of Jesus, "This is my beloved Son, with whom I am well pleased" (Matt. 3:17, Matt. 17:5). There's no question Jesus should have this designation. And now we are called "Beloved in the Lord!" Such a privilege that is! All because we are adopted into God's family through Holy Baptism and redeemed by Christ Jesus through His sacrificial death on the cross. In our Baptism, we are joined to the death of Jesus and our sins are drowned and die. In our Baptism, we are also joined to the resurrection of Jesus and we arise to live before God in newness of life. To be God's beloved is to be deeply loved and cherished by God—that He holds you in highest esteem. In fact, the Greek word for "Beloved" has "Agape" as its root—unconditional love. What wonderful words God calls you when you are invited to stand before Him and confess your sins!
In today's Epistle, we are called God's "beloved children." Some may think being called children is derogatory, for they think that the word "children" should be reserved for those who are not yet adults or those who are immature or underdeveloped. But when God calls us children—and elsewhere as sons—God is giving us an elevated status—one that goes far higher than we could ever work to obtain. By being called children of God, God is revealing who we are by virtue of our Baptism and our standing in God's family alongside Christ Jesus. To be children of God means we are viewed by God as having the same status as the Son of God Himself. This means Jesus is now our Brother, and we share in His inheritance. The importance of this reality cannot be overstated.
So if you ever wonder if you can truly be a Christian due to your many sins and temptations, the answer is a resounding, "Yes!" After all, you do not obtain the forgiveness of sins or eternal salvation through your works or through your good intentions. Instead, everlasting life is granted to you by grace. God was not coerced or cajoled by man into sending only begotten His Son to save humanity. God promised to send His Son to save mankind after Adam ate the forbidden fruit, hid from God, and blamed God for giving him Eve. Talking about grace! Sweet, loving grace!
Our reading from Ephesians began with the instruction to "Be imitators of God, as beloved children. And walk in love, as Christ loved us and gave Himself up for us, a fragrant offering and sacrifice to God" (Eph. 5:1-2). Jesus willingly died in our place. He was certainly well-pleasing to our Father in Heaven as He perfectly kept the Law and offered His Body as the sacrificial payment for our sin.
Contrast that fragrant offering—the sweet-smelling aroma of a sacrifice—to our sin. Our sins are raunchy, dirty, and filthy. They ruin us and our lives. They lead to temporal death and, if they are not taken away, our sins lead to eternal death.
Turning from our sin, God calls on us to imitate Him for He is our true Father and we are His true children. Our identity is found in Christ, who covers us with His righteousness. But we are always tempted to turn the sins we commit into our identities. Our true identities are that we are Christians, redeemed by Christ, beloved children in God's family. And when we identify ourselves to the world, we usually do so by saying where we are from or what we do for a living—our vocations (which is fine). But now people are wanting to be identified in ways contrary to our Christian standing or vocation. Many insist on being identified according to their sins or their sinful lifestyles. God the Holy Spirit guided St. Paul to write, "Sexual immorality and all impurity or covetousness must not even be named among you, as is proper among saints" (Eph. 5:3). In defiance to God and His Word, people are now naming themselves according to these sins. They say they are gay or queer or transgender or their personal pronouns are they/their or xe/xem. The covetous—those who are idolators because they are greedy for gain—want to be identified as successful, business smart, or simply wise. It is interesting that the ways our world now insists that people must be identified—according to sexual deviancy or lust for money—are the very ways God in our Epistle says Christians are not to be named! When those in the world expect to identify themselves according to their preferred personal pronouns, they are claiming that God did not intend to make them male or female. They are claiming to have an identity apart from God. My fellow redeemed, "Let no one deceive you with empty words, for because of these things the wrath of God comes upon the sons of disobedience. Do not associate with them" (Eph. 5:6-7).
As Christians, we are to walk in love. This does not mean we can affirm sin or pretend sin is somehow now good or something to be celebrated. As we heard from our Epistle, we cannot engage in sexual immorality, impurity, covetousness, idolatry, filthiness, foolish talk, or crude joking. For our new identity is in Christ. We are children of God.
As God's children, He calls upon you to be faithful. That means you do not give in to the world's ways. Your personal pronouns are what God says. God made you male or He made you female. Even if society says you must call boys girls or girls boys, God does not want you to go along with that. If employers force you to make a visit to HR for doing the right thing, so be it. For it is written, "Indeed, all who desire to live a godly life in Christ Jesus will be persecuted" (2 Tim. 3:12). If you are an employer, you do not need to guarantee personal pronoun protection of your employees. At the same time, it is not wrong to employ those who are caught up with sexual immorality or other sins. They need to eat, too, and provide for their families. Perhaps through kindness, faithfulness, and testifying the Word of truth to them, you can win them over.
The world is covered with the darkness of sin. We were once children of disobedience, for we have inherited the sin of Adam. God has called us out of this darkness into His marvelous light (1 Peter 2:9). We are now light in the Lord (Eph. 5:8). In fact, we are "children of light," as our Epistle teaches. And Jesus says, "You are the light of the world. A city set on a hill cannot be hidden. Nor do people light a lamp and put it under a basket, but on a stand, and it gives light to all in the house. In the same way, let your light shine before others, so that they may see your good works and give glory to your Father who is in heaven" (Matt. 5:14-16).
Rejoice, my dear brothers and sisters in Christ, that you have heard the truth from God despite all the confusion around us. You are illumined by the Gospel of Christ. The world will clamor for your attention and claim it knows more than God. But "let no one deceive you with empty words." Instead, trust in Christ Jesus, for He never lies. As you abide in His Word, you will know the truth and you are set free (John 8:31-32). Your sins, though many, are taken away. You draw near with true hearts and confess your sins before God. He absolves you. Christ forgives you and counts you as righteous. After all, "He Himself bore our sins in His Body on the true, that we might die to sin and live to righteousness. By His wounds you have been healed" (1 Peter 2:24). And you now receive the fruit of His Passion through the Lord's Supper. Amen.
The peace of God which passes all understanding keep your hearts and minds in Christ Jesus to life everlasting. Amen