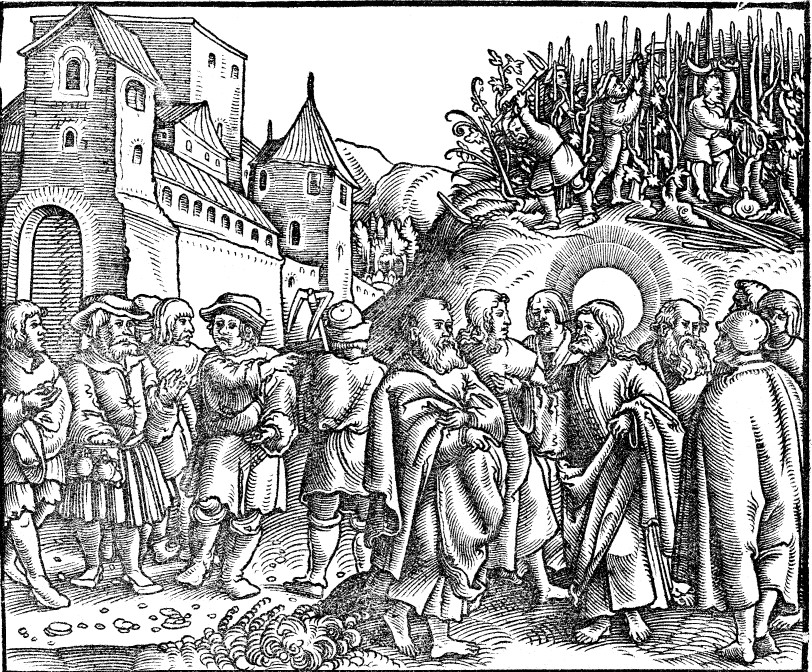 Lessons: Daniel 9:2-10, 1 Corinthians 9:24-10:5, Matthew 20:1-16
Hymns: LSB 693, 555, 566, 708, 919
Grace, mercy, and peace to you from God our Father and our Lord and Savior, Jesus Christ. Amen.
Like most churches that have roots going back hundreds of years or more, the Lutheran Church follows a church year calendar. The Church Year developed over the course of hundreds of years after our Lord rose from the grave and ascended into Heaven. Some portions of the Church Year are based on the Old Testament calendar, namely the timing of Easter, which matches the timing of the Passover celebration. The Church Year is intended to follow our Lord Jesus Christ from His conception to His ascension. And each Sunday of the Church Year has assigned readings. These readings, known as the lectionary, were also developed by the Church over the course of many centuries. The Epistles and Gospels we follow are pretty much the same as what the Church has been using for the past 1000 years.
It is important for churches to follow a lectionary because then God's people are fed a wide variety of Scriptural teachings that cover all the major biblical doctrines. The lectionary prevents pastors from cherry-picking Bible passages to only dwell on their hobby horses.
There is also a three-year lectionary which our congregation has used in the past that was developed less than a century ago. That lectionary dropped the three Sundays before Lent known as Prelent or Gesimatide, the first of which is today. These three Sundays can be considered the most Lutheran of the entire Church Year, for the focus is on Scripture alone, faith alone, and especially grace alone.
In today's Gospel by way of a parable, Jesus teaches very beautifully the teaching that we are saved by grace alone. In the end, all the laborers who enter the vineyard receive the same thing. They are receiving what belongs to the master of the house. He is good, and wishes to give of his own things to those who enter the vineyard. Yet, those who entered the vineyard right away in the morning are jealous that they received the same thing as those who entered the vineyard for just the last hour.
This is not a teaching from Jesus on how employers ought to pay employees. No employer is being taught to give the exact same wage to all workers, regardless of time worked, talents offered, or reliability. Instead, this is a teaching of Jesus concerning His Church and the salvation Jesus offers to all who are received into His Kingdom by grace through faith.
When a Christian dies, he is received into the gates of paradise by our gracious Lord. His soul goes to be with the Lord. He is in the presence of God, as he awaits the return of Jesus and the glorious resurrection of all human flesh on the Last Day. When Jesus comes, our bodies will be raised from the dead, our souls will be reunited to our bodies, and we will live in perfection to all eternity. With both body and soul, we will be whole and complete. Our resurrected bodies will be perfect, immortal, incapable of decay or corruption, and finally glorious, for our bodies will be like Christ's own Body. There will be no sin and no temptation to sin in the new heavens and new earth.
This is what we look forward to. This is the primary reason for being Christian. We escape eternal torments of condemnation and death. We get to be in the very presence of God. Everything will be good. What joys await us!
But, of course, we are not there yet. Even this parable indicates that things are far from perfect in this world. In particular, there are many who are not yet a part of God's kingdom. Those standing idle are those who do not yet know Christ, and have not become a part of Christ's body. They are not yet grafted to the Vine through faith. They stand outside of Christ's Church, unaware of the opportunities that await them.
Also, there are those who stand within Christ's Church, who are blessed to be baptized children of God. Yet, they do not see how wonderful it is to be a member of Christ's Body. These are the ones who grumble at the master of the house. They figure they should get more than what they agreed to. In the parable, the master promised them a fair days' wage. In Christ's Church, this is the same as adding someone to God's family as an infant and who labors in Christ's Church throughout his entire life. He receives what God promised—the gift of salvation. But when he learns that those who did not labor all their lives—those who receive the same gift of salvation at the last hour, he grumbles and complains. He doesn't think it is fair. After all, dedicated lifelong Christians are those who tend to give the most of their time, talents, and treasures. They are the ones who give sacrificially throughout their lives. They could have been richer, they would have had more time on weekends to do what pleases them, they would have used their talents to advance themselves had they not spent so much within the Church in service to Christ and the neighbor. The lifelong Christian reasons, why should these others receive the same eternal reward as me when they converted just recently or returned after so many years of prodigal living?
When we grumble at these later converts, we are exhibiting our sinful pride, our sinful desires, and our lack of Christian wisdom. When Jesus taught the parables of the Lost Sheep and the Lost Coin, He said, "There will be more joy in heaven over one sinner who repents than over 99 just persons who need no repentance" (Luke 15:1-10). Instead of jealousy for the sinner who repents, we ought to join in with the joy of heaven over that sinner's repentance.
Also, it is easy to get upset because we feel we've done more. We hear it regularly, "We need to get the young involved, or more people to come to church so that way I don't have to keep on doing this or that in the church." Or "If more people came, then I don't have to give as much." It is no accident that the setting for this parable which teaches salvation by grace alone is in a vineyard where people enter to work. For when Christ calls us into His vineyard, it is given for us to work as members of Christ's Church, until that time we reach that advanced age and may finally retire.
Whenever we figure that we've done more so therefore we should get something more, we have lost the concept of grace alone.
For we are not saved by our doing. It is not the amount of volunteering we've done, the giving we've made, or the time we've spent in Church that saves us. We are saved only because Jesus died for us on the cross and shed His innocent Blood on our behalf at Calvary. (This should be obvious, but) we are saved only because God saves us.
The Church has chosen wisely to pair today's Gospel with our Epistle. St. Paul begins with the question, "Do you not know that in a race all the runners compete, but only one receives the prize? So run that you may obtain it" (1 Cor. 9:24-27). We run, not to obtain perishable gain like earthly rewards, but to obtain imperishable rewards—namely, the reward of eternal salvation.
You see, in today's parable, the master chose to give what is his, which is the same reward to all who entered the vineyard. This means God gives us what is His—the same complete and full forgiveness that Jesus earned on the cross to all who believe. When it comes to salvation, God makes no distinctions between St. Paul (who first consented to the murder of Christians and then worked tirelessly to spread the Gospel) and St. Mary (who gave birth to the Son of God) and the thief on the cross, and you (baptized children of God). He grants you the same gift of salvation as He granted them.
But we can also see that some get disqualified from receiving salvation. For some, God was not well pleased and overthrew them in the wilderness. St. Paul wrote that he must discipline his body and keep it under control so that he does not become disqualified. He writes this to teach us all how important it is to be on guard so that we do not lose our eternal inheritance.
How can this happen, especially when it is clear that we are saved by grace apart from the works of the Law? Well, it happens when our faith shrivels up and dies. Our faith can die in several ways, as Jesus will teach us next week in the Parable of the Sower (Luke 8:4-15). The first way is when we are not in the Word of God, then we will not believe, for faith comes by hearing the Word of Christ. The second way is when things get difficult to remain a Christian, then people will fall away. They take the path of least resistance, instead of contending for the faith and persevering. They refuse to run to receive the prize. The third way is when people allow temptation to tear themselves from Christ. They are choked by the cares and riches and pleasures of life. They refuse to repent, and so their sins are held against them, and they remain soiled in their sin.
It is a great privilege that God has called us to the knowledge of His Son, adopted us into His family through Baptism, sustains us in the faith through hearing the Word and the feeding of Christ's Body and Blood, forgives us continually of all that we have done wrong, hears our prayers, loves us unconditionally, and is well pleased with us. All of this is by grace. We have not earned these blessings of God.
Because they are ours, let's receive them with joy. Let's never grumble and complain about those who join the Church in the 11th hour. Let's be grateful for all whom the Lord calls whenever He calls them. And let's labor in His Kingdom with joy, knowing that our eternal inheritance is given to us by grace because God is good. Our labors are not in vain; they are a fruit of our God-given faith. Amen.
The peace of God which passes all understanding keep your hearts and minds in Christ Jesus to life everlasting. Amen