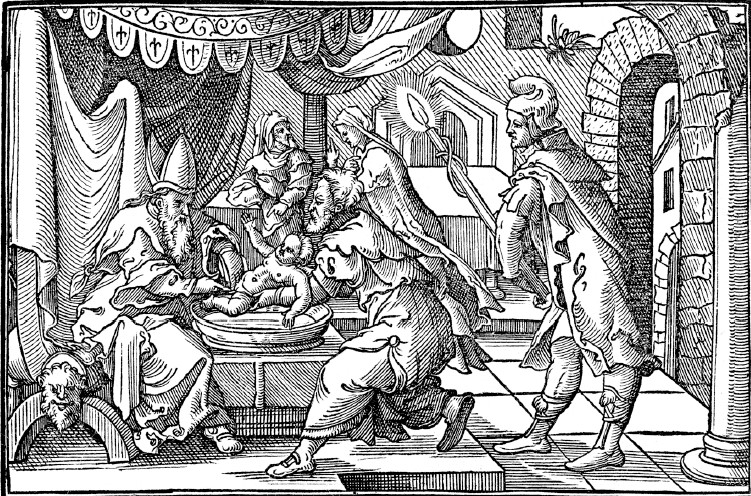 Lessons: Gen. 17:3-14, Gal. 3:23-29, Luke 2:21
Hymns: LSB 898, 897, 733, 366, 390
Grace, mercy, and peace to you from God our Father and our Lord and Savior, Jesus Christ. Amen.
Tonight's Gospel is the shortest in the lectionary. The preceding verses were read on Christmas Eve as they recount the birth of our Lord Jesus Christ. We heard that Joseph and Mary traveled to Bethlehem to fulfill the government's decree that everyone must be registered. Because there was no room for them in the inn, Mary laid baby Jesus in a manger. Angels visited the shepherds and announced the birth of our Lord, and the shepherds quickly visited the newborn King.
The verses following tonight's Gospel will be read tomorrow morning and will tell of Jesus presented at the Temple to fulfill commands found in the Old Testament Ceremonial Law. And, on the following Sunday, we will hear the last verses of Luke 2, which record the only event in the Gospels concerning our Lord's boyhood years when He is 12 and Jesus is found in the Temple.
Tonight's reading speaks of three important details in the young life of the Christ Child. Eight days are completed. He is circumcised. He is named. All of these are significant for us as we close out this calendar year and look forward to a new year.
First, it is the end of eight days. According to the Old Testament Ceremonial Law, boys born to descendants of Abraham had to be circumcised on the eighth day. The timing for this rite is deliberate as it looks back to Creation and looks ahead to the Resurrection of our Lord and the return of Jesus on the Last Day. At Creation, God created the world in six days and then He rested on the seventh. During Old Testament times, God's chosen people were commanded to pattern their weeks after the Creation account—they were to rest from their labors on the last day of the week—on Saturday—as God Himself did. They were to use the Sabbath Day in the Word of God. This day of rest not only recharged their bodies but also their souls. They would then begin the new week—the eighth day—ready to carry out their tasks.
Colossians 2 teaches we are no longer to judge people based on sabbath regulations. The command to rest on Saturday is fulfilled in Christ. Already in the book of Acts the people began to gather on Sundays as the day of worship to celebrate our Lord's Resurrection. We have continued that pattern since there is no longer a divine mandate on which day of the week we ought to worship. The only mandate that remains is to go to church to hear the Word and receive the Sacrament. Therefore, on Sunday—the eighth day—God's people have continued to gather in His House to hear His saving Word, receive His Body and Blood, sing His praises, and pray. We do so joyfully, for we are giving testimony that Jesus Christ—who was slain—is no longer dead, but lives. He is triumphant over death and the grave. His Resurrection means we, too, shall live to eternity in wholeness and completeness—in perfection when our Lord returns.
Just as God completed His work of creation on the sixth day, so also Jesus completed the work of redemption on the sixth day—on Good Friday by shedding His innocent Blood on the cross. And just as God rested on the seventh day at creation, so also Jesus rested in the tomb on the seventh day. Then, as the new week begins—on the eighth day—Jesus rises from the dead, starting the new creation—a new creation that will be completed when our Lord returns on the Last Day to make all things new.
We are a new creation already in our Baptism. Most baptismal fonts, including ours, is eight-sided to reflect this new creation reality that was first taught through circumcision as instituted in our Old Testament lesson.
As we close out the old year, we now anticipate a clean slate for the new year. We can start over. We can work on amending those things that have not gone so well. We can set new goals. We can put the pains and sufferings of the old year behind us, while cherishing the joys and memories that were made. Above all, our sins of the past year are cast off, buried, forgiven, and replaced with our Lord's perfect righteousness. For we are made new in our Baptism.
The Old Testament Christians did not have the sacrament of Holy Baptism. Instead, God added children to His covenant through the rite of circumcision.
The circumcision of our Lord is the second important detail found in our Gospel account. Jesus subjects Himself to the Law by being circumcised. He does this so that you are released from the Law. In fact, He fulfills the Law on your behalf and, by faith, He credits you with keeping the Law of God. By undergoing circumcision, Jesus sheds His first drops of Blood, pointing ahead to the day when Jesus will be led as a Lamb to the slaughter to take away the world's sin.
God commanded the saints of the Old Testament to undergo circumcision for four main reasons. First, it is God's covenant with His people. He adds even little babies to His family. Second, the boys received this visible sign to remind them that, as God's chosen people, from within their midst would come the Messiah, born of a virgin woman. Third, even the conjugal act between a husband and a wife could illustrate the hope that God was going to fulfill His promise to restore creation and redeem His people. And finally, the shedding of blood pointed the people ahead to the ultimate sacrifice Jesus would make for all people on the cross.
Now, in the New Testament era, we live according to these words and promises of God as recorded in Colossians 2:11-14, "In [Christ] you were circumcised with a circumcision made without hands, by putting off the body of the flesh, by the circumcision of Christ, having been buried with him in baptism, in which you were also raised with him through faith in the powerful working of God, who raised him from the dead. And you, who were dead in your trespasses and the uncircumcision of your flesh, God made alive together with him, having forgiven us all our trespasses, by canceling the record of debt that stood against us with its legal demands. This he set aside, nailing it to the cross." This means circumcision is no longer commanded for we now have Baptism.
We enter the new year, recognizing this reality. Our sins are forgiven, our debts with God are cancelled, and God made us alive in Him. We enter the new year, receiving the Body and Blood of Christ for our forgiveness and great benefit. For in this Sacrament, we are united to Him and even to the saints who have gone before us and now rest from their labors.
Finally, Jesus is named. You, too, are named. In your Baptism, God called you by your name. And the Name of God was placed upon you. That is your identity. You are a child of God. You belong to Him.
The name Jesus is given is significant. It means, "Savior." He is born to save you.
When we think about this past year, we may think about all sorts of ups and downs in our health, relationships, jobs, and lives. We witness ups and downs in church, our community, the nation, and the world. But in the end, you remain a child of God.
Those sins you have committed? Satan would have you believe that those have now become your identity—that you are a cheat, a fraud, an immoral person. But that is not who you are. Your identity is not found in what you have done wrong this past year. Instead, your identity is found in who you are in Christ. Those sins are washed away. You are entering the new year with a clean slate. You still belong to our Lord. He loves you and forgives you.
We look forward to the new year not knowing what the future will hold. We wonder if we will live another year, what will happen to those whom we love, how many changes (whether for the better or worse) will happen in the coming year. But our confidence is not found in what we can control or determine. Instead, our confidence is found in Christ, whose birth we continue to celebrate this Christmas season. He knows our future. And He gives us a true Hope—in Christ Jesus who lives and reigns. We are in God's good hands. He will take care of us until we join Him in Paradise. Amen.
The peace of God which passes all understanding keep your hearts and minds in Christ Jesus to life everlasting. Amen