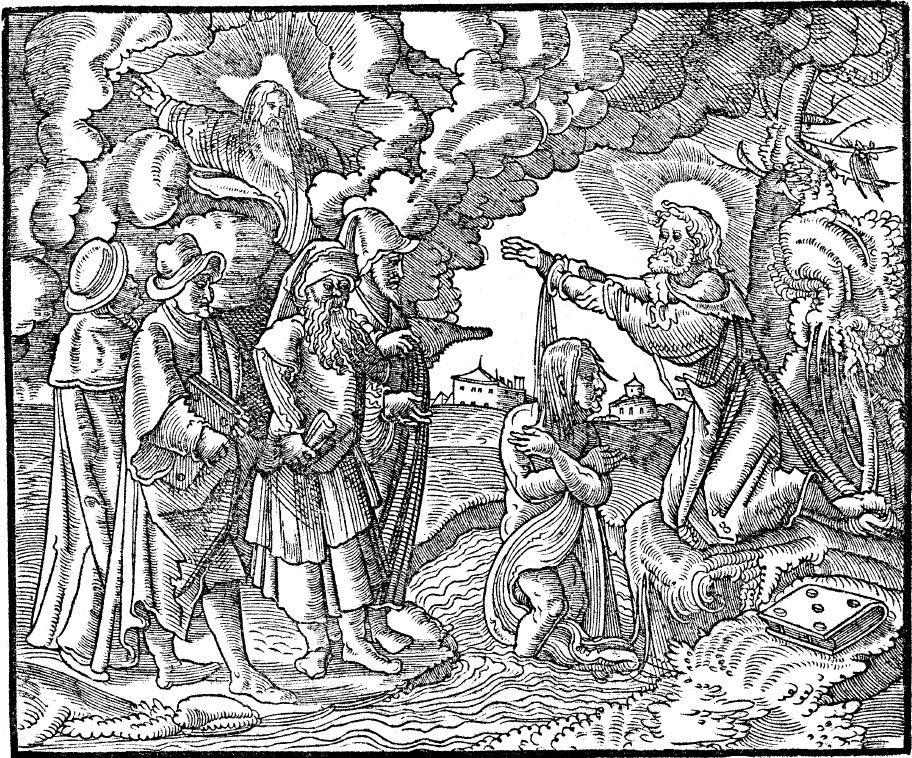 Lessons: Deuteronomy 18:15-19, Philippians 4:4-7, John 1:19-28
Hymns: LSB 355, 357, 343, 352, 346
Grace, mercy, and peace to you from God our Father and our Lord and Savior, Jesus Christ. Amen.
The Holy Spirit guided St. Paul to write to the Philippians, "Rejoice in the Lord always; again I will say, Rejoice. Let your reasonableness be known to everyone. The Lord is at hand; do not be anxious about anything, but in everything by prayer and supplication with thanksgiving let your requests be made known to God. And the peace of God, which surpasses all understanding, will guard your hearts and your minds in Christ Jesus" (Phil. 4:4-7). What an excellent passage of Scripture the last Sunday before Christmas! How often are we finding ourselves so busy that we don't rejoice in the Lord, that we aren't helping our neighbor, or that we don't take time to pray? How often do we find ourselves filled with anxiety? How often are our thoughts misplaced, misfocused, or misguided?
Especially at this time of the year. We're so busy making sure the house is clean, decorations are up, seasonal treats are baked, gifts are purchased and wrapped, and the checking account still has a balance.
Many don't like this season because of its busyness. Many long to have it the way it was when they were children—no real responsibilities, lots of wonder, and lots of excitement. While we adults cannot become children again, we remain children of God who can listen to our loving Lord: "Do not be anxious about anything."
When considering these words, I cannot help but think about Mary and Martha (Luke 10:38-42). Martha welcomed Jesus into her house. Her sister, Mary, sat at the feet of Jesus as she listened to His Word. But Martha was anxious about having Jesus present. She wanted to make sure everything was just right for Him. She was so distracted with all the preparations, she could not find time to listen to the Word of Jesus. Finally, she said to Jesus, "Lord, do You not care that my sister has left me to serve alone? Tell her to help me!" Jesus doesn't answer Martha the way she wanted. Martha thought Mary was the problem, for Martha was busy while Mary was just sitting there, listening intently to the Word. Jesus identified the true problem when He said, "Martha, Martha, you are anxious and troubled about many things, but one thing is needful. Mary has chosen the good portion, which will not be taken away from her." What is that one thing needful? It is the Word of God. Whenever we choose the things that worry and trouble us over the Word of God, we have chosen the wrong things. Whenever we decide we need to stay home to get all those preparations done, we have chosen the wrong thing. This doesn't just include staying home on Christmas so we can tend to the kitchen. This also includes seedtime and harvest, hosting friends and family, or getting caught up on all that needs to be done in life. Being refreshed and resting in the saving Word of Christ is, frankly, more important.
Now granted, both Mary and Martha were doing important things. While it is most important to hear the Word as Mary was doing, it is also important to serve, as Martha did. But that service cannot get in the way of hearing. For when we are not hearing, we cannot remain good workers in service toward God and our neighbor.
Throughout our lives, we have plenty of choices to make. One choice we should never be making is whether or not we will be hearing the Word of God. When the Divine Service is taking place, our appointment calendars should already be filled. We should never be saying, "Well the only time I have free is at 10 o'clock on Sunday" and then do something other than hearing the Word.
Why shouldn't this even be an option? There are three reasons. First, God, through the Third Commandment, requires church attendance. God teaches you to gladly hear the Word of God and learn it. Despising preaching and God's Word is clearly forbidden. It needs to be said that when we do not make hearing the Word a priority, we are indeed despising preaching and God's Word.
The second reason is we should want to be known as honorable people who are true to our word. We don't want to be known as dishonest people; the Church certainly does not want to have a reputation for deceit. In your Confirmation promises, you promised that you will be a Mary—that you will hear the Word of God and receive the Lord's Supper regularly. You even promised that you will be willing to suffer all—even death—rather than fall away from the faith. And since that is your own promise, attending the Divine Service when it is offered is a choice you already made.
Third, and most important, do not lose sight of what God is offering you in the Divine Service. As you hear the Word and receive the Lord's Supper, Christ is present with His gifts. He is delivering to you what His Word says—namely, the forgiveness of sins and the life everlasting. The Holy Spirit only works through God's Word to sustain your faith in Christ who loves you and redeemed you.
And, as you are being a Mary by first hearing the Word, remember the various vocations God has given you. For it is fitting to also be a Martha—to serve your neighbors in love.
But is it possible to be a Martha when you never have this hour open each week to get some things done? Of course it is, because you have lots of time the rest of the week. Simply adjust your priorities.
Also, don't get so anxious about it. As we heard, "Do not be anxious about anything." Look at the birds of the air! They don't busy themselves with all the things we do. They don't know where their next meal is coming from. Yet you can still hear their glad sounds. And God continues to take care of them.
He will certainly take care of you, too. After all, we did hear in our Epistle that the Lord is at hand. He is near to all who call up on Him (Psalm 145:18). He hears your prayers. He is your strength and stay. He is your ever-present help in times of trouble (Psalm 46:1).
The Lord certainly is at hand. He is present here in His Word. He is present in promise. He is present in Sacrament. He is near. He is our Immanuel—God with us.
This means He is present to bless. He blesses you by comforting you, forgiving you, loving you, and calling you His own.
Many are terrified by the thought of God's presence. They don't want God to know the sins they've committed, the hurts they've caused, or the temptations they've faced. Many are like Peter who, after catching those boatloads of fish, fell down before Jesus and declared, "Depart from me, for I am a sinful man, O Lord!" (Luke 5:8)
But thanks be to God, He doesn't leave us that easily. And that's a good thing. Adam and Eve tried to hide from God, but they could not. For God refused to let them go. Had he left them alone, they would have died without a Savior.
If God leaves us alone, we, too, would die without a Savior. But since God is near, our Savior is near. And since our Savior is near, He gives to us the necessary gifts for our salvation: Jesus died in our place on the cross to forgive us, He justifies us by grace, and He grants us the peace of God which surpasses all understanding. This means we now have the confident hope of everlasting salvation.
Because He is near, He hears our prayers and supplications. He hears our anthems of thanksgiving. He hears our requests.
Because He is near, we have nothing to be anxious about. He provides for all our needs of body and soul.
If we are without spiritual nourishment, it is our own fault. His Word is proclaimed here week after week. The Sacrament is also offered every week. Bible studies are available. Christ Jesus has given you a pastor who is also here for you to minister to you according to your needs. And the Scriptures have been translated so you have easy access to God's Word.
Clearly, He comes to you and provides for you. He is near.
His presence is a reason for joy and rejoicing. Why? Because He isn't present in order to destroy us, as many suspect. Instead, God is present to save you. The name Jesus means, "The Lord saves," for He has secured your eternal salvation by going to the cross. He is near to grant you joy and peace in believing (Rom. 15:13). He comes to you to be your Savior and Advocate. His peace guards your hearts and minds.
And plus, joy is not just some human feeling. The joy found throughout the Bible is not just an emotional reaction that even the heathen have. Instead, the joy and rejoicing in Christ is a fruit of the Holy Spirit which God works through the Word and the Sacraments. When the Spirit is at work through them, He works His fruit: love, joy, peace, longsuffering, kindness, goodness, faithfulness, gentleness, self-control. Against such there is no law (Galatians 5:22-23). When the Spirit is at work through Word and Sacraments, our anxieties decrease. We realize that much of what makes us anxious is rather unimportant and that God truly takes care of our needs of body and soul.
As we are fed with the Word and Sacraments, we start to see what the true life is all about. We begin to see that life is not about all the things that trouble us this season. Instead, it is all about Jesus—Jesus for you—Jesus born for you—died for you—lives for you.
John the Baptist preached Jesus. All the prophets before him preached Jesus. All faithful pastors since preach Jesus.
For only through Jesus do you have access to God the Father. Only through Jesus do have eternal life. Only through Jesus do you have peace with God. And so, rejoice in Him always. With His peace and the gift of eternal life abiding in you through your Baptism, you have every reason to be filled with joy and no reason to be anxious. Amen.
The peace of God which passes all understanding keep your hearts and minds in Christ Jesus to life everlasting. Amen