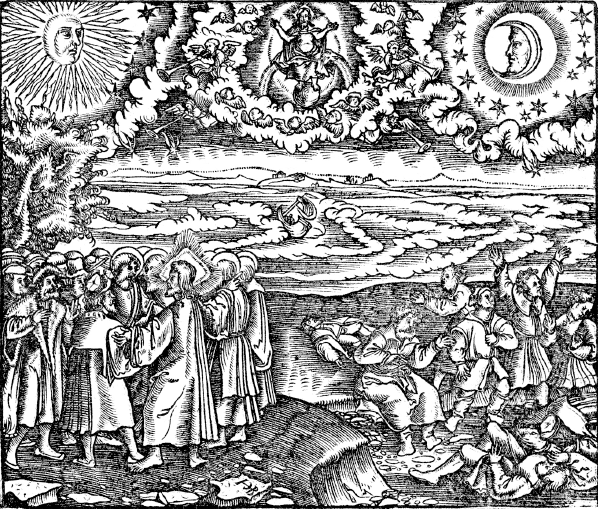 Lessons: Song of Solomon 2:8-14, Romans 15:4-13, Luke 21:25-36
Hymns: LSB 659, 334, 337, 336, 342
Grace, mercy, and peace to you from God our Father and our Lord and Savior, Jesus Christ. Amen.
It's interesting how many conclusions people have developed concerning the Old Testament and the New Testament. For example, some have pitted one Testament against the other. Some hold the false idea that the Old Testament is for Jews and the New Testament is for Christians. Some think that the Old Testament is all Law while the New Testament is all Gospel. Many figure the Old Testament is no longer useful for Christians, and we need to simply focus on the New Testament. Some think the Old Testament is obscure while the New Testament is clear. These ideas are not usually taught but, for some reason, many Christians develop these false conclusions.
Many say the Old Testament is simply stories about blood, war, destruction, immorality, horrible sins, and all sorts of unwholesome events. Others do not like the detailed descriptions of the Ceremonial Law or the Old Testament's seemingly cryptic prophecies. Because of this, some prefer to bypass these important words of God.
But what would the Christian faith be like without the Old Testament? Without it, there would be no Old Testament quotations spoken by Jesus or written by the evangelists in the New Testament. Paul could not have included the quotations found in our Epistle. And even worse, without the Old Testament, there would be no psalms, no knowledge where we came from, no understanding on how we came into sin, and no prophecies concerning our Lord and Savior Jesus.
Without the Old Testament we would not be sure that Jesus is the Christ—the Savior of the world. We would not know that He had to be born of a virgin, that He had to be perfect to take on our sin, that He would die in our place, and that He would rise from the dead.
Without the Old Testament, it would appear that we have a relatively new religion without a foundation. But with the Old Testament, we can say, "It is written." We have the Word of God that gives us hope. We can do as the Bereans did and search the Scriptures.
Many Bereans were Gentiles. Paul and Silas brought the Gospel to them on their second missionary journey (Acts 17:10-15). Bringing the Gospel to those outside the Jewish family fulfills many Old Testament prophecies, as our Epistle teaches. Now, the whole world can hear of the grace of Christ and be included into His family.
Throughout the Old Testament, God was preparing His people to meet Jesus. He was making the world ready for Christ's birth. He was setting the stage right. And, in the fullness of time, Christ our Lord was born (Gal. 4:4-5). Just as God prepared His people for the first coming of the Lord, so also God prepares us to meet Christ today.
Advent is a time of preparation. While the world prepares for the "holiday season," Christians are preparing for the coming of our Lord. During Advent, Christians are not just preparing for the celebration of the birth of our Lord, but Advent is a time in which we observe the various ways Jesus comes to us. Advent comes from the Latin for "to come." Not only did Christ come in the flesh some 2,000 years ago, but now Jesus comes to us today in Word and Sacrament. And He will come again on the Last Day to judge the living and the dead.
The particular focus of this Sunday in Advent is to prepare for the second coming of our Lord Jesus Christ. Through continual repentance and faith, every Christian ought to be prepared to meet Christ when He comes in glory at His appointed time. In today's Gospel, Jesus tells his disciples to pray that they would have strength to escape judgment and to stand before the Son of Man (Luke 21:36). But sadly, many who go under the label "Christian" simply are not prepared to meet Christ.
For many Christians are weighed down with carousing and drunkenness and the cares of this life (Luke 21:34). Many abandon the freedom to do good works and become enslaved to sin and death. They shun the ways of God and go after the ways of the world. They see the Word of Christ as restricting, unnecessary, or pointless. They are not interested in hearing the Word of God, searching the Scriptures, or receiving patience and comfort from the Holy Scriptures (Rom. 15:4).
We like to go our own way, plowing our own paths–doing things our way—pleasing ourselves. That's why people clamor to replace the Divine Service with entertainment, modern gimmicks, or the latest fads. Because people do what pleases them for the moment, they spend many moments going after lustful desires and then must endure the consequences of those moments for many years. So many wreak havoc on their lives over a moment's pleasure.
But it isn't just the big or shameful things that anger God. It is all sin. Your smallest sins that you think are no big deal are big sins in God's eyes. If you could keep every commandment of God and fail in but one place, you are guilty of breaking the entire law (James 2:10). You are not entitled to any sin. You cannot claim any as being ok for you. Whether you want to ogle over a beautiful woman, take a glimpse at a few lewd pictures, use foul language, take office supplies from work, waste time at work, or cheat your neighbor through deception, you are not entitled to these things. You cannot do them and think that repentance is unnecessary. You cannot create your own path to heaven, doing whatever pleases you at the moment. Be prepared. Repent.
For you are baptized into Christ. You are a member of His Body. You are not your own; you are bought at a price. In His compassion, Jesus took on your sin, suffered God's wrath, shed His Blood for you, and died for you—all so you can have life. He rose for you, calls you by name, and brings you into His Kingdom. You belong to Jesus.
In Christ, you are no longer a slave to sin. Your body is a temple of the Holy Spirit (1 Cor. 6:19-20). You received freedom from sin when you were buried with Christ and raised in newness of life—when you were joined to Christ's own death and resurrection in Baptism. Therefore, do not continue in sin. Reckon yourselves indeed dead to sin and alive to God in Christ Jesus our Lord. Do not let sin reign in your mortal body, that you should obey it in its lusts. Do not present your members as instruments of unrighteousness. Instead, present yourselves to God as being alive from the dead, and your members as instruments of righteousness to God. For you are not under law but under grace (Rom. 6:1-23).
Our Baptisms are never insignificant. In our Baptism, our slavery to sin and the devil is replaced with freedom to do what is good and to live in Christ. Our road to eternal death is replaced with the path to eternal life. Our Baptisms prepare us to meet Christ. For when we meet Jesus in Baptism, we are given the faith—faith which receives the benefits of Baptism. Christ commits us to Himself in Baptism. Baptism truly is a treasure of Christ's Church!
      Just as many have false ideas concerning the Old Testament, so there are many false ideas concerning Baptism. Twenty percent of the world's Christians reject infant Baptism and that number is about 50% in America. Many who reject infant Baptism reverse the direction in Baptism and say that it is their commitment to Christ. And even those who hold to infant Baptism often do not understand it. They turn Baptism into merely a family get-together—an opportunity to coo over the newborn baby. A lack of understanding of Baptism is evidenced in the way we live our daily lives. Every year, when we make another lap around the sun, we celebrate our birthdays. You all know which day is your birthday. But do you know the day of your Baptism—the day you were added to Christ's Church? How many of you observe your Baptismal birthday each year?
As Christians, it is given for you to remember and utilize your Baptisms every day. You do this by beginning your day with the invocation and prayer. You do this at the end of each daily through daily contrition and repentance. These actions ought to be part of the Christian life. Is it part of yours?
In the same way, the Word of God ought to be part of your life each day. Bibles are not meant to sit on the shelf. And so, this Advent, I encourage you to read the Gospel of Matthew. And hopefully, you'll keep on reading your Bibles beyond this Advent season. It is important to be grounded in the Word of God, which is a lamp to your feet and a light to your path (Ps. 119:105). The Word is God's truth. If you abide in it, you shall know the truth and the truth shall set you free (Jn. 8:31-32). The Bible is the voice of God. It is written for our learning, that we may believe that Jesus is the Christ, the Son of God, and that by believing we might have life in His name (Jn. 20:31). Only the Word of God creates and sustains faith. Truly this Word of God—this voice of our Good Shepherd—prepares us to meet Christ! Let this Word of Christ dwell in you richly—both the Old and the New Testaments.
Do not get caught up in the ways of the world, shunning this precious Word. For heaven and earth will pass away but God's Word will never pass away (Luke 21:33). God's Word promises that Christ will return and that He will create new heavens and a new earth. What is seen will perish. But what is unseen is eternal. Cling to God's Word and make it a part of your daily life so that you will be fully prepared to meet Christ when He returns in a cloud with power and great glory.
On that Last Day, Christ will judge the living and the dead. Those who do not believe will be condemned forever in Hell. Watch and pray always that you may be counted worthy to escape all these things that will come to pass. Stand firm in the faith. And do not be afraid, because your redemption draws near. Dear brothers and sisters in Christ, He will take you and all believers in Him to be with Himself forever in Heaven. He will raise your body on the Last Day, and you will be perfect in every way, standing before the Son of Man. Amen.
The peace of God which passes all understanding keep your hearts and minds in Christ Jesus to life everlasting. Amen