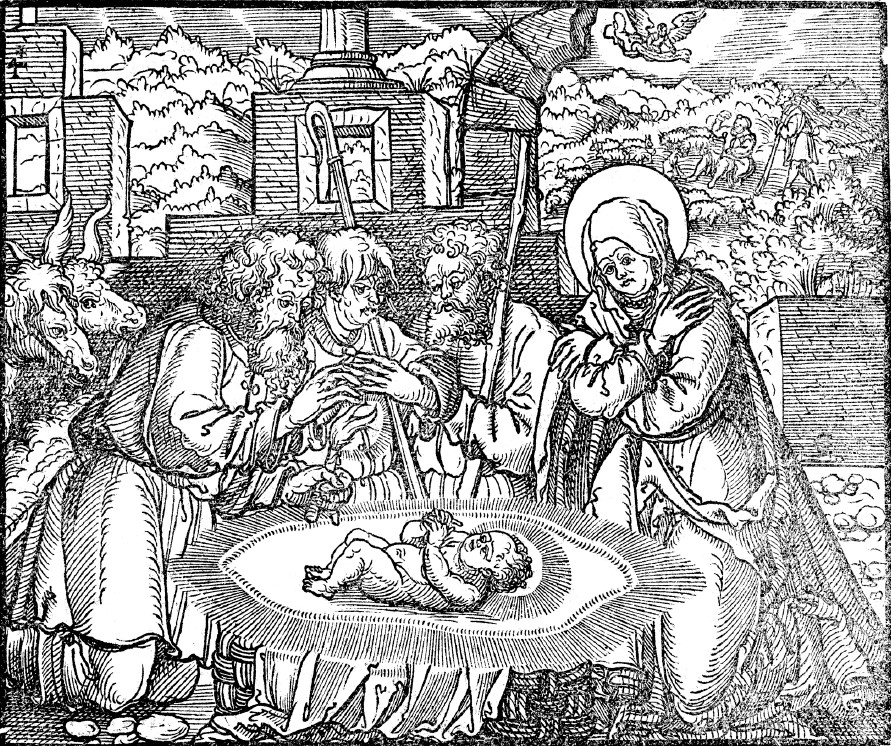 Lessons: Isaiah 52:6-10, Hebrews 1:1-12, John 1:1-14
Hymns: LSB 375, 383, 391, 381, 382, 370, 384, 380, 393, 358, 359, 387
Grace, mercy, and peace to you from God our Father and our Lord and Savior, Jesus Christ. Amen.
The day has finally arrived! It is Christmas Day!
Does it feel like Christmas? If cold weather and snow mean Christmas, then surely it feels like Christmas. If music and cards and trees and lights and get-togethers mean Christmas, then it probably feels like Christmas. If hustle and bustle and little sleep and chaos and trouble and screaming and disappointment and wrong gifts and unhappiness mean Christmas, then for some, sadly, it feels like Christmas.
Many people are let down at this time of the year. They don't get the gifts they wanted. The clouds and cold leave them depressed. Families are split by distance, divorce, or death—and thus are never the same. Churches aren't as full as they used to be.
But do these mean Christmas is ruined? What can ruin Christmas? What can ruin the day we have been anticipating for quite some time?
Can accidents or medical problems? Can war or hunger? Can drunkenness or neglect? Can old grudges or fresh wounds? Can the economy? Can dry turkey or boring presents? Can rowdy children or rude guests? Can these ruin Christmas? No. I'm here to remind you nothing can ruin Christmas. Not even death.
For death has lost its sting. The grave has lost its victory. Jesus was born to defeat death and bring life and immortality to light.
The Christmas message is about Christ who was born for us to save us from our sins. He is God made flesh, the Word made flesh. He is true God begotten of the Father before all worlds and true Man, born of the virgin Mary.
These are facts. And these facts reveal the Real Christmas, which cannot be reversed. Therefore, Christmas cannot be ruined.
While our celebrations of Christmas may not always go as we wish, true Christmas cannot be ruined. It cannot be ruined any more than God can be ruined, or the birth of Jesus in Bethlehem be undone. We have a Savior—Christ the Lord. He was born in the City of David.
That was not His home. And this fallen world is not ours, either.
We try to find success and happiness in this world. But we will not find lasting success or unending happiness. All that is in this world will be destroyed. Nothing in this life lasts forever. The seasons come and go. Generations come and go. We spend countless hours toiling away at things that won't last and often won't help our neighbors. All this fuss doesn't get us very far. It may help pass the time or provide some entertainment.
But true joy is found in the Word of the Lord, which endures forever. True joy is found in Christ who lived and died for us. True joy is to be with Christ Jesus, who is our Savior. He is Immanuel—God with us.
He became one of us—truly a Man but without sin so that He can become our sin. He lived with us. He can identify with us, for He has lived in this sin-corrupted world. He is Immanuel—God with us—who has come into the world to take on our sin and die in our place.
This is the heart of the Gospel—and it is a most joyous Word. While phonies and thieves are trying to destroy these truths and replace them with lies, while false prophets claim to stand in the name of Christ and teach a different religion, while apathetic men tend to simply ignore the fact that Christ was born and that He will come back to judge, and while many churches have supposed the right way to celebrate Christmas is to cancel church on this day, the reality is that the Gospel of Christ melts our sinful hearts of stone and turns our attention toward Jesus. For He alone has the words of eternal life.
The Bible—the Word that brings life—the Word that makes us wise unto salvation—is God's Word. And it is true.
Yet, many people spend little time in the Word of God. They do not think too much about the mystery of the incarnation or what Christ truly suffered to take our sins away.
So let's take some time considering this wondrous mystery. The Word became flesh and dwelt among us. That is, God became flesh. God was born of the virgin Mary. He existed from all eternity. All things were made through Him that were made. And now He is born as a Baby. As a Baby, His mother, Mary, is taking care of Him. But as God, He is, at the same time, sustaining His mother and the entire world. That is a profound mystery!
It is a mystery that God becomes incarnate in the flesh. God is born in Bethlehem. How can that be? We cannot comprehend it.
And look at what He does for us right away. Upon His conception by the Holy Spirit, His family makes the journey to Bethlehem because of the taxation by Ceasar Augustus. Joseph was of the lineage of David, who is from Bethlehem, so he must return to his ancestral home. There, Jesus is born, and He is wrapped in swaddling clothes and lain in a feeding trough because there is no room for them in the inn. Already the world is saying there's no place for Him. Yet, He is visited and worshiped by some lowly shepherds and by the Magi. He is circumcised. He flees to Egypt to escape Herod who wants Him dead. What amazing mysteries for us to ponder in our hearts!
To think: God took up our flesh and allowed us to do those things to Him! That He would be born without a bed in a place for animals to dwell. That He would suffer the knife at the age of eight days. And later He is rejected by men and forsaken by God. He goes to Jerusalem to die.
He does all this out of His perfect, selfless love and mercy.
He does this because He loves you.
Truly Christmas cannot be ruined!
And still, despite the wonder and glory of the Christ-child born to Mary—despite the uncomplaining Lamb led to the slaughter, how cheaply we would sell our souls!
We lust and covet all that He went without: honor, prestige, fame, fortune, and power. How we long to take control of our lives and the world around us! How madly we desire every form of pleasure: gluttony, sexual deviancy, mindless shallow entertainment, and juicy gossip! And how low will we stoop, what lies will we tell, what disgusting perversions will we indulge in when we think no one is looking! And then pride rears its ugly head—seeking to justify itself—turning blame on others, pretending as though we've tried hard enough. And don't forget, we turn Christmas into parties and presents, not realizing what Christmas truly is. We look for nostalgia, rather than God's truth.
You have been called out of darkness into God's most glorious light. Live in that light. Repent and turn from your sin.
And be of good cheer. For Christ has overcome the world. Not even your sin can ruin Christmas. For Christ was born to take away that sin. He came into this world to be your Savior—to shed His Blood for you on the cross in Jerusalem.
He was faithful to His Father despite living in this world so thoroughly corrupt with sin. He Himself remained the sinless Son of God. He fulfilled God's Law in your behalf. He died in your place, redeemed you, purchasing you from all sin, from death, and the power of the devil. By His grace, He has justified you—taken your sins away—declaring you righteous and holy—that you should become heirs according to the hope of eternal life.
You have been baptized into Him and have received His righteousness. You are regenerated and renewed.
Jesus not only died for you, but He also rose for you. He lives for you. He will come back for you. Eternal life is yours. Forgiveness is yours. These things cannot be ruined or taken away from you. Neither can the Real Christmas.
Therefore, let us rejoice this Christmas day. Whatever may have gone wrong this year or whatever sadness you face is swallowed up in the victory of our Lord Jesus Christ. He is here for you. He gives you His Body and Blood to eat and drink so that you are united to Him and to the saints who have gone before you. He loves you more than you can imagine. You belong to Him. And so this Christmas joy never fades. Amen! Merry Christmas! Amen!
The peace of God which passes all understanding keep your hearts and minds in Christ Jesus to life everlasting. Amen