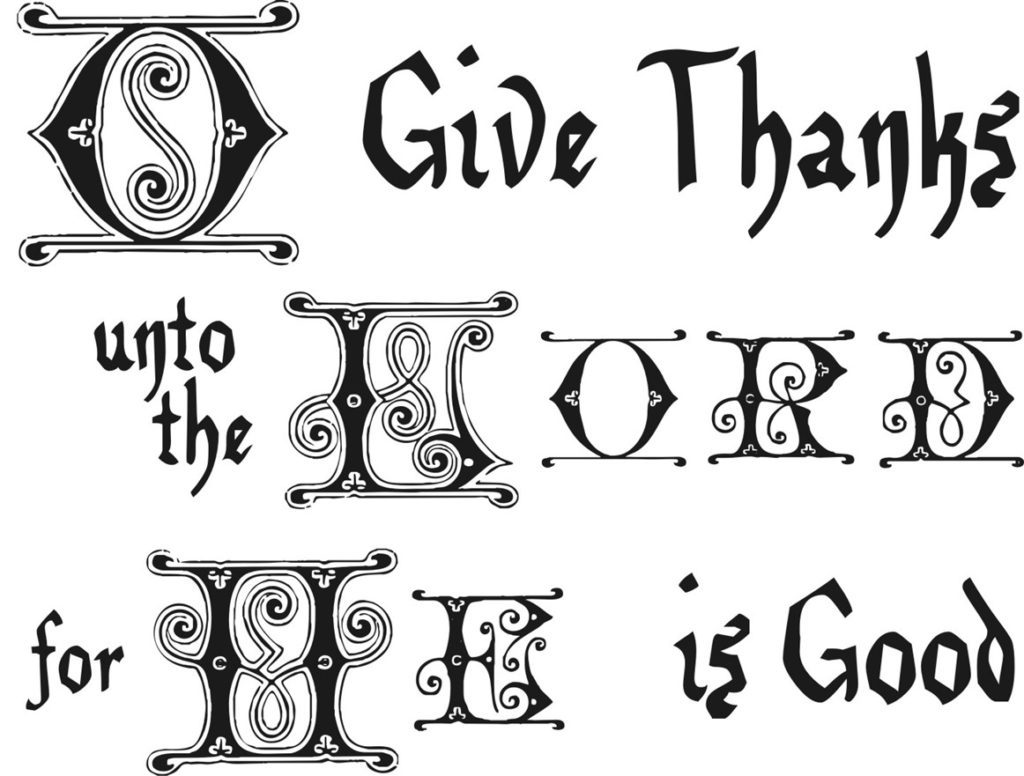 Lessons: Deuteronomy 8:1-10, 1 Timothy 2:1-4, Luke 17:11-19
Hymns: LSB 892, 948, 822, 785, 794
Grace, mercy, and peace to you from God our Father and our Lord and Savior, Jesus Christ. Amen.
In today's Old Testament lesson, the people of Israel are ready to enter the Promised Land. They had already begun settling the land east of the Jordan River. They are preparing to cross the Jordan heading westward into the main area that will make up Israel. Anticipation and excitement are very high, yet the people are ready to rest after their very long journey. After all, they had been wandering in the wilderness for the last 40 years. They ate manna as their daily food. Almost everyone was less than 60 years old since those older died in the wilderness. They faced trial, and yet the Lord was with them. Their clothing did not wear out and their feet did not swell.
Before they enter the Promised Land, it is time for God's people to gather together to hear the Word of the Lord. In Deuteronomy 5, Moses began a speech which instructed God's people before they spread about the land God was giving to His people. This speech included a long summary of the Law of God, and Moses spoke many words of encouragement and hope, even prophesying the coming of the Prophet—our Lord Jesus Christ.
This sermon of Moses continued for the next 21 chapters in Deuteronomy. If you ask me, this is another miracle. God's people gathered without the comforts we enjoy in a church sanctuary. They listened to this sermon, even as they are ready to cross the Jordan River and settle their new land and homes. Instead of rushing off and getting on with their lives, they soaked in God's Word as Moses declared it to them.
This sets an example for us. Before we busy ourselves with whatever keeps us busy, we need to sanctify our time with the Word of God. That's why it is so good for us to gather in God's house this evening before we have our various family get-togethers on Thanksgiving. Our time in the Word cannot be better spent. Our time praying and singing God's praises cannot be better used.
We learn of first fruit giving when we begin each week by giving to the Lord the first hour or two of our time by entering God's house to hear His Word and receive the Sacrament. Is there a better way to return thanks to God than to do this? When we are truly thankful, we will hear the voice of our Good Shepherd and receive His gifts. In fact, the Lord's Supper is sometimes call the Eucharist, which comes from the Greek for Thanksgiving. Jesus took bread, blessed it, and gave thanks. By participating in this Sacrament frequently, we are expressing our thanks to Jesus who instituted it, died for us, and blesses us with His forgiveness.
And let's sanctify our days by reading Scripture and praying to the Lord who not only made the heavens and the earth, but also redeems us. God's Word is our great heritage. There's nothing more important, for it reveals to us our Savior, Jesus, who shed His blood for us on the cross and grants us the gift of eternal life by faith.
Our Old Testament lesson tonight is spoken toward the beginning of Moses's long sermon. Inspired by God Himself, Moses commanded the people to follow God's Word, being fruitful and multiplying as they go in to possess the land which God promised to their fathers. Moses reminded them of God's providence as our Lord took care of them those past forty years and as they will enter into a good land with brooks of water, fountains and springs, wheat and barley, vine and figs, olives and honey. They will eat bread without scarcity, and they will lack nothing. Their land will produce iron and copper. They shall eat and be full, and they shall bless the Lord their God for the good land He is giving them.
This is in stark contrast to our Lord Jesus Christ, who conducted His ministry in poverty. Jesus lamented that He had no place to lay His head. He faced persecution and suffering. His hometown would not honor Him.
There are some parallels between Israelites in our Old Testament lesson and Jesus as He begins His ministry. Just as the people of Israel wandered in the wilderness forty years before entering the Promised Land, our Lord Jesus Christ went into the wilderness to fast forty days and forty nights. Just as Satan tempted the Israelites so that they engaged in false worship and frequently grumbled and complained, so also Satan went into the wilderness to tempt Jesus, the very Son of God. Just as the people of Israel heard the Word of God, so also Jesus used His time in the Word while in the wilderness.
In each of the three temptations Jesus faced, He quoted not just any Old Testament passage, but Jesus quoted passages that are from this speech of Moses in the book of Deuteronomy. This sermon in Deuteronomy 5 to 26 helped sustain Jesus during His fast and His temptation.
The Israelites had concluded their 40 years of wandering and now Jesus is concluding His 40 days of fasting in the wilderness. The Israelites are relishing at the opportunity to go into a land flowing with milk and honey, and Jesus is considering those events while facing starvation as Satan comes to test Jesus.
And when the tempter came to Jesus, the Devil said, "If you are the Son of God, command these stones to become loaves of bread." Jesus replies, quoting a portion of tonight's Old Testament lesson, saying, "Man shall not live by bread alone, but by every word that comes from the mouth of God" (Matt. 4:1-11).
Here Jesus—who created all things—is now in need. Here Jesus—the Perfect One—is facing temptation. And Jesus quotes a Bible passage right in the midst of speaking of the blessings God's people were receiving from their merciful God! A land with brooks of water, a land with milk and honey, pomegranates and fig trees.
And Jesus could still think on these verses when He went without them. Only a perfectly thankful Man could do this! And so, Jesus carried out His cross and trial in the wilderness with steadfastness, never giving in to the temptations of the Devil.
If Jesus can zero in on a passage like this in the midst of severe hunger and great temptation, we, too, can consider passages like these when we are going through rough times. We can take comfort in God's divine providence, that He will be with us and get us through our times of difficulty. We can be confident that God will generously resolve our various wants and trials.
God is not stingy, but He is a God of abundance. He didn't just create a place for us to live that could barely provide enough to sustain life. Instead, God created a beautiful world with lakes and mountains, fields and forests. He created a wide variety of plant and animal life. He created much beauty, and there's much to awe over. We have so much to be thankful for.
God's abundance is made clear in what Jesus has done for us and for our salvation. Jesus did not just pay for a few sins that each person would commit, nor did He just pay for the sins of just a few good people. Instead, when Jesus went to the cross, He paid for everyone's sin—every last sin. There's nothing He left out. That means He abundantly paid for your sin, which ought to cause you to be filled with thanksgiving.
God's abundance is clear in this congregation. While there always ups and downs, God has blessed us with His presence. He has blessed our church with the addition of our gradine on the altar, and He has blessed us with the commitment to rebuild our organ to aid our singing and to give God the glory. He has blessed our church with faithful people who continue to hear the Word of God. Above all, He has blessed us with the presence of Christ through His Word and Sacrament, along with the forgiveness of sins we Christians receive by faith in Christ.
      Thanks be to God for His innumerable mercies and gifts! Amen.            
      The peace of God which passes all understanding keep your hearts and minds in Christ Jesus to life everlasting.  Amen