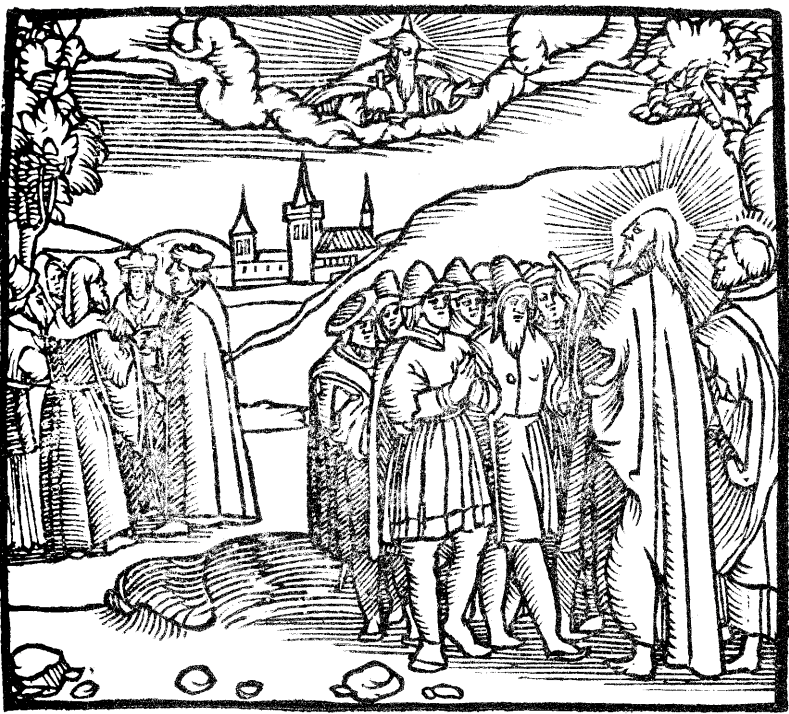 The recording of today's service did not work so there's no audio available.
Hymns: LSB 579, 708, 631, 758, 580
Lessons: Deuteronomy 10:12-21, 1 Corinthians 1:1-9, Matthew 22:34-46
Grace, mercy, and peace to you from God our Father and our Lord and Savior, Jesus Christ. Amen
When the events happen in today's Gospel, it is Holy Week. The Chief Priests, Scribes, and Pharisees are all seeking ways to kill Jesus. They figured a good way to get away with their blood-thirsty ambition is to find fault in our Lord's words. Surely, they figured, they could get Jesus to slip up somewhere. He's human, after all, who's got to walk into a trap and say something incriminating sometime.
But their schemes don't work against the Word made flesh. Our Gospel begins by stating Jesus silenced the Sadducees. The Sadducees were, by the way, the theological liberals of their day. They only accepted a portion of the Old Testament books, and they denied any notion of a resurrection. Unsurprisingly, then, they denied the account of the resurrection of the widow's son at Zarephath, along with the prophecies of the Resurrection of our Lord and the Resurrection of all flesh on the Last Day.
Since they had been silenced, now the Pharisees want to take a stab at Jesus. Maybe they can do what the Sadducees could not. They did, after all, think of themselves as being much better than the Sadducees. So a lawyer asked Jesus a question, "Which is the greatest commandment in the Law?" Now, the Pharisees were rather proud of their understanding of the Law. They codified 613 laws—365 commandments and 248 prohibitions. They loved to talk about these laws. They debated which law was the greatest. Different Pharisees would come up with different answers. They enjoyed the academic exercise. Yet, they could not conclude which is the greatest commandment, for if they picked one, they could give arguments why another would be greater. Then they would trump that one with yet another. It's like rock-paper-scissors. One always tops the next, giving you an endless cycle. So, they thought they could trap Jesus by asking Him this question on the greatest commandment. No matter His answer, they thought they could prove that another commandment is greater than the one He would state.
But Jesus answers faithfully, pointing out that the greatest commandment is to love God with all your heart, soul, and mind. He also told them which is second—to love your neighbor as yourself. After being questioned, Jesus then asks them a round of questions, which they weren't ultimately able to answer, nor did they dare ask Him any more questions.
There's no question that Jesus was hard on the Pharisees. We tend to follow suit. In the following chapter (Matt. 23:1-36), Jesus pronounces seven woes against them. He says in part, "Woe to you, scribes and Pharisees, hypocrites! For you shut the kingdom of heaven in people's faces. For you neither enter yourselves nor allow those who would enter to go in. Woe to you, scribes and Pharisees, hypocrites! For you travel across sea and land to make a single proselyte, and when he becomes a proselyte, you make him twice as much a child of hell as yourselves." That's harsh! But Jesus is speaking the truth. In love. For it is a very unloving thing to sugar-coat reality, pronouncing evil to be somehow good.
As much as we may like to beat up on the Pharisees, there's a few things we need to consider. Jesus had no planks in His eyes. He could see clearly to remove their specks. It's hard for us to see the planks in our eyes, yet Jesus commands us to remove them before we remove the specks in our neighbors' eyes (Matt. 7:1-5). Also, the Pharisees had been raised in false belief, so it was hard for them to let go of it and receive with meekness the pure Word. We have that pure Word here, so let us not replace it with false teachings! Next, we have 20/20 hindsight vision. We can see clearly how our Lord Jesus fulfilled the Old Testament Scriptures—that He is the promised Messiah—that He truly came to take away the sins of the world as God first promised to Adam and Eve. The Pharisees were witnessing these events first-hand and had to determine if Jesus is truly the promised Messiah.
Finally, the Pharisees were interested in engaging in something that many Christians today do not want to even consider doing. The Pharisees were interested in theology. They loved to talk about matters pertaining to God. Yes, their codifying those 613 laws and determining which is the greatest was misdirected. But at least they were interested in such things.
When you get together with friends and family, how much time do you spend speaking of theological matters? It is easy to spend much time discussing and even debating things that have no eternal significance—like sports and the weather. But what value do they present in the grand scheme of things? Politics are much more important, for God established government and it involves loving your neighbor. But even that is not as significant as theology.
Our interest in theology should not be limited to Sunday mornings, for God declared, "Hear, O Israel: The Lord our God, the Lord is one. You shall love the Lord your God with all your heart and with all your soul and with all your might. And these words that I command you today shall be on your heart. You shall teach them diligently to your children, and shall talk of them when you sit in your house, and when you walk by the way, and when you lie down, and when you rise. You shall bind them as a sign on your hand, and they shall be as frontlets between your eyes. You shall write them on the doorposts of your house and on your gates" (Deut. 6:4-9). And God the Holy Spirit guided St. Paul to put it this way, "Let the peace of Christ rule in your hearts, to which indeed you were called in one body. And be thankful. Let the word of Christ dwell in you richly, teaching and admonishing one another in all wisdom, singing psalms and hymns and spiritual songs, with thankfulness in your hearts to God. And whatever you do, in word or deed, do everything in the name of the Lord Jesus, giving thanks to God the Father through him" (Col. 3:15-17).
There's an ancient hymn we sing in which all five stanzas begin with the same words, "Lord Jesus, think on me." In doing so, we ask God for forgiveness, for a calm heart, for strength to endure adversity, for faithfulness, and for joining the Lord in Paradise. We want the Lord to think on us. So shouldn't we also want to think on Him—to ponder Him and His Word—to think about the Holy Trinity—to dwell on the blessings we have through Christ? If we love the Lord with all our heart, we certainly would be doing as the Pharisees were doing—that is, considering matters of theology day in and day out—asking questions, seeking answers from God's Word.
Again, the Pharisees were misdirected as they did these things, but we can see that Jesus redirects them to the heart of God's Word. After the Pharisees questioned Jesus about the Law, Jesus asked them questions about the Gospel. He wants them to think about Christ. So, He asks, "Whose Son is He?" They, knowing the Biblical prophecies, said, "The Son of David." They knew the Messiah would come from the house and lineage of David—that He would be born in David's hometown of Bethlehem—that the Christ would come to save them.
But evidently they did not understand something of His nature—that He is God. Jesus asked them why David calls the Christ "Lord" and how is He David's Son? They don't answer Him. They were looking for more of an earthly ruler. They weren't looking for the Christ to be the divine God. They also know that the great King David would never call any of his sons lord, nor would he bow down to them. Yet, in this case, David calls his Descendant, Lord, who sits at the right hand of the Father. For that is who Jesus is.
It may be interesting to know all sorts of Biblical trivia, knowing that Eliakim begat Azor and Azor begat Zadok (Matt. 1:13-14) or that Dorcas is from Joppa (Acts 9:36). We are encouraged to do as the Bereans did, to search the Scriptures (Acts 17:11). But as we do so, we must not lose focus of the main thing—the Gospel of our Lord Jesus Christ. For He alone bore our sins in His Body and went to the cross where He was forsaken by His Father. He alone rendered the perfect sacrifice of His Blood to atone for our sins. He alone drank the cup of God's wrath to put all enemies under His feet and defeat the wiles of the Evil One.
Jesus is, after all, "the author and perfecter of our faith, who for the joy that was set before Him endured the cross, despising the shame, and is seated at the right hand of the throne of God" (Heb. 12:2). Jesus declared, "I AM the Way, the Truth, and the Life. No one comes to the Father except through Me" (John 14:6). Salvation is found in "no one else, for there is no other name under heaven given among men by which we must be saved" (Acts 4:12). If you notice in our Epistle, those nine verses mention Jesus nine times! Jesus is the focus of our faith, for salvation comes only through Him. Therefore, our studies of theology, which we as God's children must continually do, always remains focused on our Savior Jesus Christ.
At the same time, we do not forget or neglect the Law. Without it, we would not know our sin, what God expects of us Christians, or why we would even need the Gospel. And so, the Law's aim is to ultimately direct to us the saving Gospel—the Good News of Jesus Christ.
Just as the events in today's Gospel took place during Holy Week, let's not let a day pass by when we are not thinking about—and thanking God—for the loving work of Christ during Holy Week which He accomplished on Good Friday and at His resurrection on Easter Sunday. We fix our eyes on Jesus, who loves and saves us. Amen.
The peace of God which passes all understanding keep your hearts and minds in Christ Jesus to life everlasting. Amen