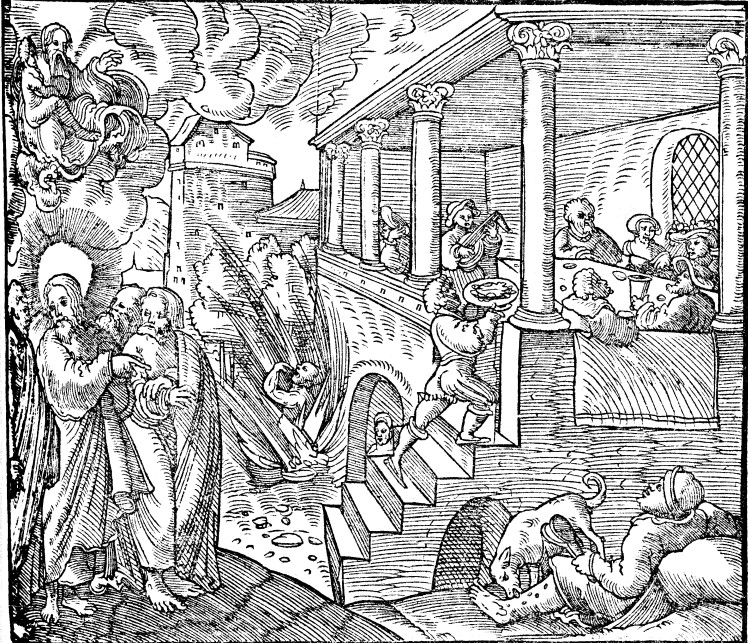 Lessons: Genesis 15:1-6, 1 John 4:16-21, Luke 16:19-31
Hymns: LSB 876, 732, 571, 696, 730
Grace, mercy, and peace to you from God our Father and our Lord and Savior, Jesus Christ. Amen.
There's no doubt COVID-19 and the worldwide response to it has caused much disruption to our lives. We had a strong economy, low unemployment rate, flush supply lines, and much optimism that the good times will never end. Then the coronavirus hit. There were lockdowns, supply shortages, and major job losses. Many have found their work permanently changed. Even after adjusting to living with this virus, we are still facing much disruption. Labor shortages, supply chain problems, and inflation have continued to create much uncertainty and turmoil.
When dealing with all of this at once, it causes us to react. One way we ought to react is to turn to the Lord in prayer, making petitions to our gracious God that He will continue to take care of not only our bodies but also our souls. The uncertainties ought to draw us to God's House, for He does not and cannot change. We ought to be drawn to rely solely on the Lord who never ceases to love us and whose mercies never come to an end.
While I'm sure many Christians have spent time in prayer as they have been troubled by these things, many have also taken action. Some may shift their investments. Some may look for a better job in this great market for job seekers. Some have recognized the value of vegetable gardening, seeking to become less dependent on supply chains and desiring to eat healthier foods. And some have found this to be the right time to begin stocking up on food and supplies, seeking to become survivalists or preppers, so they are ready to survive whatever shortages may occur.
Whatever actions Christians choose to take, they must do so recognizing the Lord's hand is in all things. If we are nervous about the future, we recall Jesus' tender words, "Do not be anxious, saying, 'What shall we eat?' or 'What shall we drink?' or 'What shall we wear?' For the Gentiles seek after all these things, and your heavenly Father knows that you need them all. But seek first the kingdom of God and his righteousness, and all these things will be added to you." (Matt. 6:31-33). God's servant Job was right after he lost most of his possessions and his children, saying, "Naked I came from my mother's womb, And naked shall I return there. The Lord gave, and the Lord has taken away; Blessed be the name of the Lord" (Job 1:21). We can lose everything, despite our efforts to keep what we have. And we must not lose our souls as we seek to obtain the world's goods. Remember the words of Jesus, "If anyone would come after me, let him deny himself and take up his cross and follow me. For whoever would save his life will lose it, but whoever loses his life for my sake will find it. For what will it profit a man if he gains the whole world and forfeits his soul?" (Matt. 16:24-26). We ought, with much boldness, sing with Luther, "Goods, fame, child, and wife, Though these all be gone, Our vict'ry has been won; the Kingdom ours remaineth." (LSB 656:4).
In our Gospel today, Jesus illustrates two men who have very different lives and end up in very different places. Jesus also shows that no one can pass from Heaven to Hell or from Hell to Heaven. In this life, the rich man appeared to be blessed by God. He had everything he wanted. He lived a life of luxury. But he did not love the Lord, nor did he heed the Word of God. The rich man felt no need to help the poor, only allowing some crumbs to fall from his table for Lazarus to lap up. Even though many would assume the rich man enjoyed God's favor, it turned out he did not. The rich man may have reflected on his life, thinking, "I am so blessed" but he was not blessed at all. For he did not listen to the Word. He did not hear the words of eternal life. He chose earthly possessions over the blessing of Christ's forgiveness and our Lord's eternal promises. When the rich man died, he was condemned to an eternity in Hell where he suffers to this day.
Lazarus, on the other hand, would have been viewed by the world as someone cursed by God. It would be easy to assume that he must have done something gravely wrong since he was enduring such a poor lot in life with his sores licked by dogs, inability to walk, and lack of mercy from others toward him. He could have wallowed in woes, despairing in God's promises, but he did not. Instead, Lazarus trusted in the Lord and received the goal of his faith—the salvation of his body and soul. When Lazarus died, his soul was received in Heaven where he enjoys eternal bliss that goes beyond comparing.
Jesus' teaching here makes us take a step back and reflect on many things. What is my standing before God? In what do I put my trust? Am I loving my neighbors? In what ways am I loving my neighbor? Am I truly prepared for the things to come?
The rich man was probably prepared for whatever earthly disasters may come upon him. Lazarus was not. Yet, Lazarus was prepared to die in the Lord, but the rich man was not.
While Christians may certainly make efforts to be prepared for disasters and scarcity, they must do so by placing their confidence in Christ and not in their attempts to be ready for everything. And, while it makes sense to have some things stocked up, this must not be done in place of our preparation to where we will spend eternity.
We must recognize that our time here is temporary. We must be wise with how we use our time, how we spend our lives, and how we prepare ourselves for our eternal future. Preparations to be received into Heaven must not be done only in the rare times when it is convenient or in times of adversity. Instead, preparations to be received into Heaven must be worked on continually. It begins first with active church attendance where the Holy Spirit works trusting and saving faith in us through the Word, the Absolution, and Holy Communion. If we want to go to Hell, we only need to figure our lives are all swell like the rich man did. But if we want to go to Heaven, we must abide in the word of Christ. That way, we will know the truth, and the truth will set us free from sin, death, and Satan (John 8:31-32).
Dear brothers and sisters in Christ, I cannot stress to you enough how important it is for you to actively attend the Divine Service. It is not only good for you but is good for your family and for all who gather in worship. At our District Convention this past week, the emphasis was on "telling the next generation" (Psalm 78:6-7). In one of the sermons, a pastor said, "The man who attempts Christianity without the Church, shoots himself in the foot, his children in the leg, and his grandchildren in the heart." His point is that those who have some claim to Christianity without active attendance will likely have grandchildren with absolutely no faith in Christ. I also cannot stress to you how important it is for you attend Bible class or Sunday School. Satan is trying to rob us of the Word. We fight those attacks by being in the Word. In fact, the healthiest congregations are those where the majority of those attending worship also attend Bible class. I also cannot stress enough the importance of engaging in prayer, Scripture readings, and devotions both individually and as a family at home. These patterns may be work to develop, but they are good.
Both father and mother have a tremendous task when they raise their children. It is even more important for them to be raised in the Lord. When only moms bring their children to church, those children are only 15% likely to be active in church when they grow up. When only fathers bring their children to church, those children are 53% likely to be active in church as adults. When both parents bring their children to church, those children are 72% likely be active in the church when they reach adulthood. Fathers, it is your God-given responsibility to ensure that your children are raised Christian. You already do your best to simply raise them to have food, clothing, and shelter. Recognize your God-given task to lead your children to Christ by giving them many opportunities to hear God's Word each week.
The world is fighting to claim our children. The world wants to suck them in to a dark, sordid world. Satan would love to see our children turn from Christ and get addicted to violence, mind-altering substances, porn, or other types of hedonism and mindlessness. We must, as God's children, fight the good fight of faith, letting go of the world's vanities, and trusting solely in Christ, who shed His blood for us on the cross and opened the gates of Heaven for us.
There's no question that all of us have failed to rightly hear the Word of Christ and put our trust in Him alone. Our standing before God, however, is not based on what we have done in our past or what we have failed to do, nor is it based on our wealth or health or lack thereof. Instead, our standing before God is based on Christ redeeming us, God baptizing us, and the Holy Spirit teaching us. God added us to His family. He is our Heavenly Father, and we are His children. God sustains us in that family through Word and Sacrament. That is why it is so important for us to abide in the Word of Christ.
So, are we prepared for things to come? Yes, when our confidence is in Christ alone and we abide in His Word. Our faith is then made manifest in love toward our neighbors through acts of mercy. Our trust is not in ourselves or in our attempts to prepare, but in Christ who loves us and takes our sin away, laying down His life for us.
Let's all be found as true preppers—ones truly prepared to meet the Lord when we breathe our last or when He comes again. Let's be found with well-used Bibles, a packed house of God, a busy Sunday School and WWW, and joyfully loud singers of God's praises. For in Christ, we have nothing to lose, and everything to gain. Amen.
The peace of God which passes all understanding keep your hearts and minds in Christ Jesus to life everlasting. Amen