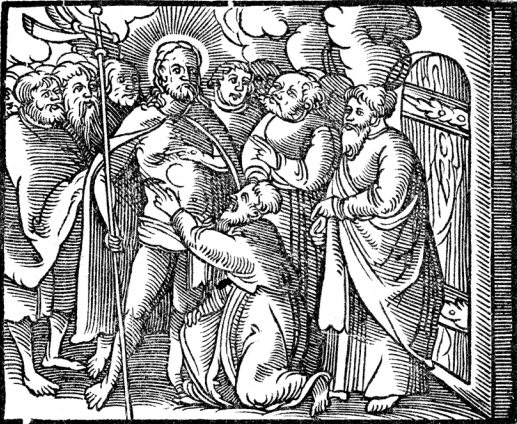 Lessons: Ezekiel 37:1-14, 1 John 5:4-10, John 20:19-31
Hymns: LSB 614, 459, 468, 470, 467, 464
Grace, mercy, and peace to you from God our Father and our Lord and Savior, Jesus Christ. Amen.
Take a moment to think about this question: How or when have you fallen out of God's grace?
Maybe you're thinking that you've never been outside God's grace.
Or perhaps lately you've been questioning how you could possibly be in God's grace. You may feel that way if you're thinking about sins you've committed recently, temptations you face, or doubts you may have and then question if God's grace is really yours.
Perhaps you're now confident that you stand in God's grace, but you can recall times where you certainly fell outside of God's grace. Frankly, that happens to many of us. For a time, we may refuse to repent, preferring to cling to a certain sin. But, by the grace of God, He wakes us up, brings to repentance, and restores us through the Gospel
So let's ask ourselves again, "How or when have we fallen out of God's grace?" Here's the answer, and it may not be what you're expecting. We are guilty of Adam's sin. This means we had fallen outside of grace much earlier than most of would have thought—that is, from the time of Adam's fall into sin. As a result, we have all been sinful from the time of our own conception. Adam's sin is passed on to us and so we bear the blame.
What this also means is that we first fell out of grace as a result of foreign sin—sin that is outside of us. We have inherited the original sin of Adam, and, apart from faith in Christ, this makes us all thoroughly corrupt—dead in our sins and trespasses—even at conception.
And now comes the Good News. Because we had fallen out of grace from a foreign sin, we are restored to grace by a foreign work—that is, by a Worker outside of us. Through Jesus' work and merit on the cross and applied to us today through the means of the Holy Spirit, we are restored to God's grace. This means we aren't restored to grace by our good works, good intentions, resolve to do better, or anything else we can possibly muster up. Instead, we are restored to grace by the mercy of God—by the work of Jesus who shed His blood in our place on the cross and rose from the grave for our justification.
Today's Gospel covers a multitude of topics. There's too much to cover in the time frame of our morning service. I really doubt you would let me preach like Luther, for one of his sermons on this Gospel lasted much longer than an hour.
What we shall consider today is the fruit of the resurrection of our Lord Jesus Christ. So first, the Resurrection makes it clear that we can be restored to grace. If Christ can rise from the dead, then we who were once dead in our sins and trespasses can be brought to life as well. We can be raised from spiritual death to spiritual life. Because Christ is risen, God restores us to grace. That is, God graciously receives us into His family by faith and reconciles us to Himself.
This gets us to the next fruit of the resurrection: faith itself. Thomas doubted and the Apostles hid for fear of the Jews. Their faith was weak (or it had left them). But when they saw the resurrected Christ, they believed. Now, if Christ had not been raised our faith would be in vain and we would have no hope. But since Christ has been raised, our trust and confidence are in Christ.
But we learn something else about faith in today's Gospel that most do not consider: "Faith has its origin in fear and terror, in remorse and sorrow." Have you ever considered why the Apostles were such ardent defenders of the faith?—Why they were willing to die on account of what they believed? They had such strong faith because of what they went through—fear, terror, remorse and sorrow. They witnessed the crucifixion of our Lord. When Jesus laid in the tomb, they were terrified for their lives. But when Christ rose from the grave, they were glad to see the Lord—they were comforted—they had no reason to doubt or fear any longer. For Christ overcame sin, death, and the devil.
So again, consider this: "Faith has its origin in fear and terror, in remorse and sorrow." Most people want faith without fear, terror, remorse, or sorrow. That is, they want to believe in some friendly guy in the sky without considering the consequences of their sin, that God will judge, or that we all deserve death and condemnation for our sins.
In order for us to have true faith, we have to face fear and terror, remorse and sorrow. That is, we hear the Law, and it accuses us. We hear of our sin, and we can do nothing but plead guilty. We have fear and terror of what we deserve for our sin—temporal punishment and eternal death. Then the Holy Spirit works in us contrition, which is remorse and sorrow for our many sins.
While many would rather skip all this, the reality is this is the beginning of true faith. If you have not gone through such a time and remain indifferent about your sin, then it is possible that you remain unconverted. Look at what God thinks about your sin! You can see how much God hates sin by considering the punishment Jesus endured for your sin. If sin were no big deal, Jesus would not have gone through such punishment for your redemption.
So, having been accused of sin, being filled with fear and terror, and then having remorse and sorrow, we are now ready to hear the Gospel—the Good News of Christ—and receive what Jesus has to offer. Jesus invites us to come to Him and He offers us forgiveness of sins, peace with God, and comfort to our troubled consciences.
There is no faith without the cross. And so our Lord took up His cross, paid for your sins there, shed His Blood and died. He rose from the grave to declare His victory. Our Lord connects His cross to your life when He says, "Take up your cross and follow Me" (Matt. 16:24-26). There is no faith without crosses that we bear, just as there is no Savior apart from the cross of Christ.
We see a picture of all of this in today's Gospel. The apostles were terrified. They had sinned against Christ when they fled from our Lord while He was put on trial. Peter had denied our Lord three times. Thomas doubted the Resurrection. They had fallen. But then God restored them as Jesus appeared to them, and they were glad to see Him. God forgave them.
This gets us to another fruit of the resurrection: joy. The disciples were glad to see our Lord. They were joyous that Christ had overcome sin, death, and the grave. We, too, are filled with joy over what Christ has done for us. Many gather at Christmas and Easter because they know how joyous the message is. And of course, that same joyous message continues to be proclaimed throughout the year, and as Christ Jesus comes to us in the Lord's Supper.
Another fruit of the resurrection is the comfort God grants to troubled consciences. When the Law accuses us, our consciences are unsettled. That's what happened to the disciples. But then when they saw the Lord, He said to them, "Peace be with you." These words of our Lord aren't just some sort of well-wish. Jesus didn't say, "I wish for you good days." But when He said, "Peace be with you," Jesus was saying, "Your sins are forgiven. You are reconciled to God. You have peace with God!" Can anything be more comforting to troubled consciences than these words of our Lord? When He says, "Peace be with you," He is truly bestowing His peace upon you. These words are spoken to you every Sunday in the communion liturgy. These words are also spoken to you at the conclusion of every sermon.
Peace is granted to you! Your consciences can be at rest. For God forgives you and restores you, just as Jesus restored Peter and Thomas.
Another fruit of the resurrection is the forgiveness of sins. Jesus connects His resurrection with the forgiveness of sins. For the very day Jesus rose from the dead, Jesus appeared before His disciples who were hiding behind locked doors, and tells them several times, "Peace be with you!" That is, He declares forgiveness to them.
And He goes even further. He breathes on His disciples and said, "Peace to you! As the Father has sent Me, I also send you. Receive the Holy Spirit. If you forgive anyone his sins, they are forgiven; if you do not forgive them, they are not forgiven" (John 20:19-23).
Another fruit of our Lord's Resurrection is His establishment of the Office of Keys. "The Office of the Keys is that special authority which Christ has given to His church on earth to forgive the sins of repentant sinners, but to withhold forgiveness from the unrepentant as long as they do not repent."
In fact, forgiveness of sins granted to us by Jesus encompasses everything that we have covered as fruit of the resurrection!
      1. Forgiveness means we are restored to grace. Without forgiveness, it is impossible that we could be brought to grace.        
      2. Forgiveness gives us every reason for faith. We have every reason to fear, love, and trust in God. God comes to us in mercy, taking our sins away and declaring us righteous! In fact, through the proclamation of Christ and His forgiveness, the Holy Spirit works saving faith in sinners.
      3. Forgiveness brings true joy.           
      4. Forgiveness means our troubled consciences can now be comforted.       
      5. Forgiveness means peace with God. 
      6. Forgiveness means the Office of the Keys is effective and powerful.
      So now we have heard the fruit of the resurrection! God grant you a blessed joy, a holy hope, and special comfort in the forgiveness of sins earned by our Savior Jesus Christ throughout this Eastertide! Amen.
      The peace of God which passes all understanding keep your hearts and minds in Christ Jesus to life everlasting. Amen