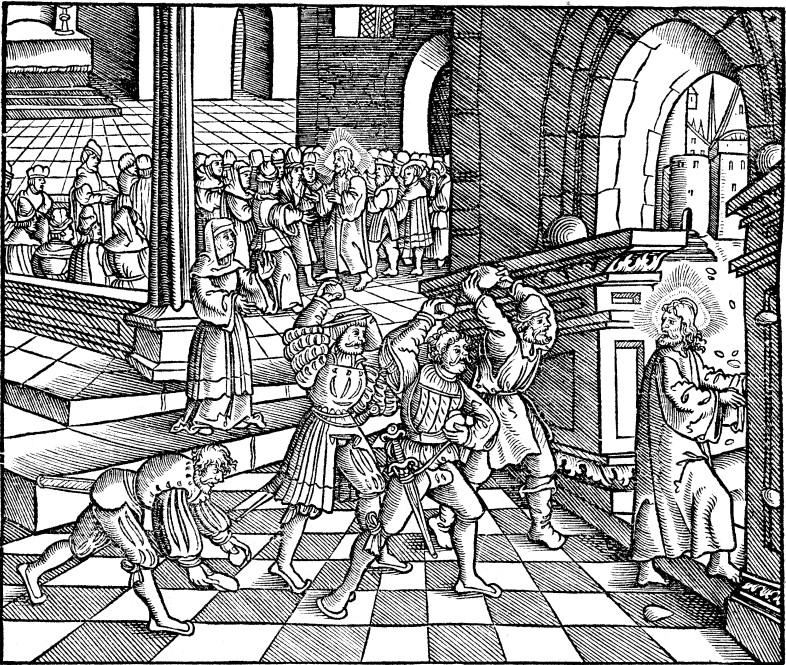 Lessons: Genesis 22:1-14, Hebrews 9:11-15, John 8:42-59
Hymns: LSB 440, 420, 597, 429, 422, 454
Grace, mercy, and peace to you from God our Father and our Lord and Savior, Jesus Christ. Amen.
Abraham's grandson, Jacob, wrestled with God through the night. God dislocated Jacob's hip and yet Jacob prevailed. Jacob would not let God go without a blessing, and God gave him a blessing.
In today's Scripture lessons, we can see very different examples of wrestling with God. It is done by Christians and non-Christians.
The godly must wrestle with God's truth, receive it with joy, and hold fast to it despite all the voices out there teaching us to abandon God's Word. God never fails. His Word is always true. He never lies. Therefore, our confidence is in what God says for our salvation. God's Word is so important that we certainly want to know its details and strive for unity among God's people. Pure doctrine is important and striving for it should never be dismissed as "incessant internal purification." St. Jude 3-4 writes, "I found it necessary to appeal to you to contend for the faith that was once for all delivered to the saints. For certain people have crept in unnoticed who long ago were designated for this condemnation, ungodly people, who pervert the grace of our God into sensuality and deny our only Master and Lord, Jesus Christ." An example of that sensuality was seen this past Thursday as our nation observed, "Transgender Day of Visibility."
A few verses before today's Gospel, Jesus said, "If you abide in my word, you are truly my disciples, and you will know the truth, and the truth will set you free" (John 8:31-32). True knowledge is not found in knowing the ways of the world, but in the Word of Christ. Freedom is not engaging in sin for, as Jesus teaches, that is slavery to sin. Instead, true freedom is found in Christ who earned our salvation and opened the gates of Heaven to all who believe in Him.
When Jacob wrestled with God, he probably didn't know at first what was happening. He may have thought he was fighting Esau. At some point he must have figured He is striving with God, namely, God's Son. As part of his blessing, Jacob is now named Israel. On this, Luther wrote, "Israel [means] a prince or God's fighter, that is, he who wrestles with God and wins. This happens through that faith which holds so firmly to God's Word, until it overcomes God's wrath and obtains God as the gracious Father" (TLSB p. 67). We can see this wrestling from a few angles in today's Scripture lessons. We certainly wrestle with our feelings as we cling to (or even wrestle with) God's saving Word. Also, we wrestle with various enemies as we walk with Christ amid a fallen world.
The Jews in today's Gospel wrestled with Jesus and lost. They held to their own personal, deeply seated beliefs. Ironically, in doing so, they weren't just holding to what they wanted to personally believe, but they were going along with a mass of people. Many today, when tempted to depart from God's Word, aren't expressing themselves but, like lemmings, are running with the crowd toward a giant cliff. The crowd in our Gospel let their feelings win, so they picked up stones to throw at Jesus.
Staring down our enemies is not an easy task, yet that is what both Abraham and Jesus do in our readings. They faced them head-on and did not back away. They, of course, did so with our Lord's directive. Think about the fears you face, the crosses you suffer, the temptations you bear, and the things that keep you up at night. There's no end to the troubles we face in this fallen world. Yet we can see in both Abraham and Jesus fantastic examples of facing them.
It is difficult to even think about putting our shoes in Abraham's situation. He is told that through him all the nations will be blessed. He will have a son who will carry on the Messiah line. That is, Jesus will be born to a descendant of Abraham. Abraham and Sarah waited for years to have a child. After pretty much giving up and at Sarah's suggestion, Abraham slept with Hagar the servant and she bore Ishmael. But Ishmael is not the one God intended for the promise. So when Sarah is 90 years old and Abraham is 100, she finally gives birth to Isaac. In today's lesson, Isaac is a probably a teenager, and God commands Abraham to take his son up a mountain to offer him as a burnt offering. Who could do such a thing? They waited so long, and God miraculously provided. Now kill him, even before he has any children of his own? How can this be? I cannot imagine the pain of losing a child. Most of us don't want to even think about it, yet God has seen it fit for some to bear that burden. When that tragedy strikes, it is inflicted upon them; they aren't the cause of it–that is, they don't bring their child up a mountain to lay him on an altar to slay. Yet, that's what Abraham must do. He must deal with something most of us would fail at. Will we follow God and do what He says at the loss of a child, or will we go our own way because we cannot stand to lose something we love? Abraham's choices were clinging to God in faith or clinging to his child. Jesus brings salvation and an eternal future. The other brings a temporary future and momentary joys. Again, this is unimaginably painful to even consider.
Yet, Abraham rose up early the next day to do as God instructed. He saddles a donkey and brings wood, servants, and his son. They travel three days to the mountain. When they approach the place for sacrifice, Abraham instructs his servants to stay there while he and Isaac go to worship. In faith he says they will come back to them. As Isaac is carrying the wood up the mountain, he asks where the lamb for the sacrifice is. In faith, Abraham says the Lord will provide. Abraham builds the altar, binds his son, and raises his knife to slaughter his son. Suddenly a voice from heaven calls upon Abraham. After hearing he must not slaughter his son but is found faithful, God provides a ram caught in the thicket to serve as the substitutionary sacrifice.
This is impressive on many levels. Abraham's faith is tested, and he does what God instructs. He doesn't rebel, reject, or even try to negotiate with God. He doesn't plead for another away. He wrestles against his emotions and goes along with God's Word. That's faith!
Also, look at the many connections of this account to our Lord's Passion. Just as Abraham uses a donkey to travel, so Jesus enters Jerusalem on a donkey to be sacrifice. They travel three days; Jesus is in the grave three days. Isaac carries the wood; Jesus carries His cross. They go up Mt. Moriah which is where Jerusalem will be established; Jesus is sacrificed on Mt. Calvary just outside Jerusalem. Isaac is bound; Jesus is scourged and nailed to the cross. Isaac is laid up on the altar; Jesus is laid up on the cross. And then there's the substitute, perhaps the most significant type of Christ in this entire pericope (reading). Isaac doesn't die here, but Jesus dies on the cross. The ram is sacrificed in the place of Isaac. In the same way, Jesus is sacrificed in your place so that you can be set free from death and be redeemed of your sin. Isaac's life is spared; so is yours. Isaac continued to live; so do you, for Jesus is the ultimate Sacrifice once, and for all.
Abraham's faith here is impressive, but there were many times he failed to do what is right. Abraham was not saved by what he did, nor was he condemned for what he did wrong. Instead, the Bible says, Abraham believed, and it was counted to him as righteousness (Gen. 15:6). God credited Abraham as righteous by grace through faith in Christ. Job, too, was declared righteous by faith. His ten children died. Yet Job believed. God granted Job ten more children and, at the resurrection, all twenty children. Those who have buried their children in the Lord can look forward to being with them at the Resurrection.
Abraham is spoken of in today's Gospel. The Jews who rejected Jesus were confident of their standing with God. Their confidence was not in Christ, but in their ancestry. They were descendants of Abraham. Jesus said their father is not Abraham but the devil. You see, true descendants of Abraham are those who believe in Christ. As Christians, we are the descendants of Abraham. We are numbered as the multitude in the sands of seashore and the stars of the sky. Jesus faithfully faced His enemies. He did not back away from them. He did not hide true doctrine out of fear of how His enemies may retaliate. He spoke the truth, and spoke it clearly, for only the truth saves. Lies come from Satan. Following lies can result in eternal death. So we will boldly confess the truth regardless of the cost. After all, Jesus said, "Amen. Amen. I say to you, whoever keeps My word will never see death" (John 8:51). We will live in Christ, for Jesus lives. Death could not conquer our Lord, but He rose from the grave, defeating death.
Jesus testified the truth—even the truth that He is "I AM"—the very God who visited Moses at the burning bush. This was too much for His enemies to handle. They picked up stones to throw at Jesus, but He hid Himself and left the temple. His hour—His passion—had not yet come. Later, Jesus would enter Jerusalem on a donkey. He goes to the cross to fulfill His Father's will and save us from our sin.
The truth of God sets us free. He forgives us and grants us eternal life. But when we Christians have peace with God, we will suffer persecution. Many will impugn our character. Many will seek to destroy our faith and our lives. But we will not lose focus. We will follow our Lord as He leads us. We go forward as Abraham did, relying on the good judgment of God. God had a plan when He commanded Abraham to take Isaiah to Moriah. It couldn't have made much sense to Abraham, but he knew the goodness of God and trusted Him. And so, we trust our Lord, confident in His Word of truth, and rejoicing in the salvation won by Christ on the cross who died on our behalf and rose for our justification. Amen.
The peace of God which passes all understanding keep your hearts and minds in Christ Jesus to life everlasting. Amen