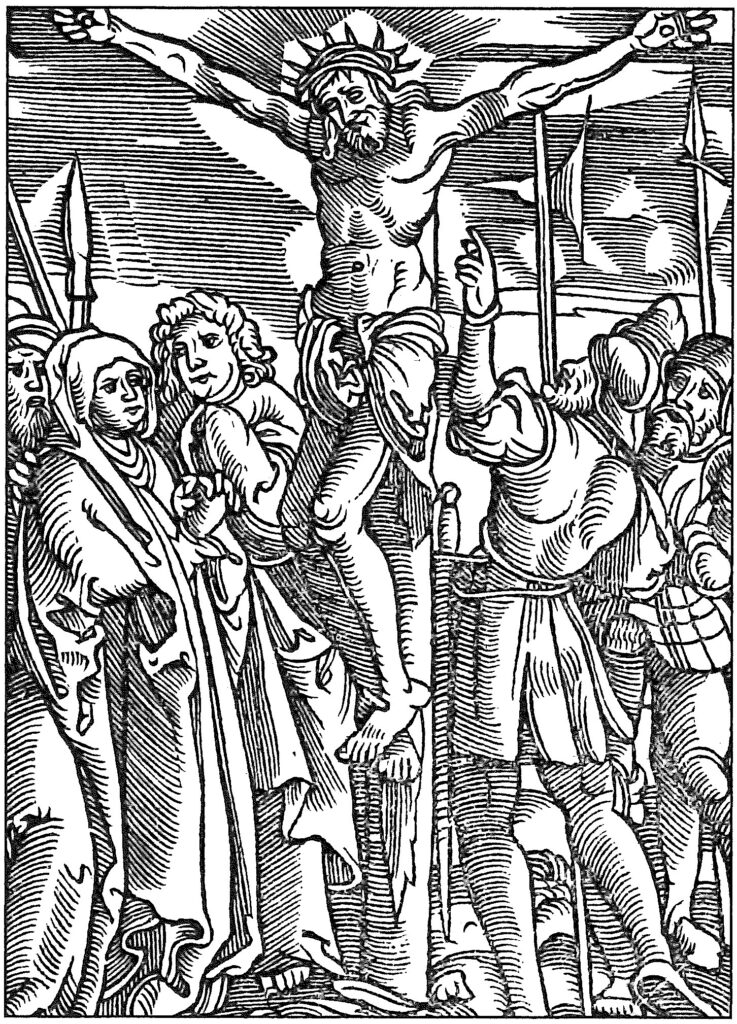 Lessons: Isaiah 52:13-53:12, 2 Corinthians 5:14-21, Luke 23:33-46, John 19:25-30, Matt. 27:45-46,
Hymns: LSB 451, 453, 448, 441, 447
Grace, mercy, and peace to you from God our Father and our Lord and Savior, Jesus Christ. Amen.
In our Gospel reading from two Sundays ago (known as Passion Sunday), Jesus said the devil "was a murderer from the beginning, and does not stand in the truth, because there is no truth in him. When he lies, he speaks out of his own, for he is a liar and the father of lies" (John 8:44). When Satan speaks, he speaks out of his own. That is, he speaks out of his own nature or his own character. His way is that of lying, for he is nothing but a liar. He lied to Eve when he said she will not die if she eats of the forbidden fruit. When Adam and Eve sinned after hearing Satan's lies, the world became thoroughly corrupt with sin. And with sin came death.
Yet God promised to Adam and Eve a Savior who will come from her seed (that is, from a virgin within their own lineage). In the fullness of time "God sent forth His Son, born of woman, born under the law, to redeem those who were under the law, so that we might receive adoption as sons" (Gal. 4:4-5). God the Son was born in Bethlehem for a purpose: to die bearing the world's sin in order to make the ransom payment for our sin. He suffered Hell on the cross, enduring the wrath of God. Yet, He also defeated Satan on the cross, atoned for our sin, and turned death upside down so that it is but a sleep to await the resurrection.
Despite this reality, Satan has been busy lying ever since the Fall of mankind into sin, hoping some will give him an ear—that they may be deceived and misled into false belief, despair, and other great shame and vice. Satan's goal is to deceive. To lie. To get us to join him in spreading lies. To destroy our earthly lives and the route to our eternal home. To get us to join him in the eternal torments of Hell.
Therefore, Jesus warns us of Satan and Satan's lies. We must not look at Satan's fiery attacks as if they are fairy tales which have no bearing on our lives. Instead, we must fight against the temptations we face by standing on the truth of God's Word. For God does not lie, He does not even make mistakes, and He never fails. We will hear more of these truths when we hear of Jesus' true, comforting words on the cross.
Now, if Satan speaks lies, what about humans? The Scriptures do declare, "All men are liars" (Psalm 116:11, Rom. 3:4). Lies can be outright lies, half-truths, or even true statements intended to deceive. We are liars because we have inherited the sinful flesh. We all sin. And so Jesus went to the cross to pay for our sin. According to our flesh, our desire is to sin and speak whatever words we think are most convenient for ourselves. But according to the new man as Christians, we desire to speak the truth, especially the truth of God's Word. God teaches us His truth in the Bible. We study it so that we know it. We rejoice in His truth. And, as Jesus says, the truth will set us free (John 8:31-32). For through the truth of God's Word, the Holy Spirit is present to bless us Christians with saving faith—faith which joyfully hears the voice of our Good Shepherd—faith which clings to Jesus' words—faith which desires to grow in Christ.
Yet, even for the new man, there can be trouble. Bad advice may be given by well-intended but uninformed Christians. And Jesus warns against the temptation of the Gentiles when He said, "And when you pray, do not heap up empty phrases as the Gentiles do, for they think that they will be heard for their many words. Do not be like them, for your Father knows what you need before you ask him" (Matt. 6:7-8).
In contrast to this are the words Jesus speaks on the cross. The brief sentences are known as the Seven Words of Jesus. He speaks in love, in truth, and in compassion. That is, He is speaking out of His own. That is His very nature—His character.
You will hear His words tonight as we darken the church. The first one He says is astounding. He prays for His enemies. He says, "Father, forgive them" (Luke 23:33-38). As they mocked and insulted Him, Jesus prayed for their forgiveness! That's how we are to treat others, as well. With love and forgiveness.
Then Jesus comforts the thief on the cross, saying, "Today, you will be with Me in Paradise" (Luke 23:39-43). The thief is not condemned, but is saved. That salvation is also granted to us by Jesus who earned it for us on the cross.
Then Jesus reveals His love and fulfills His station in life as a Son. He ensures Mary receives safe keeping from John (John 19:25-27).
Next, Jesus prays. He prays Psalm 22. He is forsaken by His Father for bearing the sin of the world (Matt. 27:45-46).
Then Jesus reveals His humanity. He thirsts (John 19:28-29).
As He is dying, Jesus announces His victory, saying, "It is finished" (John 19:30). Then He declares, "Father, into Your hands I commit My Spirit" (Luke 23:44-46).
These seven simple sentences can give us enough to ponder for weeks. They not only serve as examples for us, but they especially teach us about who Jesus is and what He has come to do. He is our forgiving Lord, reconciling Lord, loving Lord, concerned Lord, praying Lord, human Lord, and victorious Lord.
I urge you, dear brothers and sisters in Christ, as you consider the bitter sufferings of our Lord, and the death He died, that you would do so in holy awe, knowing that He has done this all for you. He loves you. He shed His Blood for you. He grants you life.
Have a blessed Good Friday. Amen.
The peace of God which passes all understanding keep your hearts and minds in Christ Jesus to life everlasting. Amen