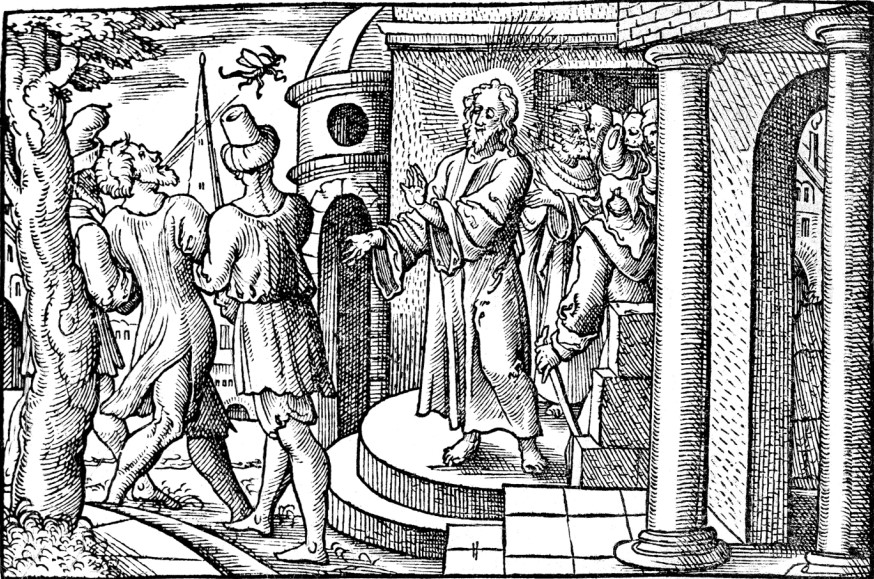 Lessons: Jeremiah 26:1-15, Ephesians 5:1-9, Luke 11:14-28
Hymns: LSB 714, 659, 637, 420, 422, 427
Grace, mercy, and peace to you from God our Father and our Lord and Savior, Jesus Christ. Amen.
Our congregation is a member of The Lutheran Church—Missouri Synod, which has about 6000 congregations across the United States. Our membership in the Synod is voluntary, and member congregations are supposed to agree on doctrine and practice. The Missouri Synod was organized 175 years ago on April 26, 1847, when delegates met in Chicago who were from New York to Missouri. Just 14 congregations started the Synod, but many joined soon thereafter. They organized the Synod because they were like-minded German Lutherans, agreeing on doctrine and worship forms. They declared altar and pulpit fellowship with each another because they agreed on God's Word.
The first Constitution of the Missouri Synod emphasized the study of doctrine. Children could not be confirmed unless they learned the text of the Catechism and a goodly number of hymns to serve them well throughout their lives. 100 hours of instruction was encouraged. Gifted students were also taught to refute false teachings. Churches could not be members of the Synod if they followed their own worship forms or used doctrinally impure hymnals. While the founders of the Missouri Synod recognized the Scriptures do not define a set form for worship, they wanted to express their unity of doctrine through their unity in worship. Not only that, but they acknowledged much of the worship forms practiced by other churches throughout America would hinder their pure confession of the faith. Despite the difficulty of travel in those days, the Synod met in Convention every year. The main purpose of the Convention was not to engage in business affairs, but to study doctrine. Nearly three decades later, when the Iowa District was formed, the President of the Synod joyously declared that doctrinal studies took up more than half of the Convention time and were better attended by the delegates than the business portions of the Convention.
My, how times have changed! Doctrine is given a backseat to business in conventions. Many in our Synod now stress diversity in worship, which divides our Synod. But this should not be surprising since Jesus declares in our Gospel that a house divided against a house falls. It is impossible to remain united when we are not united.
In today's Gospel, Jesus declares, "Blessed are those who hear the Word of God and keep it!" (Luke 11:28) That was the Synod's intention, which is evident in her first Constitution. Despite the many hardships that they faced in the mid-1800s, they knew of the blessings they had when they heard God's Word and kept it. They knew they were justified by grace through faith. They, despite their sin, were forgiven by Christ, who bled and died for them. And if Christ did this for them, how could they mix the pure confession of the Christian faith with false ideas and viewpoints? How could they blend their worship with revivalism which took the focus off Christ? How could they not teach their children with diligence the Christian faith?
One final thing this young church body emphasized was the Christian education of the young. It was so important to them that they only admitted into the Synod churches with a Christian day school (or were planning to start one). That's right. The young, poor church body used to require Christian day schools.
Why? Because the Church is always one generation away from disappearing. Without the teaching of the young, the Church can disappear in any location. The world is busy indoctrinating children into false belief. Therefore, the Church must respond with continual teaching. Under no circumstances can the Church be mute (silent), but must be a light proclaiming Christ to sinners. And so, Christian education strives to inculcate in children the Christian faith, clearly teaching salvation by grace through faith in Christ. After all, "Blessed are those who hear the word of God and keep it!"
Our Synod no longer requires Christian day schools to be operated by our churches. In some places, it is simply impractical. In other places, churches band together to operate schools. And some churches are now forming "microschools" which can be a way for families to work together in homeschooling or for churches to operate a small Christian day school without the great expense involved to operate a regular Christian day school. Even without one, churches must still teach the Christian faith through the Divine Service, Sunday School, Bible study, and Catechism classes. In our church, we rejoice in having a preschool which teaches the little lambs the saving word of Jesus. In addition to daily Bible stories, they gather in this sanctuary each week for chapel to grow in Christ.
And blessed are they. For they hear the saving Word of God. What a treasure! Can you think of something more valuable? Can you think of something more important? The Three Rs are certainly important, but they do not make people wise unto salvation. Working a job is important because as the Scriptures state, "If anyone will not work, neither shall he eat" (2 Thess. 3:10). Eating is obviously important. Working is obviously necessary, and education is required to work. But as Jesus declares, "Man shall not live by bread alone, but by every word that proceeds from the mouth of God" (Matt 4:4). Eating is not the main or greatest thing we need to survive. For if we wish to survive spiritually and receive eternal salvation, we need to feed on the Word of God and the Sacraments instituted by Christ.
Our Gospel today begins with Jesus casting out a demon from a man which kept him mute. Keeping people silent is a tool of the devil. He wants us to be mute when it comes to God's Word. That way we are not a light to those around us and the faith is not passed on. At the end of our Gospel, Jesus contrasts this silence (or muteness) with hearing the Word, for "Faith comes from hearing, and hearing through the word of Christ" (Rom. 10:17).
And we do not simply hear this Word of God, but we keep it. For Jesus says, "Blessed are those who hear the word of God and keep it!"
How do we keep this Word of God? First and foremost, we keep it by hearing it, as the Third Commandment teaches us. We cannot keep the Word of God when we do not know what it says. Therefore, we go to Church. We also take personal and family time in prayer and study of the Word of God. For we do not simply live as Sunday morning Christians, but our entire life reflects the Christian faith. We ponder on this Word of God. We teach it diligently to those around us. We believe His holy Word. We follow the commandments of God. We live in continual repentance (as this season of Lent reminds us). For when Jesus said, "Repent, for the kingdom of heaven is at hand" (Matt. 4:17), He meant the entire life of a Christian is one of repentance. Not just for the big sins. But for all sin. After all, even the smallest sin can keep us out of heaven.
Repentance is not simply saying, "I'm sorry, but it really wasn't a big deal so You, O God, shouldn't make a big deal of it either." And repentance is not saying, "Well, I'm forgiven, so I will just keep on doing it." No, Paul states in our Epistle that those who live this way have no inheritance in the kingdom of Christ and God. God is not deceived by empty words. And He cautions you to not be deceived by empty words which say, "Don't worry, you don't need to bother to hear the Word of God or keep it. You do not need to confess your sin." Instead, repentance means to turn—to turn away from our sin—not to continue in it with smugness and security, but to flee from it. To pray to God, saying, "Lord, have mercy on me, a sinner." To acknowledge our sins before God and receive His forgiveness. To watch and pray. To fight against that which assails us. To walk as children of light.
And just as we fail to diligently hear and keep the Word, we will also fail at repentance. With these failings, we plead guilty. We cry out to our Lord who can even cast out demons, saying, "Lord, have mercy." After all, Jesus is the Merciful One. He certainly has mercy on you, for since Jesus can cast out demons, He can also cast your sins away from you.
He does not cast you away from His presence, but He creates in you a clean heart. He upholds you by His Holy Spirit.
He does this through the proclamation of the Word, which delivers to you what Christ earned and won for you, which is the salvation of your bodies and souls. He made the perfect payment for your sin. He bled and died in your place on the cross so that you can be set free from sin, death, and the power of the devil. You are set free from sin in that you are forgiven of your iniquities and God remembers your sin no more. You are set free from death in that you now have eternal life through Christ our Lord. Just as He has overcome death and the grave and lives, so shall you also live. You are set free from the devil in that you are no longer a slave to Satan. You are baptized into Christ—a child of light—a child of God.
Christ is your Savior. He has come to seek and save you. He took your sin upon Himself and paid for them through His substitutionary death. Salvation now belongs to you. The Word of God and the Holy Sacraments are the means of Christ to grant you true life—life with Him in this world and eternal life in the world to come.
Blessed are you for hearing the Word of God. Blessed are you for being credited with keeping this Word through faith in Christ! And blessed are our children when they also hear this Word of God and keep it! May God preserve our Church with the pure proclamation of the Word and right administration of the Sacraments. And may God guide our Synod to genuine and sincere faithfulness. Amen.
The peace of God which passes all understanding keep your hearts and minds in Christ Jesus to life everlasting. Amen