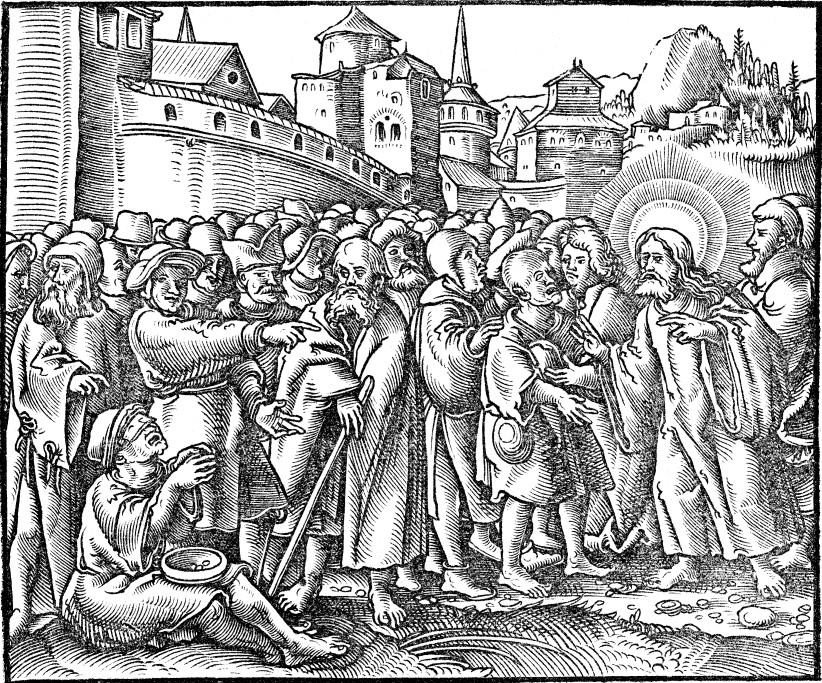 Lessons: Isaiah 35:3-7, 1 Corinthians 13:1-13, Luke 18:31-43
Hymns: LSB 702, 556, 587, 566, 417
Grace, mercy, and peace to you from God our Father and our Lord and Savior, Jesus Christ. Amen.
Today we will examine our Gospel from Luke 18. It is interesting that 9 chapters earlier, in Luke 9, Jesus sets His sights on Jerusalem. Normally a journey like that would be nothing new. He had been to Jerusalem many times before, especially for the annual celebration of the Passover. When He was just 40 days old, His family brought Jesus to the Temple. But this time His journey to Jerusalem is very different. He is going to the holy city to fulfill His Passion, to go to the cross, to take away the world's sin.
It should be evident that there is much sin in this world. Perhaps that sin is most manifest when we watch from a distance Russia invading Ukraine. Like many wars, it is so unnecessary. Russia does not need to attack, topple, and control a sovereign nation. The Ukrainians are fighting. They have the advantage of being at home. But they don't have the sheer population that Russia has, nor can they respond with nuclear weapons should Russia choose to use theirs. The evil nature of mankind is clearly seen when wars are fought. Many, who would prefer to live peaceful lives, are conscripted into war or manipulated into action, and those whose lands are being attacked are forced to defend themselves. We don't know the future, how this will pan out. We don't know if the Ukrainians will surrender, and everyone will move on as if nothing happened. We don't know if the whole world will get caught up into war yet again. We don't know what the casualty count will be for this totally unnecessary act of aggression.
When examining sin in this world and our need for a Savior, we do not need to look at world events. Instead, we should look no further than ourselves. It is tempting to look at others and consider their sin—how others have hurt us, what evil deeds others have done. We are tempted to consider ourselves rather swell, while looking at others as the basest creatures on Earth.
But if Jesus goes to the cross to take away the world's sin, we must recognize that we are part of this world and we ourselves have sinned in thought, word, and deed. We are not exempt from inheriting the sin of Adam. Our own sins have been atrocious. Perhaps our worst sins have been the many ways we have tried to cover them up, attempting to make ourselves look good before others—as if others are the sinners and we are the true saints.
For such ways are unbecoming of Christians. It is not the way of faith. Faith says, "Yes, Lord, I have sinned by my fault, by my own fault, by my own most grievous fault." As faithful Christians, we do not try to rationalize our sin away, normalize our sin, or justify our sin. Instead, we can come before our gracious Lord and confess our sin and receive His absolution. We can confess our sins of refusing to help others, like the disciples who were bothered by the blind man. We can confess our sin of exalting ourselves and our abilities above others, like the Corinthians were doing in today's Epistle. We can confess our sin of expecting God to reveal Himself apart from the Scriptures. We can confess our sin of lacking love.
Why can we do so? Because Jesus fulfilled what the Father sent Him to do. Because Jesus did what He prophesied. Jesus went to the cross to pay for the world's sin when He died on behalf of us all. The punishment we deserve for our sin was placed on Jesus, and He suffered that penalty on our behalf.
It's interesting that when the disciples heard from Jesus why He is going to Jerusalem, they understood none of what He said. Even though Jesus spoke of things the Old Testament prophesied and Jesus Himself had prophesied, they did not grasp what Jesus was saying. Perhaps the thought of our Lord's death and resurrection seemed all too surreal. But perhaps it is even simpler than that. Our sin blinds us.
Those who figure they need a Savior are on the decrease in our society. They don't think they need salvation from their sins. Many are blind to the existence of God, the mercies of God, their sin, their need for a Savior, or God's call to have them gather in worship. Some feel they have their savior when they achieve financial success and can live comfortable lives. Others figure the government is their savior as they receive all sorts of social benefits to help them get by in life. Others consider the freedoms they enjoy in this country as their savior.
While world events can show us that these "saviors" will not ultimately save us, we don't even need to look that far. We can see our frailty when our health suffers or when we get injured. We can even see our weakness when natural gas prices rise 2.5 times in a month, diminishing the value of our money. Those earthly props that seem to keep us so comfortable? They're fleeting. They can go away quickly.
But what does not go away is our Lord's mercies. The promise of sending the Messiah never went away, despite the great rebellion by God's people throughout the Old Testament. Above all, Jesus' own promise to go to Jerusalem never went away. Even though the disciples were blind to what He was saying, He still went to the cross. He went to Jerusalem to be delivered over to the Gentiles, be mocked and shamefully treated, and spit upon. He went to Jerusalem to be flogged and killed.
Through that brutality of man, Jesus was paying for the world's sin. For Jesus bore in His body the sin of the world. This is why God the Father had forsaken His only begotten Son on the cross: the wrath of God was upon Jesus for bearing our many sins.
Those who crucified Jesus thought they were doing the world a favor as they were eliminating this Man whom they thought was a menace. Those who hated Jesus were rejoicing at His death. But God was using their evil schemes for our good. It was the way by which the Lord of Life died to take away the sin of the world. It was the way by which Jesus was paying the penalty for our many sins.
And for that, we give thanks. We give praise to God, as the crowd did when Jesus restored the sight of the blind man. We also give thanks when Jesus restores our sight—when He reveals to us our sinfulness and need for a Savior—when He brings us off our self-righteous pedestals and causes us to humbly bring our petitions to the Lord—when He proclaims to us the Gospel—when He keeps our eyes fixed on Jesus, the author and perfector of our faith (Heb. 12:2).
In Hebrews 12, Jesus is described as the perfector of our faith. The Greek word for perfector has the same root as a Greek word in our Gospel. It is when Jesus says, "Everything that is written about the Son of Man by the prophets will be accomplished" (Luke 18:31). Jesus perfects our faith and accomplishes (or better, completes) our salvation. He is the One doing the action. He works faith in us through His Spirit by means of Word and Sacrament. Our faith rests in Christ who completed our salvation by going to the cross. In fact, Jesus says this same Greek word again on the cross when He declares, "It is finished!" (John 19:31). In today's Gospel, the Greek word for "will be accomplished" is the future tense for the same Greek word Jesus speaks on the cross, announcing His victory over sin, death, and Satan. When Jesus declared, "It is finished" on the cross, He said that He has now fulfilled everything. He has taken away the world's sin. He made the full payment for our sin. There is nothing left for us to atone for. Jesus did it all.
And so, we give thanks and praise to God. He has certainly done all things well. In fact, giving thanks and praising God is a form of prayer. It is humble submission to God, acknowledging that He is in charge of all things, and He is the source of every good thing.
That remains true even now. God remains good, despite the evil intents and inclinations of man. God gives us good things, especially through His Son. God ultimately promises to bring us to Himself in Heaven. We must not lose focus on that reality as we face our daily lives with all its uncertainties. It is easy to worry and be troubled by all that is going on around us—a pandemic that's been among us for two years, wars that never seem to end, and our own sinful temptations.
But that's why we turn to the Lord in prayer as the blind man did. We pray without ceasing. We pray, "Lord, have mercy." We pray when we don't understand why such evil events are going on. We pray when we are suffering like the blind man. We pray when we realize we're not in control. We pray. We pray for Putin and the Russians. We pray for the Ukrainians. We pray for our own country. We pray for our families and friends. We pray for our health and the well-being of others. We pray for our churches, pastors, missionaries, and seminary students. We pray for our brothers and sisters in Christ.
The temptations we face and the evils of this world should drive us to the Lord in prayer. Our prayers are done not only individually when we rise up or when we go to bed, but our prayers are also done corporately through family devotions, when we eat with others, and when we gather together in God's house. Today is a day of prayer. On Wednesday we will begin the 40 days of Lent. We are blessed with another opportunity to gather together in prayer. Use the upcoming season of Lent wisely. Use it to discipline your body, engage in the spiritual exercises of prayer and the study of God's Word, and gather in God's house twice each week for prayer and reception of Christ's gifts.
These blessings are sure and certain, even during these difficult and uncertain times. For Christ is risen and He grants you the victory. Amen.
The peace of God which passes all understanding keep your hearts and minds in Christ Jesus to life everlasting. Amen