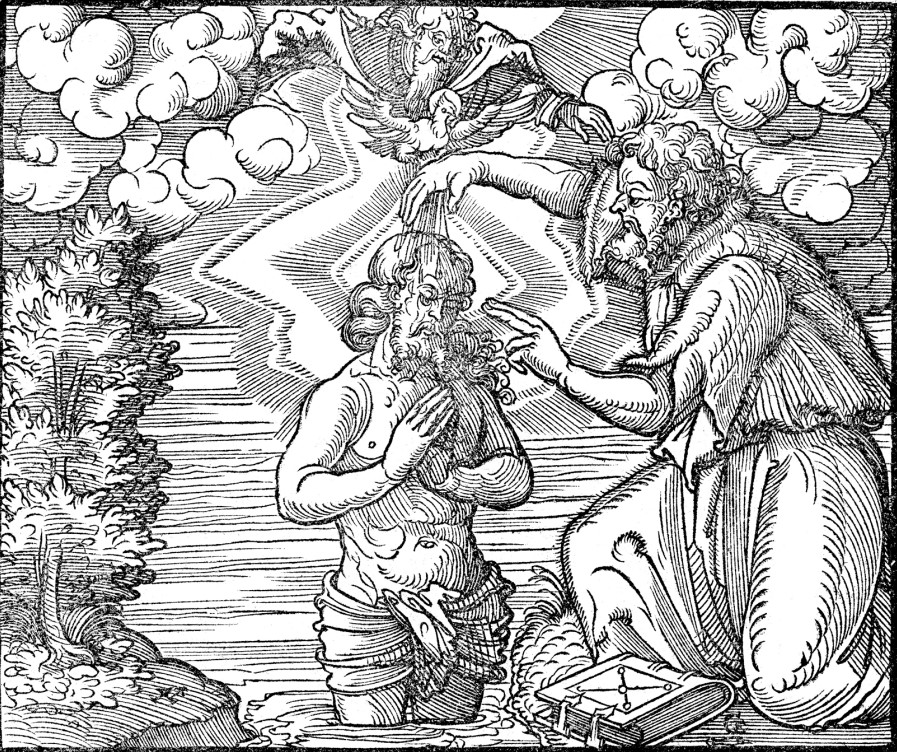 Lessons: Joshua 3:1-17, 1 Corinthians 1:26-31, Matthew 3:13-17
Hymns: LSB 399, 594, 405, 404, 601
Grace, mercy, and peace to you from God our Father and our Lord and Savior, Jesus Christ. Amen.
The Scriptures are all about Jesus—our Lord Jesus Christ for you. Throughout the Scriptures we hear of the Person and life of our Lord and Savior—even in the Old Testament. We heard several examples of this during Advent and Christmas under the theme, "The Symbols of Salvation." Jesus visited Moses at the burning bush. The rock that was with the wandering Israelites is Christ. The Angel of the Lord is Jesus.
Of course, the clearest teachings of the life of Jesus are found in the four Gospels. In these books, we hear of the life of Christ when He came in the flesh some 2000 years ago. The Gospels spend a fair amount of time on the birth of our Lord and His infancy. But then the Bible moves quickly to His adulthood. In fact, it jumps right ahead to the beginning of our Lord's public ministry, which began when Jesus was about 30 years old. There is one reference in-between: when Jesus is 12 years old and goes to the Temple, listening and asking questions. The next thing we hear in the Scriptures about Jesus is that He is baptized. He is not baptized as an infant, because John the Baptist was also an infant in our Lord's infancy, being only six months older than Jesus. Instead, Jesus goes to be baptized when He begins His public ministry of preaching, teaching, and performing miracles.
In this, Jesus is revealing that He is God. That's what the Epiphany season is all about—the Man Jesus making Himself known as God through His miracles and His preaching.
So, the Church Year follows suit. We spent a couple of weeks on His infancy with His birth. Before departing from the narrative of His birth, on Epiphany, we heard of the Magi who worship Jesus. Now we spend a few weeks during the Epiphany season seeing how Jesus reveals Himself as God before we move into pre-Lent and Lent.
Now, John was called to prepare the way of the Lord—to preach that the God-Man Jesus is coming in the flesh.
The way in which John prepared the people is rather simple. John preached and baptized. For a while, John did the very thing that Jesus later commanded His disciples to do when Jesus ascended into heaven. Jesus said, "Go therefore and make disciples of all nations, baptizing them in the name of the Father and of the Son and of the Holy Spirit, teaching them to observe all that I have commanded you. And behold, I am with you always, to the end of the age" (Matt 28:19-20). Jesus instructed ministers to baptize and teach.
That is exactly what John was doing as the forerunner to the Messiah. He didn't preach any ol' thing. His words were deliberate and clear. As he baptized sinners, he preached to them, "Repent, for the kingdom of heaven is at hand" (Matt. 3:2).
He called sinners to repentance. This does not just mean saying, "I'm sorry" and then continuing on in the same sins. Repentance is more than saying, "I'm sorry" and not meaning it or feeling entitled to continue in sin. Repentance involves a change of life. It's a turning around. It's to walk in the Spirit (Gal. 5:16-24). To repent is to plead guilty of all sin and to strive to do better. It means that he asks God for strength to "go and sin no more" (John 8:11).
Repentance is a continual return to Christ. When a sinner repents, his focus is on Christ, for Jesus alone takes away the sins of the sinner. Jesus alone made the payment for our sins through His death on the cross. He alone declares us righteous. So we do not turn to ourselves in repentance, looking within for the resolve to do better. Instead, we turn to Christ, who can do all things in us (Phil 4:13).
As we turn to Christ, we do not seek acceptance for our sins. Sadly, many today think that Jesus came to liberate sinners so that they are now free to engage in their sin. They think that because God is love, Jesus came to tell the world that he loves the world and that He even loves the world's sin.
But God abhors evil (Rom. 12:9). Jesus never came to condone sin. He never embraced sin. Like John the Baptist, He told sinners, "Repent for the kingdom of heaven is at hand" (Matt. 4:17). God's attitude toward sin is clearly revealed in that He slaughtered His Son on the cross to make the necessary payment for our sin.
We also know of God's attitude toward sin from what takes place in today's Gospel.
In our Gospel, we hear that Jesus comes to be baptized by John. John knows who Jesus is, for John said, "Behold, the Lamb of God, who takes away the sin of the world" (John 1:29). So when John learns that Jesus intends to be baptized, John asks a valid question (Matt. 3:14). "I need to be baptized by you, and do you come to me?" Let's analyze this question. First, John says, "I need to be baptized by you."
John says this because he knows who he is. John knows that while he himself may be a Nazirite—a prophet—set aside by God from birth—he's still a sinner. John knows that he deserves death for his sin. He knows that he is not worthy to baptize sinners into Christ and to preach the Gospel. He knows he is not even worthy to loose the sandal strap of our Lord Jesus Christ (Luke 3:16).
We are not worthy either. We deserve condemnation for our sin. On our own, we are not pure in any way, nor can we purify ourselves. We cannot make ourselves better people. We remain sinners.
But that is why Jesus came to be baptized by John. John finished his question by asking, "And do you come to me?" Are You, Jesus, coming to me to be baptized? Why would you? You are not a sinner. You do not need forgiveness.
At this we should pause to consider the benefits of baptism. If I should ask you, "What benefits does baptism give?" Your response ought to be automatic: "It works forgiveness of sins, rescues from death and the devil, and gives eternal salvation to all who believe this, as the words and promises of God declare."
In our baptism, we receive forgiveness, for the Scriptures state that in baptism, the "Body of sin [is] done away with, that we should no longer be slaves of sin" (Rom. 6:6). In baptism, we are delivered from death and devil because the Scriptures declare, "We were buried with him by baptism into death, in order that, just as Christ was raised from the dead by the glory of the Father, we too might walk in newness of life" (Rom. 6:4). In baptism, we are given eternal salvation for the Scriptures declare that "Baptism now saves you" (1 Pet. 3:21). This is all granted in baptism through faith, as Jesus declared, "Whoever believes and is baptized will be saved" (Mark 16:16).
That is the treasure you have in your baptism! You are baptized into Christ! You have His forgiveness! You have eternal life! What joy it is to be a baptized child of God! Your sin no longer condemns you. You are no longer guilty of your sin. You are now pure in every way.
But why, then, would Jesus be baptized? He does not need forgiveness because He is already perfect in every way. He does not need to be rescued from death and the devil because He defeated death and the devil. He does not need to receive the gift of eternal life because Jesus is the Resurrection and the Life.
So, John asks a valid question, "I need to be baptized by you, and do you come to me?" Yes, for something entirely different happened in Jesus' baptism. He was baptized to fulfill all righteousness.
Jesus was baptized in the Jordan River for you. We are cleansed in our baptism, but Jesus was made filthy in His baptism. He took on the world's sin and was anointed as the Chosen One—the Lamb to be slaughtered—so that He would bear the punishment for our sin. As the Scriptures declare, "For our sake [God] made Him to be sin who knew no sin, so that in Him we might become the righteousness of God" (2 Cor. 5:21).
We are rescued in baptism. But when Jesus was baptized, He went immediately into the wilderness and was tempted by Satan. We are delivered from the devil's clutches in baptism and become children of God, but Jesus when Jesus was baptized, He was put in the path of Satan and under the wrath of God for bearing our sin.
We are given eternal life in baptism. In His baptism, because He took on the world's sin, Jesus became subject to death. He became punishable by death for the sins that He became. Because He was baptized and anointed as the Messiah, He bore our sin in His body and now faced the penalty for those sins of ours. God would forsake Him as He would suffer for us on the cross.
That's how we can see God's attitude toward sin in today's Gospel. He despises it and wants it canceled out, so He sent His only-begotten Son to do it. None of us could.
Your baptism is a gift from God for you. Your baptism is no gift to God. It is His gift by which He adds you to His holy family.
The baptism of Jesus is also a gift of God for you. For in His baptism, He began what is necessary for Him to atone for your sins and make amends for all that you have done amiss. He completed this in his sufferings, crucifixion, death, and resurrection. All of this is done for you.
Therefore we can truly say that Jesus was baptized for you.
Thank God for His baptism. Thank God for our own baptisms.
What a joy it is to be baptized into Christ—to have His peace and forgiveness! You are a dearly beloved child of God, in whom He is well pleased! Amen.
The peace of God which passes all understanding keep your hearts and minds in Christ Jesus to life everlasting. Amen