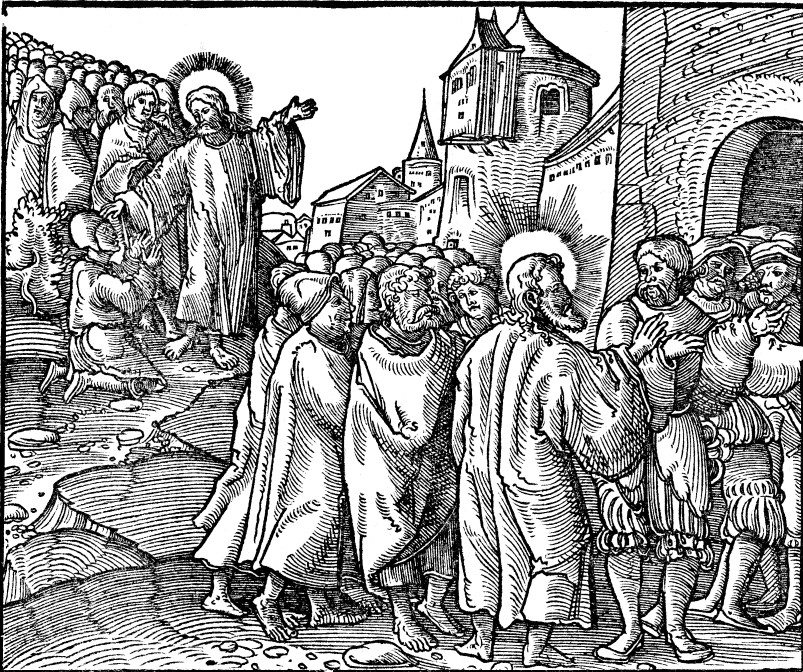 Lessons: 2 Kings 5:1-15a, Romans 1:8-17, Matthew 8:1-13
Hymns: LSB 394, 401, 620, 399, 839
Grace, mercy, and peace to you from God our Father and our Lord and Savior, Jesus Christ. Amen.
When Jesus was 40 days old, Mary and Joseph brought Him to the Temple to present Him to the Lord, as was commanded in the Old Testament Ceremonial Law. The Holy Spirit had revealed to a devout man named Simeon that he would see the Lord's Christ before he dies. Simeon came in the Spirit into the Temple and took baby Jesus up in his arms and blessed God, saying, "Lord, now lettest Thou Thy servant depart in peace according to Thy word, for mine eyes have seen Thy salvation, which Thou hast prepared before the face of all people, a light to lighten the Gentiles and the glory of Thy people Israel" (Luke 2:29-32). The Holy Spirit guided Simeon to say these words. Simeon is now ready to die. He had seen the fulfilment of the Lord's promise. Jesus—the Savior of the Nations—has come. And prophetically, Simeon declares that Jesus is "a light to lighten the Gentiles."
Epiphany focuses on Christ as our Light. Epiphany begins with the star revealing to the Magi that Jesus is born, and Epiphany ends with Jesus going up the mountain where He is transfigured—His clothes becoming as white as light and His face shining like the sun.
Epiphany also reveals who Jesus is. He is not like the rest of mankind, who inherits sin from their sinful parents. Instead, Jesus is born perfect, conceived by the Holy Spirit. He is God, and He reveals Himself through His preaching and miracles. Today, we heard Jesus perform two miracles—healing a leper by speaking, and healing the Centurion's servant without even being in the presence of that servant!
Epiphany also demonstrates that Jesus did not just come for one people group, but Jesus came to be the Savior of all Nations. Jesus came to be the Lamb of God who takes away the sin of the entire world. Jesus did not just die for the Jews or just Americans. He did not just die for capitalists or adults. He did not just die for the good people or people of a certain color. Jesus died to take away the sins of all people, from the unborn to the elderly, from Adam onward, from Asia to the Americas to Africa. That is, after all, what Simeon declared as He took the baby Jesus into his arms—Jesus is a light to lighten the Gentiles and the glory of His people Israel.
It has been said that if you please everyone, you will please no one. Elected leaders quickly discover that they cannot vote both ways on one issue to fulfill the desires of their constituents. When it became clear that Jesus had not just come for the Jewish people but for all people, many Jews took offense at Him. They wanted a Savior from the Romans who will rule over them as their King. They weren't looking for a Savior to redeem them from their sin.
In the same way today, many are not looking for Jesus as the One to take away their sin. They figure they don't need that part. Many assume they've been pretty good, and God should receive them based on their goodness. Instead, they want a god who will fulfill their demands, be it social justice, world peace, cure ailments, or the like.
But as Simon rightly said, by seeing Jesus, he has seen Salvation. For Jesus came to seek and save the lost. And not just those who are lost among the house of Israel.
When Jesus performed the miracles in today's Gospel (thus revealing His divinity), He was still early in His public ministry. He had just preached the Sermon on the Mount and crowds were following Him. Through His preaching, many were discovering that Jesus is no ordinary Man. Then a leper asked Jesus to heal him. Jesus, who is the author of life and cleanses all from their impurities, was able to reach out and touch the unclean leper. In doing so, Jesus did not defile Himself (as would have been the case for any man who touches the unclean), but instead He cleansed the leper. Jesus, by touching and speaking, cured a man of a disease that seemed incurable. An amazing miracle!
Jesus then instructed the man to show himself to the priest to be inspected, undergo the rite of purification, and be declared clean. It seems strange that Jesus then said, "Say nothing to anyone." Don't go about telling others of what happened. Why not? Jesus had a few reasons. First, it was not for the cleansed leper to be a preacher of the word. That office is limited to those whom God sends. Second, telling others about what happened to himself is giving himself the glory. Third, our Lord's primary ministry was not to heal, which offered temporal benefits, but to proclaim the Word, which offers eternal life.
By instructing him to go to the priests and fulfill the law of Moses, we know that Jesus healed one of His own—a Jewish man.
But then, as Jesus entered Capernaum another man approached Jesus. This man was a Centurion—that is, the commander of 100 men in the Roman army. While the leper would have been an outsider to the Jewish community as long as he suffered from leprosy, this Gentile Roman citizen was forever considered an outsider by the Jews. But Jesus, who loves all people, did not look down at him for his heritage or for his vocation as a Roman commander. Instead, Jesus had compassion on him. He engages the man. Jesus is willing to go to the Centurion's servant's home and heal the servant. When the Centurion admits he is not worthy to have Jesus under his roof, Jesus exclaims, "Truly, I tell you, I have not found such faith in all of Israel!" Then Jesus declares, "Go; let it be done for you as you have believed" and the servant was healed that very moment.
This action of Jesus would have scandalized the Jews. They did not want the Messiah to do anything for the Gentiles, but instead do everything for the Jews. Jesus' loving action shows that some will always be scandalized when He does the right thing. And yet, His action was not new.
In our Old Testament lesson, we heard of another Gentile man who suffered. He was a leper called Naaman, who served as the commander of the Syrian army. Syria and Israel regularly warred with one another. In one of their battles, the Syrians captured a little Israelite girl who was then put to work in Naaman's home under Naaman's wife. This girl then told Naaman's wife about the prophet in Israel who could heal Naaman of his leprosy. When the prophet Elisha receives the request and Elisha prescribes what Naaman must do to be cleansed, Naaman becomes upset. He did not want to dip in the lowly Jordan River seven times. He thought it would be far more noble to dip in the greater and more majestic rivers of Syria. But a servant reasoned with Naaman, saying, "Is this not a wondrous word which the prophet spoke to you? Hasn't he told you that you will be cleansed of leprosy? Then why not go out and do what he says?" At this, Naaman does what he is told, and he is cleansed of his leprosy.
This is amazing on two counts. First, it teaches us something about the power of God in Holy Baptism—something God would not institute for another 800 years. Baptism may seem insignificant, just as dipping in the Jordan seemed insignificant to Naaman. Baptism may seem like something ordinary, just like dipping in the Jordan. But just as God was at work through the waters of the Jordan and cleansed Naaman of his leprosy, so also God is at work in Holy Baptism today by cleansing sinners of their sin.
The second amazing aspect of this miracle is who it was for. It was not for the commander of the Israelite army, but it was for the commander of a foreign army. The great works of God are not reserved for those who may consider themselves special, but they are for all people.
Including you. God never left you out when He commanded all nations to be baptized. God never left you out when He sent His Son to pay for the sins of the entire world. God never left you out when He promised to hear the prayers of all who would call upon Him. God never left you out when Jesus promised to prepare a place in Heaven for all who believe in Him.
Many are not pleased by this universal work of God. They want God to be the Messiah for just a few select people. But instead of sinfully trying to hoard the Gospel promise to ourselves, we rejoice in its height, width, and depth. It is for all people of all time. There is no sin that Jesus left out when He died on the cross. There is no sinner excluded from Christ's all-availing, all-sufficient sacrifice on the cross. Jesus has come for all. He loves us.
He also hears the prayers of all who believe in Him. Jesus heard the leper's prayer and the Centurion's prayer. Jesus hears your prayers. He answers them all in accordance with His good and gracious will.
Sometimes, God in His wisdom, will not answer our prayers according to what we want. We may face affliction for a prolonged period (Covid has now been on American soil for over two years). We may not receive the healing we may want. But God's grace is sufficient for us, and we are made perfect in weakness. God will remain with us, even as we face the afflictions He sends. And God has promised that He will get us through them. And if we should die in our afflictions, we still die in the Lord, for He will receive us into His eternal kingdom.
      Therefore, in all things, we rejoice, we pray, we trust in Him, and we give all glory to God. He does all things well. He cleanses the lepers, forgives sinners, and even died for the Gentiles. He not only does things well for some, but He does all things well for all people. Thanks be to God. Amen.            
       The peace of God which passes all understanding keep your hearts and minds in Christ Jesus to life everlasting. Amen