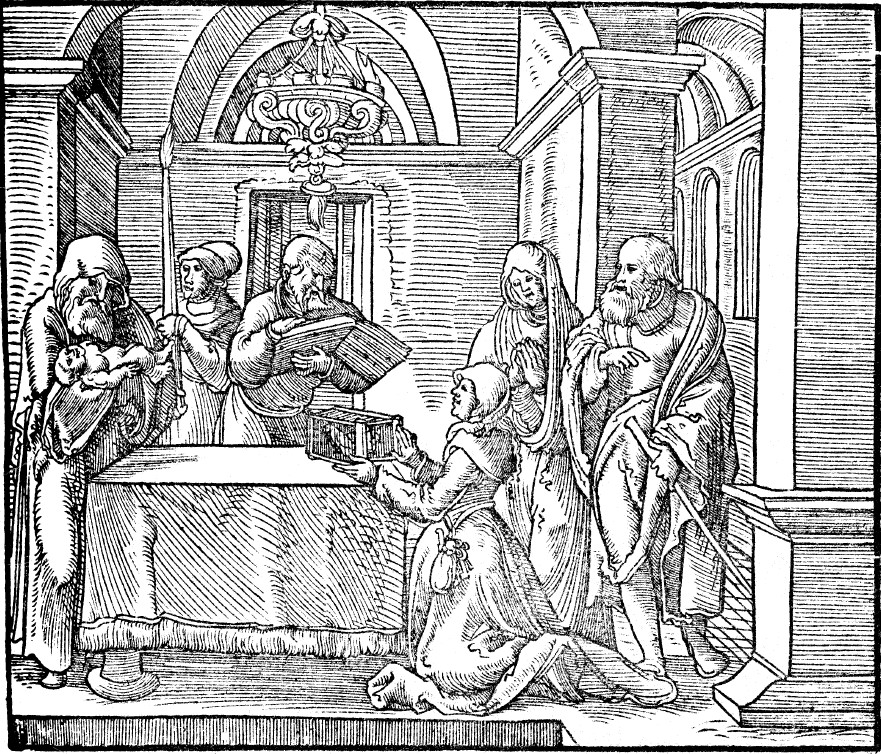 Lessons: 2 Samuel 7:1-16, Galatians 4:1-7, Luke 2:22-40
Hymns: LSB 367, 372, 380, 383, 381
Grace, mercy, and peace to you from God our Father and our Lord and Savior, Jesus Christ. Amen.
Now that Christmas is over, we can forget about all the hoopla, the gifts, the lights, and the busyness for another eleven months, right?
We can throw our trees out (or put them away), and give thanks to God that this crazy time is over for another year, right?
Well, not exactly. You see, Christmas is not over. We have just begun. Even though the song "The Twelve Days of Christmas" is unrealistic, it does teach us something: there really are twelve days of the Christmas season. Today is the second day of Christmas.
So, if you haven't gotten your Christmas cards done, you're not too late. After all, there's another ten days of Christmas!
If we think about it, the Christmas message isn't something to shelve away for the next eleven months. While we may be ready to put away the busyness of Christmastime for the next eleven months, we should recognize that the Christmas message is something good to ponder year-round. So if you want to listen to Christmas music in July, go ahead. Or if you want to leave your nativity scene up year-round like I do, go ahead. For Christmas carols and the nativity scene are great ways to remind ourselves of the marvel and wonder of Christmas.
In fact, we sing the Christmas message in July. We sing it on many Sundays throughout the year. Yesterday, for the first time since before Thanksgiving, we sang it. Often, I suspect we sing it without realizing that we're singing the Christmas message. We sing the birth of Christ when we sing the song of the angels.
So where in the liturgy are reminded of Christ's birth? Where do we sing the song of the angels?
Right after the Kyrie. In the Kyrie, we sing "Lord, have mercy, Christ have mercy." Then we immediately sing of God's mercy, for we sing, "Glory be to God on high, And on earth peace, good will toward men." Look at how God has had mercy on us! He sent His only-begotten Son to save us. Jesus Christ, the second Person of the Holy Trinity, humbled Himself to be "born of woman, born under the law, to redeem those who were under the law, so that we might receive adoption as sons" (Gal. 4:4-5).
This sure is something to marvel over! God became Man. You see, Jesus is the eternal Son of God. He has always been one with the Father and the Spirit. The three persons of the Holy Trinity have always existed. They are eternal, yet these Three Persons are one God. And now Jesus becomes a human! The Father does not take on human flesh, nor does the Holy Spirit. Only Jesus does as He is conceived by the Holy Spirit and born of the virgin Mary.
This also means that only Jesus dies on the cross to pay for your sins. The Father does not die; the Spirit does not die. We can certainly say God died on the cross because Jesus is God, but we cannot say all three Persons died, nor can we say the Father or the Spirit died.
Talking about something to marvel at—something to ponder: who God is and what He has done for us and for our salvation!
Also consider this about Jesus. Because He is God, He sustains the entire universe. He keeps all life going. He orders all things. When Jesus becomes Man—when Jesus is born in Bethlehem—Jesus still sustains the entire universe, because He is God. Yet at the same time, He needs His mother. Mary must feed Him, clothe Him, and change Him! Talking about an amazing mystery of the Holy Trinity for us to marvel at!
Even the birth of a baby is something to marvel. Consider what God teaches us in Psalm 139:13-16. Inspired by the Spirit, King David wrote, "For you formed my inward parts; you knitted me together in my mother's womb. I praise you, for I am fearfully and wonderfully made. Wonderful are your works; my soul knows it very well. My frame was not hidden from you, when I was being made in secret, intricately woven in the depths of the earth. our eyes saw my unformed substance; in your book were written, every one of them, the days that were formed for me, when as yet there was none of them." While acknowledging that God formed us in our mother's wombs, David says, "Marvelous are your works!" Certainly, God's works are marvelous! Certainly, this is something for us to marvel over!
On 12 occasions, St. Luke records that the people marveled or wondered at the events surrounding our Lord Jesus Christ. Four of these are related to the birth of Jesus!
First, the people marveled because Zechariah was in the Temple for such a long time. He was visited by the angel who told him that he will become a father. His son will be John the Baptist, who will prepare the way for the Lord.
Second, the people marveled when John was born. Zechariah, who could not speak since the time the angel visited him, wrote that this baby's name is John. At this, Zechariah regained his speech. The people marveled, knowing something big is happening.
Third, the people marveled when they heard the report from the shepherds. Remember, the shepherds were watching their flock by night when suddenly the angel appeared and announced to them the birth of Jesus. After telling them the marvelous words, "Unto you is born this day in the City of David a Savior, which is Christ the Lord," a multitude of the heavenly host appeared, praising God and saying, "Glory to God in the highest and on earth peace goodwill toward men." Not only did the angels preach the most marvelous sermon in the history of humanity, but the shepherds had the wonderful opportunity to see the newborn king. After they saw the birth of this little Baby, they could not help themselves, but told others the glorious birth of our Savior. And the people marveled at their report.
Finally, we heard in today's Gospel that Mary and Joseph marveled at the things that were spoken to them. Today's Gospel takes place when Jesus is 40 days old. In fact, it takes place before the Magi came to worship Jesus (we will hear about that next Sunday and the following Thursday on Epiphany).
You hear the number 40 a lot in Scripture. It rained for 40 days and 40 nights in the Flood. The Israelites wandered in the wilderness 40 years. Jesus fasted 40 days. Jesus ascended into Heaven 40 days after His Resurrection.
Also, in the Old Testament after a mother gives birth, she undergoes a ritual of purification. This legislation is prescribed in Leviticus 12:1-8. When the mother gives birth to a boy, she was considered unclean for 40 days. At the end of these 40 days, she is to bring to the priest a burnt offering and a sin offering. That offering varied based on wealth. Wealthier families gave a lamb. Poorer families gave turtledoves or pigeons.
Fulfilling the requirements of the ceremonial law as we heard in our Gospel lesson this morning, the holy family went to the Temple when Jesus was 40 days old. Joseph and Mary presented Jesus to the Lord with their offering.
Simeon, seeing Jesus, takes Him up in his arms and blesses God. He speaks the words of the Nunc Dimittis. He says, "Lord, now lettest Thou Thy servant depart in peace according to Thy word, for mine eyes have seen Thy salvation, which Thou hast prepared before the face of all people, a light to lighten the Gentiles and the glory of Thy people Israel." (Luke 2:29-32).
You are familiar with these words. We will sing them after the Lord's Supper. Once he had seen His Savior, elderly Simeon was ready to fall asleep in peace. He was ready to die. He was confident of his salvation.
In the same way, when we go to Holy Communion, we are ready to fall asleep in peace. We have seen our Savior. We have received His Body and His Blood for the forgiveness of our sin. We, knowing that we are adopted as sons of God, can be confident of our salvation. We can then die in peace, knowing that God will usher us into Paradise.
If you think about it, by celebrating the Lord's Supper, we are reminded of our Lord's birth. First, we sing Simeon's song, which takes place within weeks of His birth. We not only begin the Divine Service singing the Christmas song of the angels, but we conclude the Divine Service singing the Christmas song of Simeon. Second, look at where Jesus was laid when He was born. Jesus was wrapped in swaddling clothes and laid in a manger—a feeding trough! We now eat His Body and drink His Blood—we feast on Christ, the Lamb who was slain, for our forgiveness. The action of eating in the church service reminds us of the first bed Jesus slept on when He was born.
Certainly, these are all things to marvel over. No wonder Mary and Joseph marveled at the things that were spoken to them. No wonder Mary pondered all these things and kept them in her heart!
God is fulfilling His promise. The Savior is born—born to redeem us and fulfill the Law on our behalf.
      So remember, Christmas is not over. God continues to shower you with His gifts. Do you want the best Christmas present? You have it: Jesus, Baptism, the Lord's Supper, His Word, His love, His peace, His joy, His forgiveness, His Gospel, His life.
How can we not, but marvel over Christ's birth and all the gifts He grants to us? Amen.
The peace of God which passes all understanding keep your hearts and minds in Christ Jesus to life everlasting. Amen