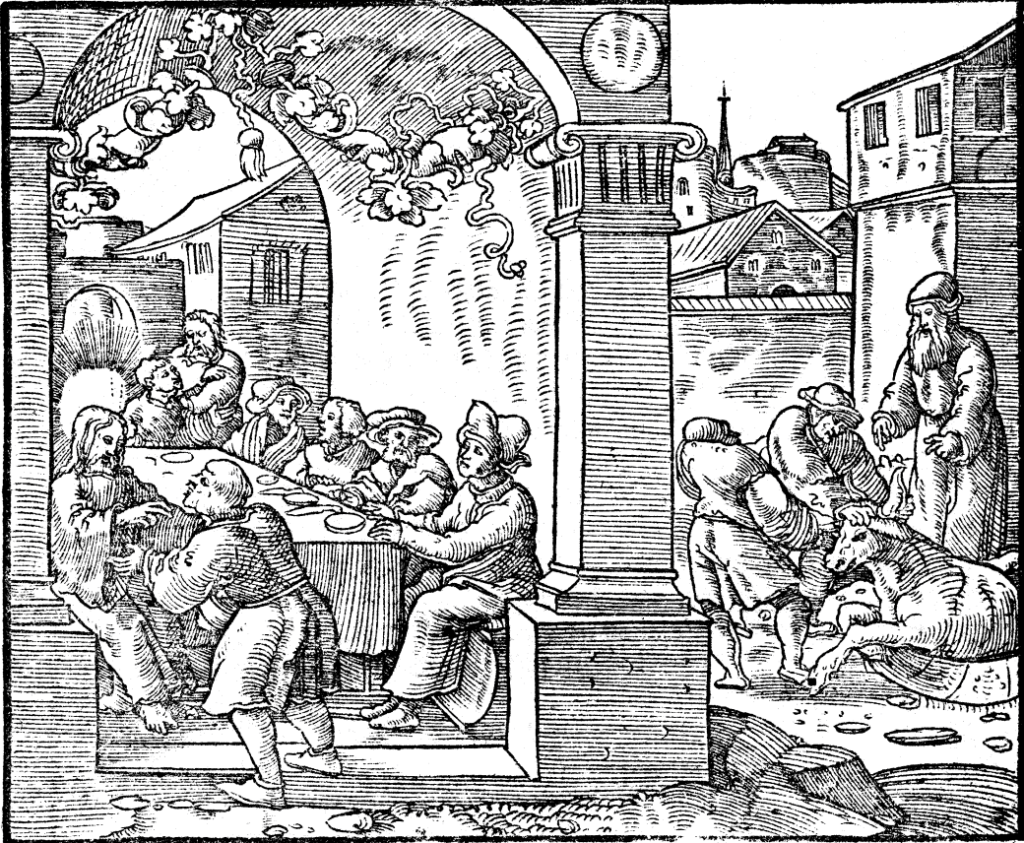 Lessons: Proverbs 25:6-14, Ephesians 4:1-6, Luke 14:1-11
Hymns: LSB 613, 557, 618, 708, 585
Grace, mercy, and peace to you from God our Father and our Lord and Savior, Jesus Christ. Amen.
In today's Gospel, Jesus went to dine at the house of a ruler of the Pharisees on the Sabbath Day, a day of rest. After a dialog with the Pharisees and after speaking a parable to them, Jesus concludes, saying, "For everyone who exalts himself will be humbled, and he who humbles himself will be exalted" (Luke 14:11).
The Scriptures teach many lessons in humility. Even life can teach us many lessons in humility. It is better to let others speak of our accomplishments than for us to talk about our own. In fact, the Bible declares, "Humble yourselves, therefore, under the mighty hand of God so that at the proper time he may exalt you, casting all your anxieties on him, because he cares for you" (1 Peter 5:6-7). So instead of trying to exalt ourselves, we are to live humbly. Let God exalt us.
An example of this is found in last week's Gospel, which was recorded in Luke 7. The widow at Nain was afflicted with death in her family. Her son's death seemed final. She submitted to God's will in the matter. And then Jesus came, stopped the funeral procession, told the tear-filled mother not to weep, and raised her son from the dead. Jesus presented the young man to his mother. Jesus exalted the humble woman, who would have been forgotten in history but now is recorded in Scripture and her account is a reading in the Church Year.
Later, in Luke 18, two men go to the Temple to pray. One is a Pharisee and one is a tax collector. The tax collector will not even look up, but, bowed down, prays in repentance, admitting his sin and guilt. On the other hand, the Pharisee prays, thanking God that he's not like other sinners and brags to God about his accomplishments. The Pharisee went home feeling good about himself, but he did not go home justified (that is, forgiven). However, the tax collector who was humbled and weighed down with guilt over his many transgressions went home justified.
In today's Gospel, Jesus dines with some Pharisees who are watching Him closely. Teeming with pride, these religious leaders were seeking to trap Jesus. They felt they were doing the right thing. They wanted to prove to the public that Jesus is not the Messiah, even though Jesus demonstrated that He is the promised Messiah when He raised the widow's son at Nain. They figured He could not be the Messiah since Jesus spoke against them. In Luke 12:1, Jesus said, "Beware of the leaven of the Pharisees, which is hypocrisy." Later Jesus would say, "Woe to you, scribes and Pharisees, hypocrites! For you are like whitewashed tombs, which outwardly appear beautiful, but within are full of dead people's bones and all uncleanness. So you also outwardly appear righteous to others, but within you are full of hypocrisy and lawlessness" (Matt 23:27-28).
The Pharisees thought they understood the Law and fulfilled the Law. They gave the appearance of keeping it to a T. They wanted to prove themselves right. And so, they devised a plan: Have Jesus eat with them on the Sabbath, the day of rest. Also invite someone who is suffering. If Jesus doesn't heal the man with dropsy, they can accuse Jesus of being unloving. But if He does heal the man with dropsy, then they can accuse Jesus of breaking the Sabbath regulation to rest by working. It seemed so perfect. Jesus would lose no matter what. They could then silence this Man who is preaching against their pride.
But Jesus knew their thoughts as they watched Him closely. He asked them, "Is it lawful to heal on the Sabbath or not?" This isn't the way it's supposed to go! They're in the driver's seat, ready to put Jesus to the test. And now He's testing them! So they kept silent. All lawyers know it is best not to say anything. And nothing they said.
That's precisely were Satan would have us be. Silent. For the Word of God is powerful, sharper than any two-edged sword (Hebrews 4:12). The Gospel is the power of God to salvation (Romans 1:16). We believe, and so we speak (2 Cor. 4:13). Satan would rather have us be silenced, to be fearful of what others may say. Satan would have us shut our mouths, rather than saying what is true and good. That way he can attempt to keep people from being taught the saving Word of God.
Rather than being silenced by Satan, we are to be bold as we exercise the sword of the Spirit, which is the Word of God (Eph. 6:17). God has given us words to speak, the Gospel to sing joyfully, the true confession of the Faith, and the Creeds of the Church. And so, we do not remain silent. We will even "speak of Thy testimonies before kings and shall not be put to shame" (Psalm 119:46).
Jesus was not ashamed to speak. Nor was He afraid to heal the man with dropsy on the Sabbath. In fact, after healing the man, Jesus then reasoned with the Pharisees, asking, "If you have an animal that falls into a well or pit on the Sabbath Day, which of you will let it sit there until the Sabbath rest is over?" He is basically asking, "Why will you help yourselves and your own animals in danger on the Sabbath, but not a fellow human being whom Christ has redeemed?" Again, the Pharisees could not respond.
Helping others fulfills the law of God to love one another. It is Christian service. So, "let us do good to everyone, and especially to those who are of the household of faith" (Galatians 6:10). You see, true humility produces love.
Then Jesus continued to teach by way of a parable. He saw how they were taking the places of honor—inline with their inborn pride. He teaches them to take the lowest place so that others can exalt them. In a sense, God teaches us to take the lowest place when He works on us through the Law. And He raises us up through the Gospel. The Law of God drives us to our Lord in sincere and humble repentance. God accuses us by means of the Law, and we admit that we have sinned and have fallen short of the glory of God.
The Law exposes our innate pride. The Law reveals our sinfulness. Recall the words of the Catechism: "Have you been disobedient, unfaithful, or lazy? Have you been hot-tempered, rude, or quarrelsome? Have you hurt someone by your words or deeds? Have you stolen, been negligent, wasted anything, or done any harm?" We are guilty. We deserve nothing but the lowest place in Hell.
And yet, God exalts us in due time. Adam and Eve brought the world into sin, and they deserved death for their sin. Yet God clothed them, symbolizing how they are now clothed in Christ by grace through faith. He promised life and salvation to all who believe. We deserve temporal punishment and eternal death for the sins we have committed. And yet Jesus has taken our sin upon Himself, went to the cross to pay for our sin by the shedding of His innocent Blood, and now replaces our sin with His very righteousness.
We sinners go home justified. We are given a spot at the table. We do not deserve the least of God's mercies, and yet God allows us to enter His house, hear His saving Word, sing praises to Him, and even come forward to the Lord's altar to receive the very Body and true Blood of our Lord Jesus Christ—all for the forgiveness of our sins!
Jesus is saying to us sinners, "Friend, go up higher!" This is the place where we need to be—in God's house where He raises us up. For we are reconciled to our Father through our Lord Jesus Christ!
It is simply amazing that God who is perfect would call us sinners, "Friend." We have wronged God countless times, and yet He calls us "Friend." Jesus even said, "Greater love has no one than this, that someone lay down his life for his friends. You are my friends" (John 15:13-14). Who has wronged you countless times that you will still call friend?
Jesus not only calls us His friends, but He does something. He gives us a place of honor. Have you considered how blessed you are to be able to come freely into God's House, hear God's Word and be joined to Christ through Holy Communion? Can you think of anything finer or any better way for God to exalt you in this life?
We should never give in to the temptation that coming to Church is optional or unnecessary. There's nothing we need more and there's no greater place of honor. It truly is wondrous that God would receive us sinners, feed us His gifts, and send us home justified!
In the end, Jesus will exalt all who are truly repentant and cling to Christ in faith. He will bring them to Himself in Heaven. And when Jesus returns on the Last Day, He will raise their bodies from the dead and give them eternal life. Our lowly bodies will be changed to be glorious bodies, like's Christ's own. We will be perfect in every way—completely without sin and incapable of dying again.
But for those who are too proud to submit to God's Word, who will not repent or heed the voice of Christ our Savior, who will not gather in God's house, He will humble them. May God grant them this humbling before it is too late. May they be humbled in this life and brought to saving faith, so they escape God's wrath and eternal death.
We have nothing to gain when we cling to our inborn pride and self-righteousness. And we lose nothing good when we let go of that pride and self-righteousness. We gain everything when we humbly confess our sins before God and receive the forgiveness Jesus earned for us on the cross.
So let us not exalt ourselves. It's not about us anyway. It is about Christ, who is for you. That's why you are here. To receive Him. And for Him to tell you, "Friend, move up higher. Receive from My hand the forgiveness of all your sins. Receive my righteousness. Receive everlasting life! Let me exalt you with salvation!" Amen.
The peace of God which passes all understanding keep your hearts and minds in Christ Jesus to life everlasting. Amen